Dupuy & Büchner: Romantic Flute Concertos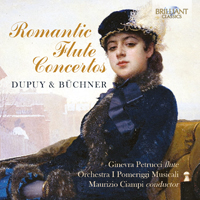 Composer
Edouard du Puy
Artist
Ginevra Petrucci flute
Orchestra I Pomeriggi Musicali
Maurizio Ciampi conductor
Format
1 CD
Cat. number
95192
EAN code
5028421951928
Release
July 2015
About this release
Edouard Dupuy (1770-1822) was a Swiss composer who trained with Jan Ladislav Dussek in Paris before becoming a member of the court orchestra for Prince Henry of Prussia. By all accounts he lived a turbulent lifestyle, and was finally dismissed from his post after he rode into the middle of a church service on horseback. Until then his considerable musical talents had apparently pardoned his eccentric behaviour, but he took himself off to Scandinavia and died in Stockholm. His Flute Concerto is a marvellously tense and testing work, as contoured to its instrument and early-Romantic idiom as the concertos for clarinet by Weber and for piano by Chopin.

The concerto has been little recorded hitherto but its very considerable technical demands hold no terrors for Ginevra Petrucci (b.1989), who has previously recorded the complete Flute Quintets by Friedrich Kuhlau for Brilliant Classics (BC94769) and more recently Haydn's Duos (BC94620) for the instrument with her father, Gianluca Petrucci.

The pairing is even less often encountered in concert and more enticing: the concerto by Ferdinand Büchner (1825-1912). Its tonality of F minor (a rarely used and tragic key) gives notice of a developed and individual compositional voice, and so it proves. Büchner was a flautist-composer who spent most of his career in Russia; this concerto was the first of several, and now considered to be his finest, but very little of his music is recorded; this newly recorded album fills a significant gap in the recorded history of the Romantic flute at its most virtuosic and may prompt critical and popular interest in the rest of Büchner's work.

Two seldom heard Romantic Flute Concertos by Dupuy and Büchner!
Edouard Dupuy (1770-1822) was a precocious musical talent, violinist, flutist and singer (he sang the Danish premiere of Don Giovanni!). A flamboyant romantic and womaniser his adventures led him to various European countries, finally settling in Sweden. Ferdinand Büchner (1825-1912) began his career as a flutist in various German orchestras. His talent was recognised by Anton Rubinstein, who appointed him as first Flute Professor in his newly founded Music Conservatory in Moscow. His Flute Concerto in F minor is a grand scale romantic work of symphonic proportions, demanding a high level of virtuosity of the soloist, especially in the substantial Cadenza in the third movement.
Beautiful performances by Ginevra Petrucci, who already recorded successfully for Brilliant Classics in the Flute Quintets by Kuhlau (5 star reviews in France and Italy!), accompanied by the Orchestra I Pomeriggi Musicali, one of the oldest (founded in 1945) and most respected chamber orchestras of Italy.
Track list
Disk 1
Concerto in D Minor: I. Allegro ma non troppo

Concerto in D Minor: II. Andante

Concerto in D Minor: III. Rondo

Concerto in F Minor: I. Allegro

Concerto in F Minor: II. Andante

Concerto in F Minor: III. Allegro