Durante: Concertos for Strings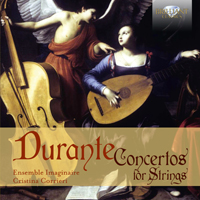 Composer
Francesco Durante
Artist
Ensemble Imaginaire
Cristina Corrieri conductor
Format
2 CD
Cat. number
95542
EAN code
5028421955421
Release
August 2017
About this release
Naples in the first half of the 18th century ranked among the musical capitals of Europe. In the three major genres of operatic, sacred and instrumental music the city both attracted many of the continent's best musicians to live and work there for a period, as well as nurturing a prodigious native tradition of performers and composers. Among the most distinguished of the latter company is to be counted Francesco Durante (1684-1755), praised by no less than Jean-Jacques Rousseau as 'the greatest harmonist in Italy, which is to say in the world.'

Extravagant words, on the face of it, but backed up by many passages and twists of genius in the collection of eight concertos for string ensemble which features in this new recording from a sparky Italian period-instrument ensemble. Each concerto has its own proportions; only the Fifth followswhat we now think of as a three-movement, fast-slow-fast model. For the rest, fugues and double canons alternate with minuets and abrupt presto sections that translate some of the drama of opera into purely instrumental terms. The expression is always at full tilt; Neapolitan, one might say, and indeed it is Durante who passed down to posterity many of the characteristics that are now readily associated with an entire school and locale of composition.

A world premiere recording distinguishes this set from its competitors: a concerto in B flat which did not belong to the single surviving hand-written score, but is indubitably by Durante, as its harmonic daring and vivid character will confirm. Ensemble Imaginaire gave the first performance of this concerto in modern times during the lead-up to this recording, which will be welcomed by all Baroque music enthusiasts.

Francesco Durante (1684-1755) was the most important representative of the Neapolitan School in the first half of the 18-th century, "the greatest harmonist in Italy, that is the world" wrote Jean-Jacques Rousseau in his Dictionnaire de Musique. His pupils include Pergolesi, Jommelli and Paisiello.
Although Durante was foremost a composer of sacred music he is widely known for his famous 12 Concertos for Strings. These 3- or 4-movement concertos are highly skillful works in which the Baroque polyphony is infused with Neapolitan Galante Style elements, as well as certain unusual melodic, rhythmic and harmonic twists, foreshadowing the Sturm und Drang style.
The Italian Ensemble Imaginaire is specialized in the exploration of Neapolitan Baroque music. They play on period instruments and have based their performance on a new critical survey of the original manuscript scores.
Track list
Disk 1
Concerto No. 1 in F Minor: I. Un poco andante

Concerto No. 1 in F Minor: II. Allegro

Concerto No. 1 in F Minor: III. Andante

Concerto No. 1 in F Minor: IV. Amoroso

Concerto No. 1 in F Minor: V. Allegro

Concerto No. 2 in G Minor: I. Affettuoso

Concerto No. 2 in G Minor: II. Presto

Concerto No. 2 in G Minor: III. Largo affettuoso

Concerto No. 2 in G Minor: IV. Allegro

Concerto No. 3 in E-Flat Major: I. Presto

Concerto No. 3 in E-Flat Major: II. Largo - Canone sopra canone à 4

Concerto No. 3 in E-Flat Major: III. Allegro

Concerto No. 3 in E-Flat Major: IV. Allegro assai

Concerto No. 3 in E-Flat Major: V. Finale

Concerto No. 4 in E Minor: I. Adagio

Concerto No. 4 in E Minor: II. Ricercare del quarto tono. Allegro

Concerto No. 4 in E Minor: III. Largo

Concerto No. 4 in E Minor: IV. Presto
Disk 2
Concerto No. 5 in A Major: I. Presto

Concerto No. 5 in A Major: II. Largo

Concerto No. 5 in A Major: III. Allegro

Concerto No. 6 in A Major: I. Allegro

Concerto No. 6 in A Major: II. Amoroso

Concerto No. 6 in A Major: III. Minuet. Allegro - Trio - Minuet da capo

Concerto No. 6 in A Major: IV. Canone à trè

Concerto No. 7 in C Major: I. Moderato

Concerto No. 7 in C Major: II. Allegro

Concerto No. 7 in C Major: III. Larghetto

Concerto No. 7 in C Major: IV. Presto

Concerto in A Major "la pazzia": I. Allegro

Concerto in A Major "la pazzia": II. Affettuoso

Concerto in A Major "la pazzia": III. Allegro

Concerto in B-Flat Major: I. Allegro

Concerto in B-Flat Major: II. Andante moderato

Concerto in B-Flat Major: III. Allegro