Durlet: Violin Sonata Illuminated Tales & Other Music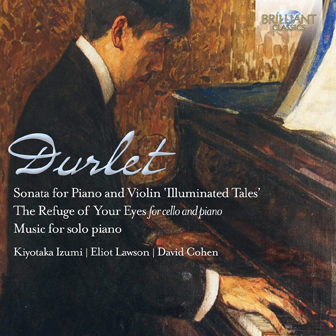 Composer
Emmanuel Durlet
Artist
Kyotaka Izumi piano
Eloit Lawson violin
David Cohen cello
Format
1 CD
Cat. number
94481
EAN code
5028421944814
Release
October 2014
About this release
Born into a family of architects, the pianist, piano pedagogue and composer Emmanuel Durlet was only 16 when he obtained his degree in piano studies with the highest honours from the Royal Flemish Conservatoire of Music in Antwerp. Following an esteemed career as a performer, proving himself as a piano virtuoso of the highest level, he entered a new compositional phase in 1933.

All of the works on this new recording date from this period, and Durlet prefers to give his pieces evocative titles that often describe the mood or feeling of the music itself. This programmatic element is constant in his entire oeuvre. The rather unusual title of The Refuge of your Eyes, for instance, can be explained by its composition in April 1946, as Durlet was recovering from major surgery on his left eye; and the Miniature for little Aunt was written in memory of 'Tanteke' (Auntie), Durlet's father's sister. His highly distinctive melodic lines and rich and, at times, surprising harmony make Durlet's music easily recognisable, and are a common feature of his music. Of particular beauty are the Old-Flemish Melodies and Dances, originally penned for the harpsichord in 1757 by Robert d'Aubat de Saint-Flour, a dancing-master in the city of Ghent. Durlet turned these pieces into a string of fine pearls for the piano, with suggestive titles such as 'The Shepherds', 'The Mouse' and 'The Three Kisses'.

Three award-winning artists, all of whom have played with the world's leading orchestras and achieved success in a number of international competitions, perform Durlet's music for violin, cello and piano.

Other information:
- Recorded in 2011 and 2012.
- Emmanuel Durlet was on of the most significant composers of the first half of the 20th century in Belgium. His style is eclectic, and draws inspiration from French impressionism, 'modernist' tendencies of his time, and Flemish folklore, creating a highly distinctive language, instantly recognisable.
- Durlet's skills as a pianist (he was a highly regarded virtuoso performer) show in his works for piano solo and the substantial Violin Sonata, a very personal work, called 'Illuminated Tales'.
- Excellent and dedicated performances by Kiyotaka Izumi (piano), Eliot Lawson (piano) and David Cohen (cello).
- The extensive booklet includes a wealth of information and photographic material on the composer and the works, as well as artist biographies.
Track list
Disk 1
Illuminated Tales Sonata for Piano and Violin "Eulogy of the Inner Life": I. Andante religioso

Illuminated Tales Sonata for Piano and Violin "Eulogy of the Inner Life": II. Appassionata

Illuminated Tales Sonata for Piano and Violin "Eulogy of the Inner Life": III. Andante sostenuto "Funeral Stele"

Illuminated Tales Sonata for Piano and Violin "Eulogy of the Inner Life": IV. Allegro vivace "The Temptation of Saint Anthony"

This Night Be Gentle to You

Paraphrase on "My Mother Tongue": I. Solemne - II. Murmurando. Con fuoco (Arr. Peter Benoit)

The Refuge of Your Eyes

Old Flemish Melodies and Dances: I. Prelude

Old Flemish Melodies and Dances: II. Chicanery

Old Flemish Melodies and Dances: III. Tenderness

Old Flemish Melodies and Dances: IV. The Shepherds

Old Flemish Melodies and Dances: V. The Virgin

Old Flemish Melodies and Dances: VI. Effrontery

Old Flemish Melodies and Dances: VII. Noble Titles

Old Flemish Melodies and Dances: VIII. Village Ways and Customs

Old Flemish Melodies and Dances: IX. The Mouse

Old Flemish Melodies and Dances: X. The Savoyards

Old Flemish Melodies and Dances: XI. The Lansquenets of Burgundy

Old Flemish Melodies and Dances: XII. Albrecht and Isabella

Old Flemish Melodies and Dances: XIII. Burlesque

Old Flemish Melodies and Dances: XIV. The Three Kisses

Old Flemish Melodies and Dances: XV. Complaint at Twilight

Old Flemish Melodies and Dances: XVI. The Lace Worker

Old Flemish Melodies and Dances: XVII. Peasantry

Old Flemish Melodies and Dances: XVIII. Campine Folklore

Old Flemish Melodies and Dances: XIX. The Lumberjacks

Miniature for Little Aunt

Canzonetta for Violin & Piano