Dussek: Complete Piano Sonatas Op. 14 Nos. 1-3, Vol. 9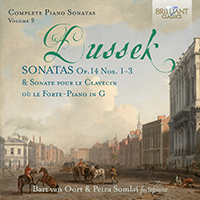 Download booklet
Composer
Johann Ladislaus Dussek
Artist
Bart van Oort fortepiano
Petra Somlai fortepiano
Format
1 CD
Cat. number
95601
EAN code
5028421956015
Release
December 2020
About this release
An 'illuminating' series (Fanfare) reaches Volume 9, presenting the complete piano sonatas on instruments of the period.

Dating from Dussek's years in London, where he fled from the aftermath of the French Revolution, the trio of Op.14 sonatas (1791) belongs to the same genre of 'accompanied sonatas' as Opp. 9 and 10. Designed for performance by accomplished, aristocratic amateurs, these works have ad libitum violin parts, to be played (or not) by a gentleman, while a lady could amuse herself with the technically stiffer demands of the keyboard part. Indeed the violin parts filled in by Dussek are often so insubstantial that the works can in truth be considered keyboard sonatas, full of pianistic, brilliant, soloistic writing.

The separate G major sonata was composed in 1788, while Dussek was still in Paris: a technically challenging and musically forward-looking work which already bears some of the early 19th-century impressionism that would become a feature of early 19th-century piano music in England. There are always surprises around the corner in these sonatas – harmonic twists, flourishes, sudden pools of pathos – but Dussek places them in the context of taut and familiar sonata forms: he takes the ear on strange journeys, but keeps the listener company while doing so.

Bart van Oort is one of the Netherlands' most renowned exponents of 'historically informed' performance of Classical-era keyboard repertoire, with a catalogue on Brilliant Classics that encompasses the complete piano music of Mozart (94198), many of Haydn's sonatas (95298) and early Romantic repertoire by Chopin and John Field (92202), among others. He is joined here by the Hungarian-born pianist Petra Somlai, professor of fortepiano studies at the Royal Conservatory in Den Haag.

Praise in Fanfare for previous volumes in the Dussek series:

'Bart van Oort, playing on a late 18th-century Longman Clementi instrument, serves up vital, energetic performances that draw the most from the music… Strongly recommended.'
(Volume1, 95599)

'Uniformly adept performances… that illuminate the music's characteristic disruptions without over-emphasizing them, and that capture the music's emotional character (or, more accurately, characters) with impressive conviction.' (Volume 4, 95604)

The continuation of an exciting new project: the recording of the complete piano sonatas by Dussek!
Johann Ladislaus Dussek (1760-1812) was born in rural Bohemia. He led a restless life, travelling Europe as a keyboard virtuoso and settling in several European capitals, notably Paris and London, where he became a fashionable pianist and teacher.
Dussek's style is rich, harmonically expressive and pianistically challenging, Classicism on the brink of Early Romanticism.
This new recording contains the three sonatas Opus 14, written and published in London in 1791, when Dussek's popularity in the British capital was increasing rapidly.
Played by Bart van Oort, fortepiano veteran and originator of this Dussek project, and Petra Somlai, a young Hungarian fortepianist who graduated from the The Hague Conservatory.
Listening
Track list
Disk 1
Johann Ladislaus Dussek: Piano Sonata in C Major, Op. 14 No. 1, C.71: I. Allegro

Johann Ladislaus Dussek: Piano Sonata in C Major, Op. 14 No. 1, C.71: II. Andante poco larghetto

Johann Ladislaus Dussek: Piano Sonata in C Major, Op. 14 No. 1, C.71: III. Air russe. Rondo. Allegretto non troppo

Johann Ladislaus Dussek: Sonata in G Major, Op. 14 No. 2, C.72: I. Larghetto con espressione

Johann Ladislaus Dussek: Sonata in G Major, Op. 14 No. 2, C.72: II. Molto allegro

Johann Ladislaus Dussek: Sonata in F Major, Op. 14 No. 3, C.73: I. 6. Allegro

Johann Ladislaus Dussek: Sonata in F Major, Op. 14 No. 3, C.73: II. Rondo. Allegretto

Johann Ladislaus Dussek: Sonate pour le clavecin où le forte-piano in G Major, WoO, C.40: I. Larghetto col espressione

Johann Ladislaus Dussek: Sonate pour le clavecin où le forte-piano in G Major, WoO, C.40: II. Allegro