Dussek: Complete Piano Sonatas Op.18 No.2 & Op.45, Vol. 5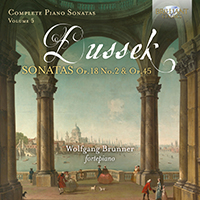 | | |
| --- | --- |
| Composer | Johann Ladislaus Dussek |
| Artist | Wolfgang Brunner fortepiano |
| Format | 1 CD |
| Cat. number | 95605 |
| EAN code | 5028421956053 |
| Release | January 2019 |
About this release
The latest in an eight-volume series, surveying the cycle of sonatas written by a highly original, Czech-born contemporary of Mozart and Beethoven, featuring complementary performance approaches by eight pianists.

Wolfgang Brunner presents two opus numbers composed by Dussek in 1792 and 1800, around the time of the beginning and then the painful end of his marriage to the singer and harpist Sophia Corri. The comparatively early Op.18 No.2 shares the modest dimensions of Haydn's early keyboard sonatas, though by then Dussek was 32 years old and Haydn had already paid fulsome tribute to the younger man's 'remarkable talents'.

Upon his marriage to Sophia he ran a moderately successful music publishing firm with his new father-in-law, Domenico Corri, but when the firm went bust late in 1799 Dussek abandoned Sophia and their daughter and fled to Hamburg; during the following year he wrote a trio of sonatas published in 1802 as Op.45. These are all more ambitious in scale and expressive reach. The slow movement of Op.45 No.1 bears the significant marking of Adagio patetico, and it explores reaches of grave feeling through harmonies in advance of their time. The two-movement Op.45 No.2 opens with a Larghetto sostenuto of grave concentration, though the mood is lifted by a gently circular, almost Schubertian Andantino. A lighter, more cheerful character pervades the D major Sonata Op.45 No.3, which concludes with one of the effervescent Rondos for which Dussek was celebrated in his own lifetime.

On this recording Wolfgang Brunner plays a pair of instruments from Dussek's time: an 1804 Broadwood, and a modern copy of a Viennese fortepiano originally made around 1810 by Michael Rosenberger. Once complete, the cycle will form the first-ever recording of Dussek's sonatas on historically appropriate instruments.

The continuation of an exciting new project: the recording of the complete piano sonatas by Dussek!
Johann Ladislaus Dussek (1760-1812) was born in rural Bohemia. He led a restless life, travelling Europe as a keyboard virtuoso and settling in several European capitals, notably Paris and London, where he became a fashionable pianist and teacher. His close connection to piano manufacturer Broadwood resulted in important innovations, notably the extension of the keyboard to 6 octaves. Dussek's style is rich, harmonically expressive and pianistically challenging, Classicism on the brink of Early Romanticism.
This new instalment contains the early Piano Sonata Op. 18 No. 2 and the three Sonatas Op. 45, substantial works of a successful and mature composer.
Played by Wolfgang Brunner, a veteran in the Early Music movement. A student of Glen Wilson and Nikolaus Harnoncourt he won First Prize in the Hamburg CPE Bach Competition. He is the founder and leader of Salzburger Hofmusik, playing on period instruments. On this recording he plays an historic 1804 Broadwood piano.
Track list
Disk 1
Piano Sonata No. 7 in A Minor, Op. 18 No. 2: I. Agitato assai

Piano Sonata No. 7 in A Minor, Op. 18 No. 2: II. Rondo. Allegretto moderato

Piano Sonata No. 19 in B-Fflat Major, Op. 45 No. 1: I. Allegro cantabile

Piano Sonata No. 19 in B-Fflat Major, Op. 45 No. 1: II. Adagio patetico

Piano Sonata No. 19 in B-Fflat Major, Op. 45 No. 1: III. Rondo scherzo. Allegro da ballo

Piano Sonata No. 20 in G Major, Op. 45 No. 2: I. Larghetto sostenuto – Allegro di molto

Piano Sonata No. 20 in G Major, Op. 45 No. 2: II. Rondo. Andantino con moto

Piano Sonata in D Major, Op. 45 No. 3: I. Allegro moderato

Piano Sonata in D Major, Op. 45 No. 3: II. Larghetto con moto

Piano Sonata in D Major, Op. 45 No. 3: III. Rondo. Allegro moderato assai