Dussek: Complete Piano Sonatas Op.39 & Op.25 No.2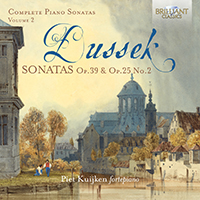 | | |
| --- | --- |
| Composer | Jan Ladislav Dussek |
| Artist | Piet Kuijken fortepiano |
| Format | 1 CD |
| Cat. number | 95602 |
| EAN code | 5028421956022 |
| Release | May 2018 |
About this release
These sonatas date from a high-point in the career of the Czech-born Jan Ladislaus Dussek (1760-1812), at a time when he was established in London as a sought-after performer and fashionable piano teacher. His partnership with the instrument-maker John Broadwood resulted in significant technical developments to the fortepiano which would be imitated abroad and capitalised upon in Vienna by Beethoven, notably the extra power and larger range.

The Sonata Op.25 No.2 in D has become famous under the name 'La Matinée': a subtitle which conveys the lively spirit of the sonata and its irresistible sense of good cheer even in the lyric simplicity of the third-movement Larghetto. The three Op.39sonatas are more elaborate in conception and design without forsaking the earlier work's transparency and grace. The first movements of Op.39 abound in brilliant figuration which evidently played to the composer's strengths as a performer, but they are strongly rooted in a sonata-form structure which contrasts a pressing and vivacious first theme with the more tripping, light-hearted character of the second. The concluding Rondos tend to be the highlight, alternating some surprisingly passionate and even stormy episodes with the kind of unpretentious folk-like theme that Schubert would go on to perfect.

This is the second in a projected eight-album series to be published by Brilliant Classics, surveying the complete keyboard sonatas of Dussek. The series was launched in fine style by the Dutch fortepianist Bart van Oort (BC95599), and it is attracting much critical attention which this addition to the series is sure to share. Piet Kuijken contributes valuable booklet notes; born in 1972, the fortepianist has been professor of piano and fortepiano at the Royal onservatoire in Brussels since 2002 and is a guest professor for the fortepiano at the Royal Conservatoire in Antwerp.

The continuation of an exciting new project: the recording of the complete piano sonatas by Dussek!
Johann Ladislaus Dussek (1760-1812) was born in rural Bohemia. He led a restless life, travelling Europe as a keyboard virtuoso and settling in several European capitals, notably Paris and London, where he became a fashionable pianist and teacher. His close connection to piano manufacturer Broadwood resulted in important innovations, notably the extension of the keyboard to 6 octaves. Dussek's style is rich, harmonically expressive and pianistically challenging, Classicism on the brink of Early Romanticism.
This second issue features the Sonatas Op. 25 No. 2 and the three Sonatas Op. 39 Nos. 1-2-3, written in Dussek's London period from 1789 till 1799, inspired by the new and rich possibilities of the English pianos of the time.
Belgian fortepianist Piet Kuijken has a busy solo and chamber music career, he is much in demand as lecturer and teacher, and he is Professor of piano and fortepiano at the Brussels Conservatory. His recordings have been awarded a Diapason d'Or and a Choc de la Monde de Musique.
Track list
Disk 1
Sonata No. 2 in D Major, Op. 25 C.127: I. Adagio maestoso – Presto

Sonata No. 2 in D Major, Op. 25 C.127: II. Larghetto

Sonata No. 2 in D Major, Op. 25 C.127: III. Rondo. Allegremente

Sonata No. 1 in G Major, Op. 39 C.166: I. Allegro

Sonata No. 1 in G Major, Op. 39 C.166: II. Andantino ma moderato e con espressione –Allegro ma non troppo

Sonata No. 2 in C Major, Op. 39 C.167: I. Allegro moderato

Sonata No. 2 in C Major, Op. 39 C.167: II. Andantino quasi larghetto

Sonata No. 2 in C Major, Op. 39 C.167: III. Rondo. Allegretto

Sonata No. 3 in B-Flat Major, Op. 39 C.168: I. Allegro con spirit

Sonata No. 3 in B-Flat Major, Op. 39 C.168: II. Rondo. Andante sostenuto cantabile