Dussek: Sonatas Op.9 & Op.75, Vol. 6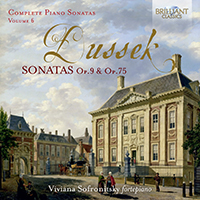 Download booklet
| | |
| --- | --- |
| Composer | Johann Ladislaus Dussek |
| Artist | Viviana Sofronitsky fortepiano |
| Format | 1 CD |
| Cat. number | 95598 |
| EAN code | 5028421955988 |
| Release | March 2019 |
About this release
Brilliant's critically acclaimed Dussek sonata cycle continues with a pairing of early and late works.

Viviana Sofronitsky, daughter of the great Russian pianist Vladimir Sofronitsky, followed in her father's footsteps by becoming a 'formidable pianist' (Fanfare). Early years in Russia were followed by a move to the United States to study
early music at Oberlin Conservatory and further studies in fortepiano and harpsichord at the Royal Conservatory in The Hague. An active performing career across Europe – from Leipzig and Utrecht to Oslo and London – included competition prizes at the Bach Tage Berlin and the Musica Antiqua competition in Bruges.

Her discography includes solo music by Schubert and the complete piano concertos of Mozart, which drew praise for her 'superb articulation' in Fanfare. As on those earlier albums she plays a modern fortepiano by Paul McNulty, based on a Viennese model by Anton Walter, for these new recordings of sonatas by the Czech-born contemporary of Beethoven, Johann Ladislaus Dussek.

The three sonatas gathered under Opus 9 are arrangements of works originally conceived for piano and violin: most of the violin's melody line was originally doubled by the right-hand part of the piano, making the transformation from chamber to solo work seamless and straightforward, and the character of these late-18th-century works corresponds to similarly conceived violin sonatas by Mozart and Beethoven, where the spotlight falls on the keyboard.

So it does in a quite different fashion in the penultimate piano sonata by Dussek, Op.75, which is cast in an early-Romantic vein. An expansive first movement is led by a gentle, exploratory opening melody which fractures and multiplies into passionate figuration across the entire range of the keyboard, and back again: the journey from Beethoven to Schubert in a nutshell. This is followed by a stately, minuet-like Andante moderato and a gracefully turned Rondo finale, both again bearing apparently Schubertian characteristics though written at a time (1811) when the master of song was but a teenager.

The continuation of an exciting new project: the 6th volume of the complete piano sonatas by Dussek!
Johann Ladislaus Dussek (1760-1812) was born in rural Bohemia. He led a restless life, travelling Europe as a keyboard virtuoso and settling in several European capitals, notably Paris and London, where he became a fashionable pianist and teacher. His close connection to piano manufacturer Broadwood resulted in important innovations, notably the extension of the keyboard to 6 octaves.
Dussek's style is rich, harmonically expressive and pianistically challenging, Classicism on the brink of Early Romanticism.
On this CD Viviana Sofronitsky, one of the foremost fortepianists of today (and daughter of the legendary Russian pianist Vladimir Sofronitsky) plays the three early Sonatas Op. 9 and the mature, substantial Sonata Op. 75. She plays a superb copy of a Walter pianoforte, made by Paul McNulty. Walter was considered the best instrument builder of his time, Mozart praised his pianos and owned one, whereas Beethoven thought highly of them.
Listening
Track list
Disk 1
Johann Ladislaus Dussek: Piano Sonata No. 1 in B-Flat Major, Op. 9 No. 1: I. Allegro non tanto

Johann Ladislaus Dussek: Piano Sonata No. 1 in B-Flat Major, Op. 9 No. 1: II. Ronod - Allegretto grazioso

Johann Ladislaus Dussek: Piano Sonata No. 2 in C Major, Op. 9 No. 2: I. Allegro con spirito

Johann Ladislaus Dussek: Piano Sonata No. 2 in C Major, Op. 9 No. 2: II. Larghetto con espressione

Johann Ladislaus Dussek: Piano Sonata No. 2 in C Major, Op. 9 No. 2: III. Presto assai

Johann Ladislaus Dussek: Piano Sonata No. 3 in D Major, Op. 9 No. 3: I. Allegro ma non troppo

Johann Ladislaus Dussek: Piano Sonata No. 3 in D Major, Op. 9 No. 3: III. Prestissimo

Johann Ladislaus Dussek: Piano Sonata No. 27 in E-Flat Major, Op. 75: I. Allegro ma non troppo

Johann Ladislaus Dussek: Piano Sonata No. 27 in E-Flat Major, Op. 75: II. Andante moderato

Johann Ladislaus Dussek: Piano Sonata No. 27 in E-Flat Major, Op. 75: III. Rondo - allegro moderato grazioso