Dussek: Violin Sonatas, Volume 1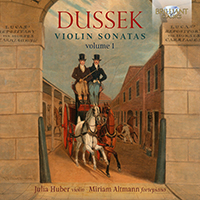 Composer
Johann Ladislaus Dussek
Artist
Miriam Altmann fortepiano
Julia Huber violin
Format
1 CD
Cat. number
96385
EAN code
5028421963853
Release
July 2022
About this release
Having produced the first period-instrument edition of Dussek's piano sonatas, Brilliant Classics now presents a complementary collection of the violin sonatas, beginning with the Op.8 collection which were published around 1789 in Paris.

In fact these attractive pieces belong to the genre of 'accompanied piano sonatas' in which the musical substance is conceived principally for the keyboard instrument, with an obbligato melody instrument (such as the violin or flute) adding or doubling a top line if convenient. Such an arrangement belongs to an 18th- and early 19th-century culture in which well-bred ladies would become accomplished pianists; they could thus either entertain themselves or be joined by a companion (male or female) were one available.

Nevertheless, these pieces were too good and too substantial to be confined to the parlour or music room, and there are records of Dussek himself playing the keyboard part at concertos in London once he had arrived there, in flight from the Revolution in Paris. High contrasts and dynamic expression belong to Dussek's music whatever the context, and these sonatas share the power and brilliance of the Op.9 Sonatas recorded by Viviana Sofronitsky in the Brilliant Classics series of keyboard works.

They are played here in new recordings by the German duo of Julia Huber and Miriam Altmann in polished and historically informed performances, using an authentic 1780 fortepiano. Huber has worked with German period-instrument ensembles such as L'Orfeo Baroque Orchestra, La Stagione Frankfurt and the Collegium Cartusianum in Cologne. Together they will make a substantial addition to the Dussek discography with a complete series of the violin sonatas on Brilliant Classics.

The start of an exciting new project: the recording of the complete violin sonatas by Dussek!
Johann Ladislaus Dussek (1760-1812) was born in rural Bohemia. He led a restless life, travelling Europe as a keyboard virtuoso and settling in several European capitals, notably Paris and London, where he became a fashionable pianist and teacher. His close connection to piano manufacturer Broadwood resulted in important innovations, notably the extension of the keyboard to 6 octaves.
Dussek's style is rich, harmonically expressive and pianistically challenging, Classicism on the brink of Early Romanticism.
Carl Friedrich Cramer writes in the "Magazin der Musik" in 1783: "These sonatas are the only ones of their kind. Rich in new thoughts and traces of the author's great musical genius. Very brilliant, and appropriate to the instrument. The accompaniment of the violin is so artificially combined with the piano part that both instruments are kept in constant attention; so that these sonatas require a violin player who is just as skilled as a piano player."
Played by Julia Huber (violin), a prizewinner of the Locatelli Competition Amsterdam, and concertmaster of L'Orfeo Baroque Orchestra Linz and La Stagione Frankfurt. Miriam Altmann studied piano, fortepiano and harpsichord, she specializes in the Early Classical repertoire and recorded works by Gyrowetz. Both musicians play period instruments.
Track list
Disk 1
Johann Ladislaus Dussek: Sonata No. 1 in C Major, Op. 8, CrawD 54: I. Largo maestoso – Allegro molto

Johann Ladislaus Dussek: Sonata No. 1 in C Major, Op. 8, CrawD 54: II. Andante sostenuto

Johann Ladislaus Dussek: Sonata No. 1 in C Major, Op. 8, CrawD 54: III. Rondo Cosaque. Allegro moderato

Johann Ladislaus Dussek: Sonata No. 2 in F Major, Op. 8, CrawD 55: I. Allegro vivace

Johann Ladislaus Dussek: Sonata No. 2 in F Major, Op. 8, CrawD 55: II. Adagio molto. Cantabile con espressione

Johann Ladislaus Dussek: Sonata No. 2 in F Major, Op. 8, CrawD 55: III. Rondo. Allegretto

Johann Ladislaus Dussek: Sonata No. 3 in A Major, Op. 8, CrawD 56: I. Allegro moderato

Johann Ladislaus Dussek: Sonata No. 3 in A Major, Op. 8, CrawD 56: II. Andante con moto

Johann Ladislaus Dussek: Sonata No. 3 in A Major, Op. 8, CrawD 56: III. Rondo. Allegro moderato