Dutch Delight: Organ Music from the golden age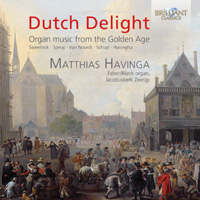 | | |
| --- | --- |
| Composer | Cornelis Schuyt, Jan Pieterszoon Sweelinck |
| Artist | Matthias Havinga |
| Format | 1 CD |
| Cat. number | 95093 |
| EAN code | 5028421950938 |
| Release | February 2015 |
About this release
This attractive collection brings together organ music from the Dutch Golden Age; a period of great prosperity and power for the Republic of the Netherlands. During this era culture blossomed, with art, particularly painting and music, reaching a hitherto unknown level of refinement as exemplified in the works of Rembrandt and Sweelinck, among others.
Cities of the Republic were centers of power, and the position of city organist was one of great prestige, as he was essentially responsible for coordinating local musical culture. His musical adaptability led him to compose in all manner of forms, as can be heard on this release – which effectively offers a postcard from the Dutch Golden Age through its variety of compositions: psalm arrangements, fantasias, dances and secular songs. As arguably the greatest Dutch composer of all time, Jan Pieterszoon Sweelinck's music is a particularly prominent feature of the disc. Of his contrasting variation sets, many were based on secular songs (whose subjects range widely): More Palatino is a bawdy drinking song and Mein junges Leben hat ein End a melancholic melody in the 'vanitas' style, linking closely to popular themes in paintings of the time. Of the musical psalm settings for the organ, which were used to accompany the singing of a massed congregation and also performed during public "concerts" while people wandered through the church in great numbers, Anthoni van Noordt's setting of Psalm 24 is particularly notable, beginning soberly, featuring an adventurous, expressive second variation, and ending grandly with the melody in the pedal. The Faber/Blank organ of the Jacobuskerk,
Zeerijp, is well suited to the repertoire; dating from 1651, it was reconstructed to its original condition in 1979. In the hands of Matthias Havinga, who has won prizes at various international organ competitions and performed extensively in many European countries and in the USA, it is essential in recreating the sound world of the music as closely as possible. This is Havinga's third release for Brilliant Classics, following successful recordings of J.S. Bach's Italian Concertos (transcribed for the organ) (BC94203) and Passacaglia (BC9269).
This beautiful programme, recorded in 2014, brings us back to the Golden Age of the Netherlands, the 16th and 17th century, in which cultural life blossomed thanks to the economical prosperity brought by the overseas trade. Wealthy merchants commissioned works by artists like Rembrandt, Vermeer, Ruischdael and others. Also musical life flourished,
and musicians from all over Europe came to hear and study with Jan Pieterszoon Sweelinck. Organist Matthias Havinga selected a beautiful bouquet of works by Dutch composers: Sweelinck, Van Noordt, Schuyt, Havingha (an ancient ancestor of the artist..?) and others.
Havinga plays a magnificent Faber/Blank organ from 1651, located in the Jacobuskerk in Zeerijp.
Matthias Havinga won several international organ competitions and his two previous recordings for Brilliant Classics (Bach Italian Concertos BC94203 and Passacaglias BC9269) have won great critical acclaim in the international press.
The booklet contains extensive liner notes written by the artist, information on the organ and its specifications and an artist biography in English, Dutch and German.
Track list
Disk 1
Jan Pieterszoon Sweelinck: Fantasia chromatica in D Minor à 4 SwWV 258

Jan Pieterszoon Sweelinck: Almande Gratie [More Palatino] SwWV 318 [4 variations]

Jan Pieterszoon Sweelinck: 6 Variations on "Mein junges Leben hat ein End" in A Minor, SwWV 324

Anonymous: XLIX. Wilhelmus – XIV. Almande prynce

Hendrick Speuy: Psalm 118 "Dancket den Heer seer hoogh' ghepresen"

Anthoni van Noordt: Tabulatuur-boeck van psalmen en fantasyen: Psalm XXIV. Verse 1 à 4, pedaliter

Anthoni van Noordt: Tabulatuur-boeck van psalmen en fantasyen: Psalm XXIV. Verse 2 à 4

Anthoni van Noordt: Tabulatuur-boeck van psalmen en fantasyen: Psalm XXIV. Verse 3 à 4, in de Bas

Jan Pieterszoon Sweelinck: Ballo del Granduca in G Major, SwWV 319

Anonymous: LVI. Daphne [3 verses]

Jan Pieterszoon Sweelinck: Psalm 36 SwWV 311 "Des boosdoenders wille seer quaet": Variatio

Jan Pieterszoon Sweelinck: Psalm 36 SwWV 311 "Des boosdoenders wille seer quaet": Secunda Variatio

Jan Pieterszoon Sweelinck: Psalm 36 SwWV 311 "Des boosdoenders wille seer quaet": Tertia Variatio

Anonymous: IV. De frans galliard

Anonymous: XXXVI. Serbande

Anonymous: XIII. Almande Brun Smeedelyn

Jan Pieterszoon Sweelinck: Malle Sijmen in D Major, SwWV 323

Cornelis Schuyt: 12 Pavans and Galliards, and 2 Canzonas: Padovana

Cornelis Schuyt: 12 Pavans and Galliards, and 2 Canzonas: Gagliarda

Gerhardus Havingha: Ouverture Octava: Vivace

Jan Pieterszoon Sweelinck: Fantasia in G Minor à 3 SwWV 271