Dvořák: Cello Concerto, Silent Woods, Serenade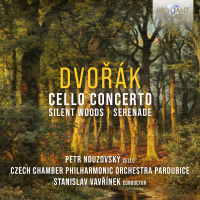 Composer
Antonín Dvorák
Artist
Petr Nouzovský cello
Czech Chamber Philharmonic Orchestra Pardubice
Stanislav Vavrínek conductor
Format
1 CD
Cat. number
95696
EAN code
5028421956961
Release
February 2022
About this release
Antonin Dvořaìk (1841-1904) was a great synthesist, ingeniously combining arguably incongruent strains: folk music (Czech as well as American) with refined classical forms, romantic extroversion with instrumental austerity and national Czech character with worldwide appeal. The three compositions on this album were all created at turning points in Dvořák's life, when radical changes in his situation impacted his creative career.

His Serenade for Strings was composed in 1875, the same year the impoverished musician became a successful composer almost overnight, after the publisher Simrock made Dvořák's Moravian Duets a veritable bestseller, having agreed to work with him on the recommendation of Johannes Brahms. Each of the Serenade's five movements is a variation on ternary (A–B–A) form. The resourcefulness with which Dvořák invents novel ways of returning from the middle section to the opening motive and key is astounding.

Silent Woods has much to do with Dvořák's relocation to America. He was engaged to establish and direct a new National Conservatory in New York. Based on his now established ability to blend Czech folk music with large-scale classical forms it was hoped he would do the same in his new post with American folk music. The Czech transplant indeed soon found his bearings and set about creating a new tradition of American national music on the highest artistic footing. In 1892, before leaving his home for the US, Dvořák gave something of a farewell tour of Czech cities, writing the cello version of Silent Woods for performance on these recitals. Ten years later, Dvořák created the version for cello and orchestra recorded here.

At the conclusion of his time in New York and on his return to Bohemia, Dvořák was focused particularly on writing his Cello Concerto. At first believing the cello an unsuitable instrument for concertante music, his mind had been changed on hearing a concerto by American virtuoso and composer Victor Herbert, and Dvořák's masterpiece took on its definitive form in 1895. Disagreements over alterations suggested by the work's intended first soloist led to the premiere being delayed until a performance in London by Leo Stern in 1896. Now, no other concertante composition for cello and orchestra is performed more frequently on the international stage.

Other information:
- Recorded in January and April 2021 in Pardubice, Czech Republic
- Booklet in English contains notes on the works by eminent Czech composer Lukáš Hurník, along with biographies of the soloist, orchestra and conductor
- Petr Nouzovský plays a 1921 Georg Rauer cello

- Antonin Dvořák is without doubt the most famous and best-loved Czech composer. Rooted in the Romantic German tradition (Brahms and Wagner) he started the Czech nationalist movement, introducing elements of folk music in his classically constructed works.
- Upon his return from New York to Bohemia Dvořák started the composition of his Cello Concerto, finished in 1895. Its great symphonic scope and its challenging and passionate solo part made it an instant success and has since been the most frequently performed cello concerto of the romantic repertoire. "Silent Woods" is a highly attractive single movement work for cello and orchestra, lyrical and evocative. The Serenade for Strings Op.2 was composed in 1875. It is a treasure trove of lush, fluent and vibrant melodies, reminiscent of Czech folklore, nature and history.
- Played with total commitment and intensity by Czech cellist Petr Nouzovský. He has attended master classes all over the world and studied with such legends of his instrument as Mstislav Rostropovich, Boris Pergamenschikow, Franz Helmerson, Lynn Harrell, or David Geringas. The Czech Chamber Philharmonic Orchestra Pardubice delivers idiomatic performances under its music director Stanislav Vavřínek.
Listening
Track list
Disk 1
Antonín Dvorák: Silent Woods for Cello & Orchestra, Op. 68

Antonín Dvorák: Cello Concerto in B Minor, Op. 104: I. Allegro

Antonín Dvorák: Cello Concerto in B Minor, Op. 104: II. Adagio ma non troppo

Antonín Dvorák: Cello Concerto in B Minor, Op. 104: III. Finale. Allegro moderato

Antonín Dvorák: Serenade for Strings in E Major, Op. 22: I. Moderato

Antonín Dvorák: Serenade for Strings in E Major, Op. 22: II. Tempo di valse

Antonín Dvorák: Serenade for Strings in E Major, Op. 22: III. Scherzo. Vivace

Antonín Dvorák: Serenade for Strings in E Major, Op. 22: IV. Larghetto

Antonín Dvorák: Serenade for Strings in E Major, Op. 22: V. Finale. Allegro vivace