Dvorak: Complete String Quartets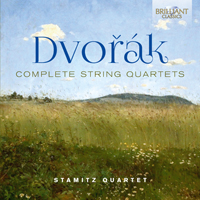 | | |
| --- | --- |
| Composer | Antonín Dvorák |
| Artist | Stamitz Quartet quartet |
| Format | 10 CD |
| Cat. number | 95498 |
| EAN code | 5028421954981 |
| Release | October 2017 |
About this release
Given their infrequent appearances on concert programmes, Dvořák's string quartets have done rather well in the recorded catalogues. There are several recordings of the complete cycle of 16 works, which span the composer's career. A couple have been made by native ensembles from the composer's Czech homeland but also a couple more by central-European ensembles such as the Stamitz Quartet, who since their foundation in 1985 have been known as leading interpreters of Czech repertoire.

The approach of the Stamitz Quartet is quite different from either the Panocha or Prague ensembles, noted David Hurwitz in Classics Today: 'more relaxed, less rhythmically charged, and gracious in an
old-world sort of way… The group also gives unusual stature to the somewhat formally scattered early works, particularly the monstrous Third Quartet, which at 72 minutes has to be just about the all-time longest string quartet that ostensibly observes the rules of classical form.' Taken as a whole, the quartets chart the evolution of Dvořák's style, from his interest in Wagnerian music in the years prior to 1870 – in the String Quartet in D major – to the folk-infused works of his later life, such as the String Quartet in G major Op.106, and show the influence of his time in the United States, with the String Quartet in F Op.96 'American'. If the only Dvorák quartet that you're familiar with is the 'American', then this set will provide an embarkation point for what should prove an immensely fruitful musical journey. The late quartets in particular are shaped by the oscillations between varied weather and song that sit at the heart of the three late symphonies.

According to the Taipei Times, this set is 'a feast for a lifetime. They're gorgeously warm and evocative recordings, and no one could possibly go wrong in choosing them...this remains an astonishing bargain.' This reissue includes full programme notes on each work.

Reissue of a successful Brilliant Classics box set.
Includes the complete string quartets (of course featuring the ever popular American Quartet) as well as the shorter works for string quartet, music which speaks of the beauty of Bohemia, the woods, the streams, the flowers and the rich folklore.
Played by the Czech Stamitz Quartet, who have the idiom for this music in their blood.
Highly rated in the press: "9/9, warmth and richness, highly rewarding" (Classicstoday.com).
Listening
Track list
Disk 1
Antonín Dvorák: String Quartet No. 3 in D Major, B. 18: I. Allegro con brio

Antonín Dvorák: String Quartet No. 3 in D Major, B. 18: II. Andantino

Antonín Dvorák: String Quartet No. 3 in D Major, B. 18: III. Allegro energico

Antonín Dvorák: String Quartet No. 3 in D Major, B. 18: IV. Finale, allegretto
Disk 2
Antonín Dvorák: String Quartet No. 2 in B-Flat Major, B. 17: I. Allegro non troppo

Antonín Dvorák: String Quartet No. 2 in B-Flat Major, B. 17: II. Largo

Antonín Dvorák: String Quartet No. 2 in B-Flat Major, B. 17: III. Allegro con brio

Antonín Dvorák: String Quartet No. 2 in B-Flat Major, B. 17: IV. Finale. Andante-allegrogiusto-allegro con fuoco

Antonín Dvorák: Quartettsatz in A Minor, B. 40a: I. Andante appassionato
Disk 3
Antonín Dvorák: String Quartet No. 8 in E Major, B. 57: I. Allegro

Antonín Dvorák: String Quartet No. 8 in E Major, B. 57: II. Andante con moto

Antonín Dvorák: String Quartet No. 8 in E Major, B. 57: III. Allegretto scherzando

Antonín Dvorák: String Quartet No. 8 in E Major, B. 57: IV. Finale, allegro con brio

Antonín Dvorák: Echo of Songs, B. 152: I. I Know That on my Love. Moderato

Antonín Dvorák: Echo of Songs, B. 152: II. Death reigns. Allegro ma non troppo

Antonín Dvorák: Echo of Songs, B. 152: III. When Thy Sweet Glances. Andante con moto

Antonín Dvorák: Echo of Songs, B. 152: IV. Never Will Love Lead Us. Poco adagio

Antonín Dvorák: Echo of Songs, B. 152: V. Here Gaze I. Andante

Antonín Dvorák: Echo of Songs, B. 152: VI. O Charming, Golden Rose. Andante moderato

Antonín Dvorák: Echo of Songs, B. 152: VII. I Wander Oft. Andante con moto

Antonín Dvorák: Echo of Songs, B. 152: VIII. In Deepest Forest Glade. Lento

Antonín Dvorák: Echo of Songs, B. 152: IX. Thou Only Dear One. Moderato

Antonín Dvorák: Echo of Songs, B. 152: X. There Stands an Ancient Rock. Andante maestoso

Antonín Dvorák: Echo of Songs, B. 152: XI. Nature Lies Peaceful. Allegro scherzando

Antonín Dvorák: Echo of Songs, B. 152: XII. You Are Asking Why. Allegro animato
Disk 4
Antonín Dvorák: String Quartet No. 4 in E Minor, B. 19: I. Assai con moto ed energico

Antonín Dvorák: String Quartet No. 4 in E Minor, B. 19: II. Andante religioso

Antonín Dvorák: String Quartet No. 4 in E Minor, B. 19: III. Allegro con brio

Antonín Dvorák: Quartettsatz in F Major, B. 120
Disk 5
Antonín Dvorák: String Quartet No. 5 in F Minor, B. 37: I. Moderato

Antonín Dvorák: String Quartet No. 5 in F Minor, B. 37: II. Andante con moto quasi allegretto

Antonín Dvorák: String Quartet No. 5 in F Minor, B. 37: III. Tempo di valse

Antonín Dvorák: String Quartet No. 5 in F Minor, B. 37: IV. Finale, allegro molto

Antonín Dvorák: String Quartet No. 6 in A Minor, B. 40: I. Allegro ma non troppo

Antonín Dvorák: String Quartet No. 6 in A Minor, B. 40: II. Poco allegro

Antonín Dvorák: String Quartet No. 6 in A Minor, B. 40: III. Poco adagio

Antonín Dvorák: String Quartet No. 6 in A Minor, B. 40: IV. Finale, allegro molto
Disk 6
Antonín Dvorák: String Quartet No. 1 in A Major, B. 8: I. Andante-allegro

Antonín Dvorák: String Quartet No. 1 in A Major, B. 8: II. Andante affetuoso ed appassionato

Antonín Dvorák: String Quartet No. 1 in A Major, B. 8: III. Allegro scherzando

Antonín Dvorák: String Quartet No. 1 in A Major, B. 8: IV. Finale, allegro animato

Antonín Dvorák: Terzet in C Major, B. 149: I. Introduzione-allegro ma non troppo

Antonín Dvorák: Terzet in C Major, B. 149: II. Larghetto

Antonín Dvorák: Terzet in C Major, B. 149: III. Scherzo, vivace

Antonín Dvorák: Terzet in C Major, B. 149: IV. Thema con variazioni, poco adagio
Disk 7
Antonín Dvorák: String Quartet No. 11 in C Major, B. 122: I. Allegro

Antonín Dvorák: String Quartet No. 11 in C Major, B. 122: II. Poco adagio e molto cantabile

Antonín Dvorák: String Quartet No. 11 in C Major, B. 122: III. Scherzo

Antonín Dvorák: String Quartet No. 11 in C Major, B. 122: IV. Finale, vivace

Antonín Dvorák: Two Waltzes, B. 105: I. Moderato

Antonín Dvorák: Two Waltzes, B. 105: II. Allegro vivace
Disk 8
Antonín Dvorák: String Quartet No. 9 in D Minor, B. 75: I. Allegro

Antonín Dvorák: String Quartet No. 9 in D Minor, B. 75: II. Alla polka

Antonín Dvorák: String Quartet No. 9 in D Minor, B. 75: III. Adagio

Antonín Dvorák: String Quartet No. 9 in D Minor, B. 75: IV. Finale, poco allegro

Antonín Dvorák: String Quartet No. 7 in A Minor, B. 45: I. Allegro ma non troppo

Antonín Dvorák: String Quartet No. 7 in A Minor, B. 45: II. Andante cantabile

Antonín Dvorák: String Quartet No. 7 in A Minor, B. 45: III. Allegro scherzando

Antonín Dvorák: String Quartet No. 7 in A Minor, B. 45: IV. Finale, allegro ma non troppo
Disk 9
Antonín Dvorák: String Quartet No. 10 in E-Flat Major, B. 92: I. Allegro ma non troppo

Antonín Dvorák: String Quartet No. 10 in E-Flat Major, B. 92: II. Dumka

Antonín Dvorák: String Quartet No. 10 in E-Flat Major, B. 92: III. Romanza, andante con moto

Antonín Dvorák: String Quartet No. 10 in E-Flat Major, B. 92: IV. Finale, allegro assai

Antonín Dvorák: String Quartet No. 14 in A-Flat Major, B. 193: I. Adagio ma non troppo – allegro appassionato

Antonín Dvorák: String Quartet No. 14 in A-Flat Major, B. 193: II. Molto vivace

Antonín Dvorák: String Quartet No. 14 in A-Flat Major, B. 193: III. Lento e molto cantabile

Antonín Dvorák: String Quartet No. 14 in A-Flat Major, B. 193: IV. Allegro non tanto
Disk 10
Antonín Dvorák: String Quartet No. 12 in F Major,B. 179: I. Allegro ma non troppo

Antonín Dvorák: String Quartet No. 12 in F Major,B. 179: II. Lento

Antonín Dvorák: String Quartet No. 12 in F Major,B. 179: III. Molto vivace

Antonín Dvorák: String Quartet No. 12 in F Major,B. 179: IV. Finale, vivace ma non troppo

Antonín Dvorák: String Quartet No. 13 in G Major, B. 192: I. Allegro moderato

Antonín Dvorák: String Quartet No. 13 in G Major, B. 192: II. Adagio ma non troppo

Antonín Dvorák: String Quartet No. 13 in G Major, B. 192: III. Molto vivace

Antonín Dvorák: String Quartet No. 13 in G Major, B. 192: IV. Finale, andante sostenuto, allegro con fuoco