Earl Wild: Complete Piano Music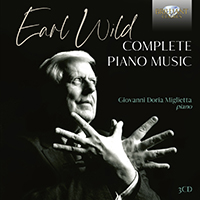 | | |
| --- | --- |
| Composer | Earl Wild |
| Artist | Giovanni Doria Miglietta piano |
| Format | 3 CD |
| Cat. number | 96705 |
| EAN code | 5028421967059 |
| Release | December 2022 |
About this release
The most complete available collection of the improvisations and transcriptions by a virtuoso of the Romantic school.
Born in 1915, the American pianist Earl Wild was known to most listeners as a specialist in the line of Romantic pianist-composers from Chopin to Rachmaninov. However, Wild was also a masterful improviser – in the tradition of the composers he played – and he wrote down (and recorded) many of them to leave a substantial legacy of transcriptions, fantasies and paraphrases, as well as original piano works.
Recorded between 2013 and 2018, this is the first and so far only complete collection of Wild's piano music. It opens with deeply affectionate transcriptions of poetic slow movements from Marcello to Fauré. Wild's own Piano Sonata dates from 2000, by which time he had been performing and composing for more than 70 years. Cast in the traditional three movements, it comes bang up to date with a spectacular final Toccata 'à la Ricky Martin'.
An album's worth of Rachmaninov song transcriptions testifies to the deep sympathy of Wild for the composer's language. These original recastings blend the vocal line into the accompaniment and gain additional preludes and postludes in the manner of Liszt's song transcriptions of Schubert. Wild knew Rachmaninov, often heard him perform, and knew the Russian soprano Maria Kurenko, who had worked with the composer on his songs, and shared the insights she gained.
Willd could dazzle an audience with keyboard pyrotechnics like few others, as the rest of the collection makes evident: etudes and fantasias on Gershwin;
transcriptions of Handel, Saint-Saëns and Tchaikovsky; and finally his own, roof raising version of a Mexican hat dance.
When these recordings first appeared on Piano Classics, they attracted high praise from the critics. 'Giovanni Doria Miglietta sounds completely attuned to the idiom, even though these works cannot have always been familiar to him. He has the technique to get round all the notes without strain, and he has a good instrument on which he makes a fine sound, with a sonorous forte that never becomes clangorous, and is well-captured by the recording' (MusicWeb International). 'A reminder that Wild (1915‐2010) was without doubt one of the greatest pianists of the 20th century' (CD Choice).

· Earl Wild (1915-2010) was without doubt one of the greatest pianists of the 20th century. His immense repertoire, his staggering virtuosity, his warmth and his charm deserve him the epithet legendary. Wild was a great improviser as well, and he frequently played his own fantasies in his concerts. Fortunately he wrote these wonderful pieces down, and his creative legacy contains a wealth of transcriptions, fantasies and paraphrases, as well as original piano works.
· This 3-CD set presents Wild's complete transcriptions and original piano works, including the famous Porgy & Bess Fantasy, his own Etudes and Piano Sonata and the famous Rachmaninoff Songs: a feast of pianistic glitter and virtuoso fireworks!
· 'This is tremendously challenging music,' remarked Fanfare of the first volume in this series containing Wild's Piano Sonata, 'and Miglietta certainly has the virtuosity that it requires… Fans of this repertoire will want to hear his perspective — and will eagerly await the rest of the series.' "extremely well played… possibly my favorite piano disc of 2014.." Classical Net.
· Previously issued on the Piano Classics label in three separate CDs, now available at a modest price as a 3-CD set.
Listening
Track list
Disk 1
Earl Wild: Adagio from Oboe Concerto in D Minor

Earl Wild: Hommage à Poulenc

Earl Wild: Larghetto from Piano Concerto No. 2 in F Minor, Op. 21

Earl Wild: Improvisation on après un rève

Earl Wild: Piano Sonata 2000: I. Allegro

Earl Wild: Piano Sonata 2000: II. Adagio

Earl Wild: Piano Sonata 2000: III. Toccata (a la Ricky Martin)

Earl Wild: Improvisation in the Form of a Theme and Three variations on Someone to Watch Over Me

Earl Wild: 7 Virtuoso Etudes: I. Liza

Earl Wild: 7 Virtuoso Etudes: II. Somebody Loves Me

Earl Wild: 7 Virtuoso Etudes: III. The Man I Love

Earl Wild: 7 Virtuoso Etudes: IV. Embraceable You

Earl Wild: 7 Virtuoso Etudes: V. Lady Be Good

Earl Wild: 7 Virtuoso Etudes: VI. I Got Rhythm

Earl Wild: 7 Virtuoso Etudes: VII. Fascinatin' Rhythm
Disk 2
Earl Wild: Dreams, Op. 38 No. 5

Earl Wild: Where Beauty Dwells, Op. 21 No. 7

Earl Wild: O, Cease Thy Singing (Oh Never Sing to Me Again)

Earl Wild: Sorrow in Springtime, Op. 21 No. 12

Earl Wild: The Little Island, Op. 14 No. 2

Earl Wild: The Muse, Op. 34 No. 1

Earl Wild: Midsummer Night, Op. 14 No. 5

Earl Wild: To the Children, Op. 26 No. 7

Earl Wild: Do Not Grieve, Op. 14 No. 8

Earl Wild: In the Silent Night, Op. 4 No. 3

Earl Wild: Harvest of Sorrow, Op. 4 No. 5

Earl Wild: One the Death of a Linnet, Op. 21 No. 8

Earl Wild: Vocalise, Op. 34 No. 14

Earl Wild: Floods of Spring, Op. 14 No. 11
Disk 3
Earl Wild: Reminiscences of Snow White: I. Whistle While You Work, I'm Wishing, One Song, Heigh-Ho, Someday My Prince Will Come

Earl Wild: Fantasy on Porgy and Bess: I. Introduction - Jasbo Brown Blues, Summertime, Oh, I Can't Sit Down

Earl Wild: Le rouet d'omphale, Op. 31

Earl Wild: Air and Variations - The Harmonious Blacksmith

Earl Wild: Dance of the Four Swans from Swan Lake

Earl Wild: At the Ball, Op. 38 No. 3

Earl Wild: Jarabe Tapatio. Mexican Hat Dance