Eben: Velvet Revolution, Complete Organ Music Vol.1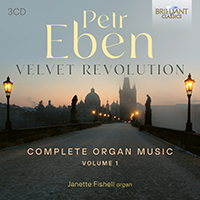 | | |
| --- | --- |
| Composer | Petr Eben |
| Artist | Janette Sue Fishell organ |
| Format | 3 CD |
| Cat. number | 96312 |
| EAN code | 5028421963129 |
| Release | October 2022 |
About this release
When the Czech composer Petr Eben died in 2007, he was renowned and performed the world over as a composer for choirs and organ. Nevertheless, 15 years on, this album inaugurates the first attempt at a complete survey of his output for the organ – an output so rich and individual that it has come to define a late 20th-century sound for the instrument as characterfully as Marcel Dupré achieved some six decades earlier.

Eben's individuality as a composer may be traced in part to the influence of the environment in which he was brought up, the Renaissance town of Český Krumlov. This background shaped his humanist mission for art, a conviction arising perhaps from his wartime internment at the concentration camp in Buchenwald.

Nevertheless, a deep faith also burns within large-scale cycles such as Job, which battles with matters of life and death in a richly chromatic language, evidently informed by the composer's own formidable gifts as an improviser.

Alongside Job, the first volume of this projected integrale presents the monumental Faust cycle for organ, which tells the story of Goethe's antihero in nine vividly illustrative pieces, including an Easter chorus, a drinking song, a Witches' Sabbath and finally a sublime epilogue. Eben first came to international attention as an organ composer with the Laudes composed in 1964: the stern, archaic and magnificent quality of these hymns has proved adaptable to organs across the world and interpretations by countless organists.

In Janette Fishell, Eben's music for organ finds a supremely dedicated interpreter of international experience and technical finish. As professor of organ at Indiana University, she is recognised as a leading scholarly authority on Eben's organ music, the subject of her doctoral dissertation; she produced the first study of his organ works in English. Subtitled 'Velvet Revolution', this complete survey will be illustrated by a series of online films about Eben's life and work; Fishell supplies authoritative annotations to her own performances on this album, which will make essential listening for all students and enthusiasts of 20th-century organ music.

The start of an exciting new series: the complete organ works by Petr Eben!
Petr Eben (1929 – 2007) was born in Žamberk, northeastern Bohemia. The son of two teachers, he studied music from an early age, becoming "conscripted" as organist when the men from his town were away at war. Eben was raised in his mother's Catholic faith but because of his father's Jewish heritage he was captured and imprisoned by the Nazis in Buchenwald, remaining there for the duration of the war. After the war he was admitted to the Prague Academy for Music, and there he studied piano with František Rauch and composition with Pavel Bořkovec. A rising star, he refused to join the Czech Communist Party and continued openly attending church, thus forfeiting many career advancements before 1989. After the Communist government crumbled, however, he was given several important appointments and awards, among them presidency of the Prague Spring Festival (1989). In 1991, Eben was awarded the title of Knight of the French Ministry of Culture, Arts and Letters, evidence of his manifold international contributions to the art of music and cause of artistic freedom.
Over more than half a century Eben produced music in diverse genres. He wrote numerous vocal, choral, symphonic, piano, and chamber works, but it was organ music which remained his greatest love and in which he was most prolific.
Stylistically, Eben was uncompromising when others were willing to write politically correct music. Not that Eben's works are especially difficult or inaccessible; most listeners would find his expressive language no further advanced than that of Britten or Messiaen, two composers who may well have influenced him. Eben was considered a master at improvisation on the organ and his music has been widely performed and recorded since about 1980, with his popularity still apparently on the rise.
Janette Fishell is Professor of Organ and Chair of the Organ Department at the Jacobs School of Music, Indiana University, where she teaches Applied Organ and Organ Pedagogy. She maintains an international concert career, with regular concert tours in Europe, the United Kingdom and Asia as well as the United States. A lecturer, teacher, adjudicator, recording artist, author, and church musician of international standing, she is widely recognized as a leading authority on the organ music of Petr Eben. Her insights into his musical style and performance practice grew from many meetings, collaborations, coachings, and correspondences, establishing a friendship lasting from 1984 until his death in 2007.
Listening
Track list
Disk 1
Petr Eben: A Voice Crying in the Wilderness – Works of the Young Composer Musica Dominicalis: I. Fantasia I

Petr Eben: A Voice Crying in the Wilderness – Works of the Young Composer Musica Dominicalis: II. Fantasia II

Petr Eben: A Voice Crying in the Wilderness – Works of the Young Composer Musica Dominicalis: III. Moto ostinato

Petr Eben: A Voice Crying in the Wilderness – Works of the Young Composer Musica Dominicalis: IV. Finale

Petr Eben: Laudes for Organ: I. Largo - Con moto – Largo

Petr Eben: Laudes for Organ: II. Lento - Allegro solenne - Poco più mosso

Petr Eben: Laudes for Organ: III. Fantastico - Agitato - Più mosso

Petr Eben: Laudes for Organ: IV. Gravemente - Allegro - Vivace fermo

Petr Eben: Fantasia Corale I: I. "O Grosser Gott". Allegro risoluto – Più moderato – Largemente

Petr Eben: Fantasia Corale II: II. "Svatý Václav". Agitato appassionato
Disk 2
Petr Eben: The Devil is in the Details – Faust for Organ: I. Prolog

Petr Eben: The Devil is in the Details – Faust for Organ: II. Mysterium

Petr Eben: Lied des Leiermannes

Petr Eben: Osterchöre

Petr Eben: Studentenlieder

Petr Eben: Gretchen

Petr Eben: Requiem

Petr Eben: Walpurgisnacht

Petr Eben: Epilog

Petr Eben: Versetti: I. Ad offertorium super "pueri hebraeorum"

Petr Eben: Versetti: II. Ad Communionem super "adoro te"
Disk 3
Petr Eben: Job for Organ: I. Destiny

Petr Eben: Job for Organ: II. Narration. The Book of Job, Chapter 1, verses 1-3, 6-21

Petr Eben: Job for Organ: III. Faith

Petr Eben: Job for Organ: IV. Narration. The Book of Job, Chapter 2, verses 1-10

Petr Eben: Job for Organ: V. Acceptance of Suffering

Petr Eben: Job for Organ: VI. Narration. The Book of Job, Chapter 3, verses 1-2, 11-13, 20-23

Petr Eben: Job for Organ: VII. Longing for Death

Petr Eben: Job for Organ: VIII. Narration. The Book of Job, Chapter 7, verses 16-21

Petr Eben: Job for Organ: IX. Despair and Resignation

Petr Eben: Job for Organ: X. Narration. The Book of Job, Chapter 38, verses 1-12, 33, 35

Petr Eben: Job for Organ: XI. Mystery of Creation

Petr Eben: Job for Organ: XII. Narration. The Book of Job, Chapter 4, verses 1-6

Petr Eben: Job for Organ: XIII. Penitence and Realisation

Petr Eben: Job for Organ: XIV. Narration. The Book of Job, Chapter 42, verses 10, 12-13, 15-17

Petr Eben: Job for Organ: XV. God's Reward

Petr Eben: Kleine Choralpartita on "O Jesu, all mein Leben bist Du"