Eberl: Piano Sonatas & Variations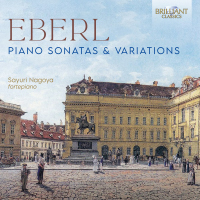 | | |
| --- | --- |
| Composer | Anton Eberl |
| Artist | Sayuri Nagoya fortepiano |
| Format | 1 CD |
| Cat. number | 96509 |
| EAN code | 5028421965093 |
| Release | January 2022 |
About this release
New recordings of keyboard music by a now-unfamiliar Viennese friend of Mozart, once admired by the likes of Haydn and Gluck, and whose pieces were previously attributed to Mozart himself.
Born in Vienna in 1765, Anton Eberl lived a quieter life than Mozart, and his music does not court the scandal or venture to the expressive extremes of his contemporary, friend and mentor. After Mozart's death in 1756, Eberl toured with his widow Constanze Mozart and her equally accomplished sister, Aloysia Lange, before Eberl married a third talented soprano, Maria Anna Scheffler, and the pair moved to Saint Petersburg, which at the time was establishing an artistic court to rival any of the capitals of Europe. Eberl worked there as Kapellmeister to the Russian royal family for a decade (1796-1805) before moving back to Vienna. Only two years later, at the height of his reputation, Eberl caught scarlet fever and died at the age of 41.
By then Eberl had also become well acquainted (perhaps not so friendly) with Beethoven. Sayuri Nagoya's personal selection from Eberl's keyboard output encompasses the earlier and later stages of his career, beginning with a set of variations on 'Bei Männern' from Die Zauberflöte which was composed within months of the Singspiel's premiere at the Theater an der Wien. Dating from a year or two after Mozart's death, the Sonata Op.1 was originally published under his name, and Eberl's Sonatina Op.5 (1796) likewise inhabits a Mozartian grammar.
By the time of the G minor Sonata Op.27, however, Eberl had developed a bolder and more dramatic idiom of keyboard writing, doubtless also under the influence of the intervening decade of technological innovation which brought about instruments with a wider compass and broader dynamic range. The C major Sonata Op.43 opens with a grand introduction before launching into an Allegro of high contrasts. The album leaves the listener with a full appreciation of Eberl's gifts as well as a tantalising sense of where his talents might have taken him next.
Born in Tokyo, a graduate in piano and harpsichord from the conservatoire in Brussels, Sayuri Nagoya has dedicated herself to the repertoire composed in the crossover period between the two instruments at the turn of the 19th century. On this recording she plays an instrument by the Viennese firm of Brodmann. As she writes in the booklet essay, 'my fingers finally found a deep connection with the keys, bringing out a warm and melancholic sound, not unlike the human voice.'

- Anton Eberl was born in Vienna June 13, 1765 and was one of the most renowned piano virtuosos and composers of his time, standing comparison with Haydn, Mozart, and Beethoven. Eberl was even "one of Beethoven's most dangerous rivals" (as Anton Schindler wrote) and in April 1805 Eberl's Symphony Op.33 was played at the concert in which Beethoven's "Eroica" was heard for the first time and public and critics preferred Eberl's one. Anton Eberl came to prominence as a child prodigy giving his first piano recital already when he was scarcely seven or eight years old. He died of the scarlet fever in 1804.
- Eberl's Piano Sonatas differ strongly from Mozart, Haydn and Beethoven and show a more romantic idiom. His compositions have some common stylistic elements coming from the Mannheim School (strong dynamic contrasts, unisono openings, fermatas), the note-repetitions of the melody (related to the parlando of opera buffa) and his trade-mark crossing of hands.
- This new recording presents early and later works by Eberl: the piano sonata Op.1, the two Grand Sonatas Op.27 and 43, the sonatina Op. 5 and a set of Variations on Mozart's Zauberflöte.
- Sayuri Nagoya is a keyboard player who focuses on the connection between the harpsichord and pianoforte. She has received 1st prize in the 3rd Rosenstock International piano competition (modern piano) and the 2nd Rome Fortepiano International Competition.