El Aire Se Serena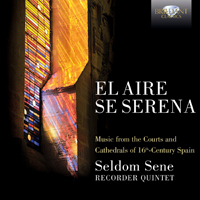 | | |
| --- | --- |
| Artist | Seldom Sene |
| Format | 1 CD |
| Cat. number | 95304 |
| EAN code | 5028421953045 |
| Release | February 2016 |
About this release
Taking inspiration from Fray Luis de León, the 16th-century lyric poet and monk, Seldom Sene have selected an enthralling collection of music for their second album. 'El aire se serena' – a line from one of Léon's poems – translates as 'The air becomes serene', setting the tone for the beautifully atmospheric music of the album. The Quintet have selected a vast array of secular and sacred works, from the well-known composers De Cabezón and his son Hernando, to the more neglected but at the time equally prolific composers, such as Francisco de Peñalosa and the dance master Fabritio Caroso. Much of the release is dedicated to sacred music, with works such as Josquin's five-voice motet Inviolata, integra et casta est Maria and Lamentabatur Iacob, written by Josquin's successor De Morales, who styled himself on the Spanish composer.

Three works take the theme of Philippe Verdelot's lively madrigal Dormend'un giorno a Baia, depicting a group of nymphs who take revenge on Love's trickery while he sleeps. As well as Verdelot's original work, there is an instrumental version by Antonio de Cabezón and a section from Francisco Guerrero's Missa 'Dormendo un giorno', an illustration of the remarkable fluidity between vocal and instrumental music as well as the sacred and secular genres in 16th-century music.

As well as instrumental music and transcriptions of vocal music, the album includes a number of dance tracks: the famous [Danza] alta by Francisco de la Torre, and Francesco da Milano's Bassadanza are two rare examples of notated dance music in a discipline that was usually improvised by the musicians on the spot.

Seldom Sene perform these works on modern recorders carefully modelled after originals, selecting the most appropriate instrument for each work. The recorder quintet has been together since 2009 and they have grown rapidly in prominence, winning first prize at the International Van Wassenaer Early Music Competition at the Utrecht Early Music Festival in 2014.

This beautifully conceived CD presents music from the Courts and Cathedrals of 16th century Spain. The composers include Cabezon, Geurrero, Penalosa, Vasquez, Morales, Victoria, Milano, Lobo, Torre and Caroso. One of the main practices in 16-th century Spain was the transcription or arrangements of vocal music from the Franco-Flemish School. Masses, motets and madrigals by Gomberg, Josquin and others were transcribed for instrumental ensembles.
Seldom Sene is a recorder ensemble from the Netherlands. The ensemble's aim is to translate the typical phrasing, blending, flexibility and expression of a vocal ensemble into an instrumental performance, and recreate the sense of Serenity and Brilliance as is described in the CD's title. Seldom Sene already recorded a successful CD for Brilliant Classics, Taracea BC94871, Gramophone wrote: "commitment, technical versatility, unanimity of ensemble and near-immaculate tuning on display". Dutch newspaper Early Music Review wrote: "Seldom Sene perceptively exploited a range of contrasting textures, and was the only ensemble of the day whose memorisation of the dots enabled unbridled spontaneity."

Recorded in The Netherlands in 2015.
Listening
Track list
Disk 1
Antonio de Cabezón: Obras de música para tecla, arpa y vihuela: Inviolata. Jusquin

Francisco Guerrero: Missa Dormendo un giorno: Agnus dei III

Antonio de Cabezón: Durmendo un jorno. Verdelot

Philippe Verdelot: Dormend'un giorno a baia

Cristóbal De Morales: Lamentabatur Jacob in D Minor

Tomás Luis De Victoria: Ascendens Christus in altum in G Major

Antonio de Cabezón: Triste de par. Gombert

Juan Vasquez: Lágrimas de mi consuelo

Francisco de la Torre: Alta in D Minor

Fabritio Caroso: Il Ballarino: Balletto. Amor mio

Francesco Da Milano: Bassadanza: La spagna

Alonso Lobo: Ave regina coelorum

Francisco de Peñalosa: Adoro te, domine

Francisco Guerrero: Missa pro defunctis: Lux aeterna

Hernando de Cabezón: Susana un jur

Anonymous: Riu, riu, chiu

Francisco Guerrero: Trahe me post te, virgo Maria

Francisco Guerrero: Canciones y villanescas espirituales: Hombres, victoria, Victoria

Josquin Des Préz: Inviolata, integra et casta es: I. Prima pars

Josquin Des Préz: Inviolata, integra et casta es: II. Secunda pars

Josquin Des Préz: Inviolata, integra et casta es: III. Tertia pars