Elgar: Cello Concerto, Enigma Variations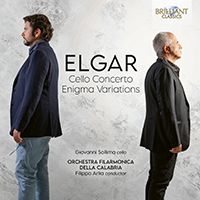 Composer
Edward Elgar
Artist
Giovanni Sollima cello
Orchestra Filarmonica della Calabria
Filippo Arlia conductor
Format
1 CD
Cat. number
96039
EAN code
5028421960395
Release
October 2021
About this release
From Arturo Toscanini and Sir John Barbirolli to Riccardo Muti and Antonio Pappano in our own time, Italian-heritage performers have often brought special qualities of sympathy and understanding to Edward Elgar's (1857-1934) music. Now comes a new recording made in the 'boot' of southern Italy, lending Mediterranean warmth and passion to a trio of Elgarian masterpieces.

The Sicilian-born cellist Giovanni Sollima has made well-received albums for Brilliant Classics of music by Offenbach (94475) and by his father Eliodoro Sollima (96287). His latest recording, made at the Teatro Politeama in the one-time 'lace capital' of Europe, Catanzaro, illuminates one of the core works of the cello literature with an affecting sense of line and sensitivity to the melancholy introversion which colours every bar of the Concerto composed by Elgar in the wake of the First World War.

Twenty years earlier, Elgar's reputation was secured with audiences across Europe and America through the whirlwind success of his "Enigma" Variations. The stoic beauty of 'Nimrod', the gentle wit of 'Dorabella' and the nervous excitement and pride of the autobiographical finale spoke directly to listeners who would never know the composer or his 'friends pictured within'. The agitated, impassioned voice of Elgar in the Variations belonged to its end-of-Empire time and place, orchestrated with a mastery which would soon draw the admiration of Richard Strauss and many more musicians on the other side of the English Channel.
Even that quintessential expression of Englishness, the first of five marches which Elgar collected under the Shakesperean banner of "Pomp and Circumstance" and later repurposed to set 'Land of Hope and Glory' for the finale of his Coronation Ode, won the composer standing ovations when he conducted it in concerts across mainland Europe. Under the affectionate baton of their music director Filippo Arlia, the Orchestra Filarmonica della Calabria interpret Elgar's music with a sensitivity and extroversion worthy of the composer.

· Edward Elgar is without doubt the most important English composer of his generation. His works are written in the idiom of late 19th-century Romanticism and are characterized by bold tunes, striking colour effects, and mastery of large forms.
· This new recording presents two of Elgar's most important and popular orchestral works, the "Enigma Variations" and the "Cello Concerto", music of great and universal emotional impact and scope.
· Soloist is the Italian cellist and composer Giovanni Sollima, one of the most original and foremost musicians of his time. He has collaborated with Riccardo Muti, Yo-Yo Ma, Ivan Fischer, Viktoria Mullova, Ruggero Raimondi, Yuri Bashmet, Katia and Marielle Labeque, Giovanni Antonini, Ottavio Dantone, Stefano Bollani, and with orchestras such as the Chicago Symphony Orchestra, Royal Concertgebouw Orchestra, Moscow Soloists, Berlin Konzerthausorchester, Australian Chamber Orchestra, Il Giardino Armonico, Accademia Bizantina, Holland Baroque Society and Budapest Festival Orchestra.
· Filippo Arlia is one of the most brilliant and versatile musicians of today. He is conductor and founder of the Orchestra Filarmonica della Calabria.
Listening
Track list
Disk 1
Edward Elgar: Pomp and Circumstance March No. 1, Op .39

Edward Elgar: Cello Concerto in E Minor, Op. 85: I. Adagio

Edward Elgar: Cello Concerto in E Minor, Op. 85: II. Lento

Edward Elgar: Cello Concerto in E Minor, Op. 85: III. Adagio

Edward Elgar: Cello Concerto in E Minor, Op. 85: IV. Allegro

Edward Elgar: Variations on an Original Theme Enigma, Op. 36: I. Thema

Edward Elgar: Variations on an Original Theme Enigma, Op. 36: II. Variation I – C. A. E.

Edward Elgar: Variations on an Original Theme Enigma, Op. 36: III. Variation II – H. D. S. - P.

Edward Elgar: Variations on an Original Theme Enigma, Op. 36: IV. Variation III – R. B. T.

Edward Elgar: Variations on an Original Theme Enigma, Op. 36: V. Variation IV – W. M. B.

Edward Elgar: Variations on an Original Theme Enigma, Op. 36: VI. Variation V – R. P. A.

Edward Elgar: Variations on an Original Theme Enigma, Op. 36: VII. Variation VI – YSOBEL

Edward Elgar: Variations on an Original Theme Enigma, Op. 36: VIII. Variation VII – TROYTE

Edward Elgar: Variations on an Original Theme Enigma, Op. 36: IX. Variation VIII – W.N.

Edward Elgar: Variations on an Original Theme Enigma, Op. 36: X. Variation IX – NIMROD

Edward Elgar: Variations on an Original Theme Enigma, Op. 36: XI. Variation X – DORABELLA

Edward Elgar: Variations on an Original Theme Enigma, Op. 36: XII. Variation XI – G. R. S.

Edward Elgar: Variations on an Original Theme Enigma, Op. 36: XIII. Variation XII – B. G. N.

Edward Elgar: Variations on an Original Theme Enigma, Op. 36: XIV. Variation XIII – ROMANZA

Edward Elgar: Variations on an Original Theme Enigma, Op. 36: XV. Variation XIV – E.D.U Finale