Elise Neumann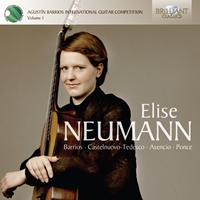 | | |
| --- | --- |
| Composer | Agustín Barrios Mangoré (1), Mario Castelnuovo-Tedesco, Manuel María Ponce, Vicente Asencio |
| Artist | Elise Neumann guitar |
| Format | 1 CD |
| Cat. number | 9287 |
| EAN code | 5029365928724 |
| Release | July 2012 |
About this release
Agustín Barrios, born in Paraguay in 1885, was one of the greatest figures in the history of guitar music, a virtuoso performer and composer, and the first artist to record music for the guitar. His own compositions were infused with the melodies, rhythms and folk tunes of his Latin-American homeland, and so intuitively suited to the instrument that he gained a reputation as the Chopin of guitar music. Awarded in honour of this illustrious musician, the Agustín Barrios International Guitar Competition has run since 2004, with the aim of promoting and supporting talented guitarists; the first-prize winner in 2011 was Elise Neumann, and this exciting new CD is her first solo recording.

Taking Barrios as her starting-point, Elise Neumann's recital spans works from the 1920s to the 1960s, united by their Latin-American inspiration and touches of Romanticism. A selection of Barrios's own works are featured, demonstrating his distinctive blend of Classical elements and traditional Latin-American styles, while a similar approach can be heard in Manuel Maria Ponce's Schubert-inspired Sonata Romántica. Also included are Castelnuovo-Tedesco's dark, dream-like El sueño de la razón produce monstruos, and Asencio's Collectici Íntim.

Elise Neumann's talent as a performer and deep appreciation of this elegant, colourful and creative repertoire can be heard throughout the recording, highlighting the qualities that impressed the juries of the Agustín Barrios International Guitar Competition. Enthusiasts of guitar music should make it a priority to add this disc to their collections, as Elise Neumann is sure to a star of guitar music in the future.

Other information:
- Recorded in December 2011, Italy , this issue is the first result of a collaboration between the International Barrios Guitar Competition and Brilliant Classics.
- 2011 First Prize winner Elise Neumann presents a fine recital of solo guitar works, spanning a period from the 1920-ties to the 1960-ties, featuring (of course) works by Barrios, and works by Spanish and Italian composers Castelnuovo-Tedesco, Ponce and Asencio, filled with golden Mediteranian light and colour. Discover an up-and-coming star of guitar music in this first solo recording by Elise Neumann.
- A must for guitar aficionados, and those who appreciate an attractive and excellently played guitar recital.
- Includes booklet notes by Elise Neumann, detailing each composer and piece featured in the recording.
Track list
Disk 1
Agustín Barrios Mangoré: País de abanico

Agustín Barrios Mangoré: Medallon Antiguo

Agustín Barrios Mangoré: Habanera

Agustín Barrios Mangoré: Vals, Op. 8 No.4

Agustín Barrios Mangoré: Gavota al estilo antiguo

Agustín Barrios Mangoré: Vals Tropical

Mario Castelnuovo-Tedesco: El sueño de la razón produce monstruos

Vicente Asencio: Collectici Íntim: I. La Serenor

Vicente Asencio: Collectici Íntim: II. La Joia

Vicente Asencio: Collectici Íntim: III. La Calma

Vicente Asencio: Collectici Íntim: IV. La Gaubança

Vicente Asencio: Collectici Íntim: V. La Frisança

Manuel María Ponce: Sonata Romántica: I. Allegro non troppo, semplice

Manuel María Ponce: Sonata Romántica: II. Andante

Manuel María Ponce: Sonata Romántica: III. Moment musical

Manuel María Ponce: Sonata Romántica: IV. Allegro non troppo e serioso