Elizabethan Pavans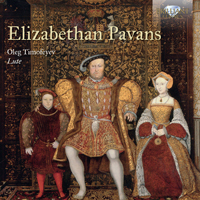 | | |
| --- | --- |
| Artist | Oleg Timofeyev lute |
| Format | 1 CD |
| Cat. number | 95236 |
| EAN code | 5028421952369 |
| Release | March 2016 |
About this release
Oleg Timofeyev, a Russian-born American lutenist, brings together a personal collection of some of his favourite Elizabethan pavans, each carefully chosen from lute books or unpublished manuscripts, spanning the length of Queen Elizabeth I's reign. What intrigues Timofeyev is the special status that the pavan held during this time, and how it morphed from a simple dance to a slow, grand, fantasy-like composition. This album showcases this fascinating development; from two pavans inspired by Elizabeth's predecessor, King Henry VIII, the first of which includes a marvellous 'fanfare' section, to a collection of anonymous pavans that utilised common harmonic progressions for the first time, delighting the post-Renaissance listener. The famous John Dowland features on this release, with his tongue-in-cheek 'Semper Downland semper dolens' (a complaint that he neverheld a position at Elizabeth's court), as well as Daniel Bacheler and John Daniel, whose eccentric, almost decadent style brought the art of the pavan to its highest degree of sophistication.

Oleg Timofeyev is a lutenist, guitarist, musicologist and documentary film director.
Since arriving in America in 1989, he has studied with the likes of Hopkinson Smith and Peter Williams, and has gone on to record dozens of CDs. He has been responsible for the revival of the seven-string Russian guitar, and in 2008 together with his wife he made a compelling documentary about his former guitar teacher, Kamill Frautschi.

The Pavan is an ancient Spanish-Italian Dance form, solemn, slow and stately. It gained great popularity in Renaissance England, in which it developed from a straight dance form in the time of Henry VIII to a highly sophisticated composition of a slow, rhapsodic and fantasy-like nature, in which the composer expressed his often melancholy emotions. The composers featured are Cotton, Ferrabosco, Philips, Johnson, Mason, Robinson, Dowland, Daniel, Bacheler and several Anonymi. Oleg Timofeyev is a highly respected lutenist, guitarist, musicologist and documentary film director. He wrote the excellent liner notes for this release.

Other information:
Recorded in Iowa, USA, in June 2014.
Contains liner notes written by the artist.
Contains a biography of the artist.
Track list
Disk 1
Kyng Harry the VIIIth Pavyn

The Kinges Pavane

Pavan

Quadro pavan

Anthony pavan

Passamezzo pavan (Marsh Lute Book)

Pavan

Quadro Pavan (Willoughby Lute Book)

Pavana cromatica

Spanish pavan

Philips pavan

Mason pavan

Lachrimae pavan

Spanish pavan

Semper Dowland semper dolens

Sims pavan

Pavan (Cozens Lute Book)

Pavan

Rosamund