English Music for Oboe and Piano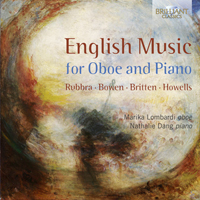 Composer
Benjamin Britten, Edmund Rubbra, Herbert Howells, York Bowen
Artist
Marika Lombardi oboe
Nathalie Dang piano
Format
1 CD
Cat. number
95435
EAN code
5028421954356
Release
December 2017
About this release
The ancient, pastoral origins of the oboe as a shepherd's pipe struck a chord with many British composers of the mid-20th century. Landscape and the evocation of a place, a sense of home, has been a central element to English music for more than a century, and these four composers reflect those concerns through the prism of an instrument connecting them, and us, back to nature and to an idealised rustic past.

In her introduction to the album, the Italian oboist Marika Lombardi reflects on the intimacy of this association: 'The oboe can sound close to the human voice and in the Temporal Variations I feel Britten is virtually "speaking" to us. In fact, all four composers wrote quite marvellously for the oboe, exploiting all its range and expressive palette, from plaintive to aggressive or cutting, from to lyrical to melancholic. They also make oboe and piano speak as one voice – a voice that can express deep feelings. The conclusion of the Howells sonata is a case in point, being a true hymn to Paradise that leaves the audience moved every time we perform it.'

A gentle, almost Minimalist opening to Edmund Rubbra's Sonata opens out to a characteristically long-limbed and reflective melody. At its heart lies a brief but affecting elegy. York Bowen is another composer overshadowed until recently by the likes of Vaughan Williams and Britten, but he was praised by Saint-Saens in 1903 as 'the most remarkable of the young British composers' and compared to Rachmaninov as both a pianist of formidable gifts and in his virtuosic writing for the instrument. Meanwhile, the sonata by Herbert Howells is a wartime work, unperformed at the time by its dedicatee, Leon Goossens, and only receiving its premiere in 1984. The most substantial work on the album, the sonata's moods reflect their troubled times, not least in refuge from them.

Marika Lombardi formed her duo with the French pianist Natalie Dang in 2003. They have since toured Europe together, while also pursuing successful careers as both soloists and teachers.

Early 20th century British music often has a strong evocative character, related to nature and an idealized rustic past: no wonder that the oboe, with its plaintive and melancholic tones had a strong appeal to composers of this time. This new recording presents some fine compositions for oboe and piano by major English composers: Edmund Rubbra, York Bowen, Benjamin Britten and Herbert Howells. A wonderfully varied collection in which all the characteristics and possibilities of the instruments and musical styles of the period are presented.
Italian oboist Marika Lombardi studied with Pierre Pierlot, Maurice Bourgue, Hansjörg Schellenberger and Sergiu Celibidache. She won several First prizes at international competitions.
Excellent liner notes in both English and French.
Track list
Disk 1
Oboe Sonata, Op. 100: I. Con moto

Oboe Sonata, Op. 100: II. Elegy, lento

Oboe Sonata, Op. 100: III. Presto

Oboe Sonata, Op.85: I. Allegretto grazioso

Oboe Sonata, Op.85: II. Andantino espressivo

Oboe Sonata, Op.85: III. Allegro giocoso

Temporal Variations: I. Theme

Temporal Variations: II. Oration

Temporal Variations: III. March

Temporal Variations: IV. Exercises

Temporal Variations: V. Commination

Temporal Variations: VI. Chorale

Temporal Variations: VII. Waltz

Temporal Variations: VIII. Polka

Temporal Variations: IX. Resolution

Sonata for Oboe and Piano: I. Placido, teneramente, ma con moto

Sonata for Oboe and Piano: II. Lento, assai espressivo e tranquillo

Sonata for Oboe and Piano: III. Allegro mosso

Sonata for Oboe and Piano: IV. Epilogo. tranquillo, mesto, ma con moto