Erotica Antiqua: Neapolitan Villanellas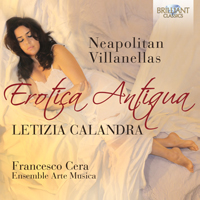 Download booklet
Composer
Andrea Falconieri
Artist
Letizia Calandra soprano
Ensemble Arte Musica
Francesco Cera conductor
Format
1 CD
Cat. number
95448
EAN code
5028421954486
Release
June 2017
About this release
Soprano Letizia Calandra is passionate about the promotion of traditional Neapolitan music. She has already recorded two albums of 'Classico Napoletano' repertoire, featuring 19th-century canzone napoletane, but this time she turns her attention to a lesser-known and much older tradition: villanellas. These were 16th-century songs, set in the Neapolitan dialect by composers aping the lyric traditions of the street or countryside. Featuring bawdy characters and crude themes involving cuckolded husbands, scheming maids or jealous suitors, these light pieces originated from the strong tradition of the 'rustic fool' in Naples. Performing on period instruments (including the unusual lirone) that would have been used in 16th-century Naples, Calandra is joined by the early music ensemble Arte Musica, and together they create an authentic portrayal of the fascinating jumble of characters who made up this unique Renaissance city.

Letizia Calandra is a firmly established interpreter of Neapolitan music. She comes from a background of Baroque and Renaissance repertoire, having performed in such operas as Ercole amante and Dido and Aeneas. Previous recordings include 'Scarlatti and the Neapolitan Song' for Brilliant Classics (BC94488), with Francesco Cera on the harpsichord, a record described as 'convincing in every respect' by Music Web International. Cera is a leading specialist of early music in Italy and frequently records for Brilliant Classics. His album of Bach's Orgelbüchlein (BC94639) was praised for its 'magnificence' by Arkiv Music.

The Villanella is closely related to the city of Naples, as Thomas Wythorne already wrote in 1572: "groups of musicians vied with another sing rustic songs..they wandered the streets, improvising verses and songs in honour of the beautiful women they saw at their windows, and created a sweet harmony that delighted all who heard it".
The Villanellas are far removed from the courtly poetry of the time, which sings of yearnings for the unattainable female beloved, speaking of sighs and tears. The Villanella however speak of water as the metaphor of love: dishes break, jugs crack and overflow with eroticism.
This new recording features a generous selection of Villanellas by lesser-known composers as Giovanni Dell'Arpa and Filippo Azaiolo, but also by renaissance master Orlando di Lasso, who apparently had a soft spot for this genre.

Recorded in Laureana Cilento, Italy, in August 2016.
Contains liner notes by musicologist Alessandro Taverna.
Contains biographies of the artists.
Listening
Track list
Disk 1
Giovanni Leonardo Dell'Arpa: Villanella che all'acqua vai

Anonymous: Boccuccia d'uno persic' aperture

Anonymous: Madonna tu mi fai lo scorrucciato

Anonymous: Tu sai che la cornacchia

Anonymous: Che sia malditta l'acqua

Anonymous: La morte di marito

Anonymous: Oi ricculina

Anonymous: Vurria ca fosse ciaola

Giovanni Leonardo Dell'Arpa: Vorria crudel tornare

Giovanni Domenico da Nola: Fontana che dai acqua

Giovanni Domenico da Nola: Fuggit' Amore

Filippo Azzaiolo: Girometta senza te non viverò

Orlando di Lasso: Matona mia cara, LV 663

Orlando di Lasso: Sto core mio

Orlando di Lasso: Madonna mia, pietà, LV 30

Orlando di Lasso: O occhi manza mia

Baldassare Donato: Chi la gagliarda in F Major

Andrea Falconieri: O bellissimi capelli

Andrea Falconieri: Vezzosette e care pupillette ardenti

Andrea Falconieri: Occhietti amati