ESPOSITO: Music for Violin and Piano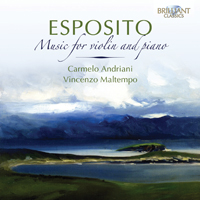 Composer
Michele Esposito
Artist
Carmelo Andriani violin
Vincenzo Maltempo piano
Format
2 CD
Cat. number
95102
EAN code
5028421951027
Release
March 2015
About this release
It might be unusual to find classical music that manages to imbibe the spirit of Irish folk music; it must be even more unusual for that 'Irish' music to actually be by an Italian. But Michele Esposito was an unusual composer. Born in southern Italy, financial circumstances led him to settle abroad, and, after a brief spell in Paris, he arrived in Dublin in 1882, making Ireland his homeland for the next 46 years. His time there coincided with the Irish cultural revival that was taking place during the latter half of the 19th century, leading Esposito to find a place at the heart of several prominent cultural institutions.

One of these institutions was the Feis Ceoil, the Irish competitive music festival, at which Esposito won first prize for his Irish Rhapsody No.2 Op.54 in 1902. Folk music also inspired his Irish symphonies, for which he is well known, as well as the simple yet highly effective airs and melodies featured on this release. The three violin sonatas all stem from very different periods of the composer's life; the first contains elements of Schumannesque piano writing in the third movement, as well as clear echoes of Saint-Saëns, whereas the second – more technically advanced – is more akin to the music of Brahms. Esposito's last violin sonata, composed in 1913, is tonally much more experimental, and structured in a highly unconventional manner, with the Scherzo movement a slow and solemn minuet, concluding in an unusual sonata form.

Violinist Carmelo Andriani may hail from Italy, but he also has a connection with Esposito's adopted land, having recorded violin sonatas written specially for him by Irish composer Tom Cullivan, a release that was critically praised for Andriani's 'Gaelic spirit'. He has also performed at the Philharmonie with the Berliner Symphoniker, and has recently recorded a personal selection of violin music for the Stradivarius label. Pianist Vincenzo Maltempo has performed around the world, and his debut at the Miami Piano Festival in 2014 was highly acclaimed, leading to an invitation for the young performer to play there again. This is the duo's first release for Brilliant Classics.
Irish romantic music written by an Italian!
Michele Esposito (1855-1929) was born in the poor south of Italy. Bad luck prompted him to go abroad and he finally settled in Ireland, where he spent the last 46 years of his life, founding the Dublin Orchestral Society. He conducted the London Symphony Orchestra, with whom he also performed his own piano concerto conducted by Hamilton Harty.
Esposito's works have a particular Irish flavour, freely making use of folk melodies and generally expressing the atmosphere of the Irish landscape and folklore.
This release presents his complete output for violin and piano, real discoveries in this genre, works of deep emotional content and a high level of virtuosity.
Played by two Italians with the right romantic feel for this music: violinist Carmelo Andriani and young Vincenzo Maltempo (who received great critical acclaim for his stunning recordings of piano music by Alkan and Schumann on Piano Classics).

Other information:
Recorded in Italy in 2014.
Contains liner notes written by Esposito expert Jeremy Dibble.
Contains notes on the artists.
Track list
Disk 1
Michele Esposito: Violin Sonata No. 1 in G Major, Op. 32: I. Moderato

Michele Esposito: Violin Sonata No. 1 in G Major, Op .32: II. Lento

Michele Esposito: Violin Sonata No. 1 in G Major, Op. 32: III. Allegro vivace

Michele Esposito: Irish Rhapsody No. 1 for Violin and Piano, Op. 51

Michele Esposito: Five Irish Melodies for Violin and Piano, Op. 56: No. 3 "Silent, O Moyle"

Michele Esposito: Five Irish Melodies for Violin and Piano, Op. 56: No. 5 "When through life"

Michele Esposito: Two Irish Airs for Violin and Piano, Op. 57: No. 2 "The silver tip" (Irish reel)

Michele Esposito: Five Irish Melodies for Violin and Piano, Op. 56: No. 2 "The Coulin"
Disk 2
Michele Esposito: Violin Sonata No. 2 in E Minor, Op. 46: I. Allegro moderato

Michele Esposito: Violin Sonata No. 2 in E Minor, Op. 46: II. Andantino

Michele Esposito: Violin Sonata No. 2 in E Minor, Op. 46: III. Allegro con fuoco

Michele Esposito: Violin Sonata No. 3 in A Major, Op. 67: I. Affettuosamente

Michele Esposito: Violin Sonata No. 3 in A Major, Op. 67: II. Allegretto moderato

Michele Esposito: Violin Sonata No. 3 in A Major, Op. 67: III. Andante cantabile

Michele Esposito: Violin Sonata No. 3 in A Major, Op. 67: IV. Allegretto grazioso

Michele Esposito: Irish Rhapsody No. 2 for Violin and Piano, Op. 54