Fantasias on Operas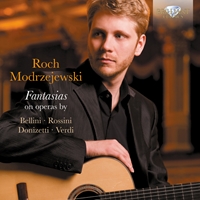 | | |
| --- | --- |
| Composer | Caspar Joseph Mertz, Giulio Regondi, Jan Nepomuk de Bobrowicz, Luigi Legnani, Mauro Giuliani, Napoléon Coste |
| Artist | Roch Modrzejewski guitar |
| Format | 1 CD |
| Cat. number | 94446 |
| EAN code | 5028421944463 |
| Release | February 2013 |
About this release
The 19th century was a significant time for both opera and the guitar. Opera was everywhere, and its characteristics gradually began to appear in other styles of music as composers tried to encapsulate the expressiveness and flexibility of the voice into their works. At the same time, the guitar underwent major changes in construction; this disc showcases pieces that combine these two major elements of 19th-century music, all of which are played by Roch Modrzejewski – praised in Les Cahiers de la Guitare as an 'extraordinary, demanding, gifted and clever guitarist'.

The collection begins with Coste's light and lively interpretations of Bellini's Norma and Il pirata, followed by Legnani's Cavatina from Ernani by Verdi, a simple piece that makes full use of all facets of the guitar. Then come the variations on a theme of Rossini's Otello, by the immensely important guitarist Giuliani, who shows off his skill by combining simple, natural harmonisation and texture at the outset and a brilliant vitality and vigour in the final section. Bobrowicz was known to his contemporaries as the 'Chopin of the guitar', and his Variations on Bellini's I Capuleti e i Montecchi display a romantic nostalgia and a regal finale. Mertz explores all sound colours of the guitar in the beautiful Marino Faliero after Donizetti, and the collection ends with the Variations on an air from Bellini's I Capuleti e i Montecchi by Regondi: a work full of innovative modulations and rich texture which transcended the boundaries of 19th-century guitar composition.

Other information:
- Recorded in 2012, Krakow.
- In the 19th century the classical guitar gained its independence and emancipation as a serious solo instrument. To show the instrument's possibilities and to entertain the general public guitarists often composed and played Fantasias on popular opera arias.
- Contains notes on the works by the artist.
- Contains first recordings (Nepomuk de Brobowicz's Variations and Polonaise on a duet from I Capulati e I Montecchi Op.30; Mertz's Marino Faliero from Opern-Revue Op.8).
Track list
Disk 1
Napoléon Coste: Fantasy on two themes from Bellini's Norma, Op. 16

Napoléon Coste: Introduction and Variations on a theme by Bellini (Il pirata)

Luigi Legnani: Elvira's Cavatina from Verdi's Ernani

Mauro Giuliani: Variations on the favourite Cavatina from Rossini's Otello, Op. 101

Jan Nepomuk de Bobrowicz: Variations and Polonaise on a duet from Bellini's I Capuleti e i Montecchi, Op. 30

Caspar Joseph Mertz: Fantasia No. 11 Marino Faliero from Opern-Revue, Op. 8, after Donizetti

Giulio Regondi: Variations on an air from Bellini's I Capuleti e i Montecchi