Farrenc: Music for Violin & Piano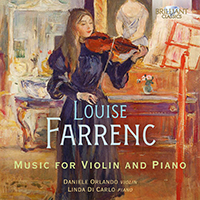 Composer
Louise Farrenc
Artist
Daniele Orlando violin
Linda di Carlo piano
Format
1 CD
Cat. number
95922
EAN code
5028421959221
Release
August 2021
About this release
Born in 1804, Louise Farrenc became a professional-standard pianist while still a teenager, and later music teacher to the household of the Duke d'Orléans and from 1842 professor of piano at the Paris Conservatoire. Her substantial legacy of composition was largely forgotten after her death in 1875 and is only now being revived. She wrote mainly in the field of orchestral and chamber music: 'I would defy anyone,' says the pianist Linda Di Carlo in a personal introduction to this new recording of Farrenc's music for violin and piano, 'to cast aspersions on the chamber music in particular on the grounds of her gender.'
No less than Théophile Gautier wrote admiringly of the First Sonata from 1848: 'an excellent addition to her catalogue of works, and written, like most of them, in an austere classical style reminiscent of the great masters.' It was Joseph Joachim, no less, who gave the Second Sonata's premiere in March 1850 at the Salle Érard in Paris. The sonata opens with a distinct echo of Beethoven's 'Spring' Sonata, and the opera buffa spirit of Mozart hovers over the finale, but the elfin dance of the Scherzo is entirely Farrenc's own, characteristic inspiration. The Variations Concertantes on a popular Swiss melody has more of the perfume of the salon: a work of light and easy charm, written to display the prowess of any soloist.

On this recording, the violinist taking up the challenge of Farrenc's subtly challenging music is Daniele Orlando, concertmaster of I Solisti Aquilani with a distinguished discography to his name, including a much-acclaimed recording of Vivaldi's Four Seasons. This 2019 recording is the only budget-priced album available of Farrenc's music for violin and piano: an ideal introduction to a significant figure in 19th-century French music belatedly receiving her due.

· Louise Farrenc was one of the first successful female composers in 19th century France. Born in a family of high artistic activity, she became an accomplished pianist (having had lessons with Moscheles and Hummel), eventually holding a professorship at the Paris Conservatoire.
· Farrenc's early compositions were in cultivated Salon style, her later works however are of a more ambitious nature, she composed large scale chamber music and even symphonies.
· This new recording contains the two violin sonatas and the Variations Concertantes sur une Mélodie Suisse, of which Robert Schumann wrote: 'So sure in outline, so logical in development … that one must fall under their charm, especially since a subtle aroma of romanticism hovers over them.'
Played by Italian violinist Daniele Orlando and pianist Linda Di Carlo, who already recorded two CDs with chamber music by Louise Farrenc for Brilliant Classics.
Listening
Track list
Disk 1
Louise Farrenc: Variations concertantes sur une mélodie Suisse, Op. 20: I. Introduzione. Andante maestoso

Louise Farrenc: Variations concertantes sur une mélodie Suisse, Op. 20: II. Tema. Andante

Louise Farrenc: Variations concertantes sur une mélodie Suisse, Op. 20: III. Variation I. Più mosso

Louise Farrenc: Variations concertantes sur une mélodie Suisse, Op. 20: IV. Variation II

Louise Farrenc: Variations concertantes sur une mélodie Suisse, Op. 20: V. Variation II bis. Espressivo

Louise Farrenc: Variations concertantes sur une mélodie Suisse, Op. 20: VI. Variation III. Brillante

Louise Farrenc: Variations concertantes sur une mélodie Suisse, Op. 20: VII. Variation IV. Andante sostenuto

Louise Farrenc: Variations concertantes sur une mélodie Suisse, Op. 20: VIII. Finale. Vivace

Louise Farrenc: Violin Sonata No. 1, Op. 37: I Largo-Allegro

Louise Farrenc: Violin Sonata No. 1, Op. 37: II Poco adagio

Louise Farrenc: Violin Sonata No. 1, Op. 37: III Finale. Allegro vivace

Louise Farrenc: Violin Sonata No. 2, Op .39: I Allegro grazioso

Louise Farrenc: Violin Sonata No. 2, Op .39: II Scherzo. Allegro

Louise Farrenc: Violin Sonata No. 2, Op .39: III Adagio

Louise Farrenc: Violin Sonata No. 2, Op .39: IV Finale. Allegro