Farrenc: Piano Trios, Cello Sonata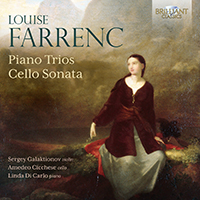 Composer
Louise Farrenc
Artist
Sergey Galaktionov violin
Amedeo Cicchese cello
Linda Di Carlo piano
Format
1 CD
Cat. number
96352
EAN code
5028421963525
Release
October 2023
About this release
The case for Louise Farrenc no longer requires special pleading: she has emerged in the last decade as a major figure among French composers of the early-Romantic era, whose neglect in previous eras can only be understood in the context of her gender. Both live performances and recordings have revealed.
Born Jeanne-Louise Dumont in Paris in 1804, the family history of this gifted woman is a geneticist's dream. Her father, court sculptor and one-time pensionnaire of the French Academy at Rome represents the fourth generation of a dynasty of master craftsmen continuously associated with the rulers of France since Louis X. Louise's brother Auguste, three years her senior, became the fifth and last generation in a line of Dumont sculptors.
Louise's own special gifts in the realm of music became apparent very early, and she began training in piano and theory at the age of six. Still in her formative years, she had instruction from Moscheles and Hummel, both pupils of Beethoven, but she made a conscious decision at the age of 15 to seek out a more rigorous course of instruction from the Czech composer Reicha, who was (happily for posterity) a professor at the Paris Conservatoire. Two years later, at 17, she married Aristide Farrenc, another scion of a well-to-do family, but after a period of travelling Louise resumed her studies with Reicha while awaiting the birth of her first child.

Robert Schumann lavished praise on Farrenc's early published work, and it is easy to hear why from these two piano trios and Cello Sonata, all of which belong to the mainstream of lyrical Romanticism in its early flowering. Farrenc's own gifts as a pianist are always in evidence from the intricate nature of her writing for her instrument, but her understanding of the two string instruments, and the tricky balancing between them and the greater volume of the piano, is achieved with unobtrusive mastery in the trios. The slow movement of the Cello Sonata is a gentle, shy song which should delight every new listener to it.

The pianist Linda di Carlo has already been the constant presence in two previous albums of Farrenc's chamber music on Brilliant Classics, and she brings a deep understanding and experience of the idiom to these new recordings. Of the piano-and-wind music (95319), Fanfare's reviewer concluded: 'Performance and recording are top-notch. Buy and enjoy.' For the violin sonatas (95922): 'Daniele Orlando… plays with simply gorgeous tone throughout… Linda Di Carlo … handles her parts expertly, managing never to overwhelm Orlando, and that makes for an outstanding duo partnership. Urgently recommended.'

- Jean-Francois Dandrieu (ca. 1682-1738) was a French Baroque composer and organist.
- Louise Farrenc was one of the first successful female composers in 19th century France. Born in a family of high artistic activity, she became an accomplished pianist (having had lessons with Moscheles and Hummel), eventually holding a professorship at the Paris Conservatoire.
- Farrenc's early compositions were in cultivated Salon style, her later works however are of a more ambitious nature, she composed large scale chamber music and even symphonies.
- Farrenc wrote a substantial body of chamber music, of which Robert Schumann wrote: 'So sure in outline, so logical in development … that one must fall under their charm, especially since a subtle aroma of romanticism hovers over them.'
- This new recording presents the beautiful, full blooded romantic Cello Sonata, a gem in its genre, and two Piano Trios, written in a perfect blend of German craftsmanship and French charm.
- This is the third Farrenc recording organized by pianist Linda Di Carlo, whose recording of the Violin Sonatas was met with great critical acclaim.
Track list
Disk 1
Louise Farrenc: Piano Trio No. 1 in E-Flat Major, Op. 33: I. Allegro

Louise Farrenc: Piano Trio No. 1 in E-Flat Major, Op. 33: II. Adagio sostenuto

Louise Farrenc: Piano Trio No. 1 in E-Flat Major, Op. 33: III. Minuetto. Allegro

Louise Farrenc: Piano Trio No. 1 in E-Flat Major, Op. 33: IV. Finale. Vivace

Louise Farrenc: Piano Trio No. 2 in D Minor, Op. 34: I. Andante-Allegro

Louise Farrenc: Piano Trio No. 2 in D Minor, Op. 34: II. Tema con variazioni

Louise Farrenc: Piano Trio No. 2 in D Minor, Op. 34: III. Rondo. Allegro

Louise Farrenc: Cello Sonata in B-Flat Major, Op. 46: I. Allegro moderato

Louise Farrenc: Cello Sonata in B-Flat Major, Op. 46: II. Andante sostenuto

Louise Farrenc: Cello Sonata in B-Flat Major, Op. 46: III. Finale. Allegro