Farrenc: Wind Sextet, Trios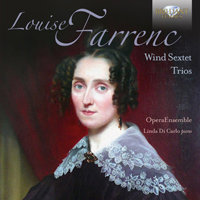 Composer
Louise Farrenc
Artist
OperaEnsemble
Linda Di Carlo piano
Format
2 CD
Cat. number
95319
EAN code
5028421953199
Release
April 2017
About this release
Brilliant Classics already has one disc of Louise Farrenc (1804-1875) in its catalogue, which is one more than most recording companies. The Piano Quintets (BC94815) were an ear-opening discovery and delight for anyone interested in 19th-century chamber music; Farrenc's originality is plain to hear, and in these works she developed the genre beyond what had seemed to be its Brahmsian apex.

A more extensive opportunity is now offered to become acquainted with an aesthetic of great formal confidence and expressive delight, with these new recordings of Farrenc's two piano trios and her Wind Sextet. The trios were frequently performed during the years after their composition in 1844, five years after the piano quintets. By this time she had been appointed Professor of Piano at the Paris Conservatoire; the only woman in so senior a rank until the turn of the new century.

Remarkably, the Sextet of 1851-2, foreshadowing Poulenc's composition 80 years later, is the first instance of a work that combines the piano with a full wind complement of flute, oboe, clarinet, horn and bassoon. All three works bear traces of neo-classical echoes of Hummel and Mendelssohn. If, from a structural point of view, they follow Classical models - sonata-allegro or sonata-rondo form in the outer movements, framing an animated Scherzo and Trio (except for the Sextet, in only three movements) and a rhapsodic slow movement - his harmonic progressions are notably adventurous, often leading the listener into unexpected territory.

The Sextet, in a dramatic C minor, is a muscular, concertante piece, in which the piano is as dominant as the piano quintets by Brahms and Schumann, but any momentary imbalance is soon overcome, and the equilibrium between the instruments is generally governed with extreme care. The tone of the two trios is more intimate and the conversation between instruments more delicate and mellow. Clarinet and cello are ideally matched by their dark colours (as can be noted in the soulful Adagio), whilst the Flute Trio, in a wistful E minor, is a rare example of a 19th-century chamber work featuring an instrument that by then was regarded primarily as a member of the symphony orchestra.

Louise Farrenc was born in 1804 into an artistic family of painters and sculptors, living in a "commune" near the Sorbonne in her native Paris. At an early age she was admitted to the Paris Conservatoire, where she studied composition and piano, and where she met her future husband, the flautist Aristide Farrenc.
Farrenc' s early compositions were in cultivated Salon style, her later works however are of a more ambitious nature, she composed large scale chamber music and even symphonies.
The clarinet and flute trios and the wind sextet on this new recording are written in the Classical/Early Romantic style of Weber, Hummel and Clementi, music of fresh imagination, charm and scintillating instrumental virtuosity.
Played with brio and zest by I Solisti del Teatro Dell'Opera di Roma, an elite group led by pianist Linda di Carlo, who already successfully recorded an earlier Farrenc CD (BC94815).
Track list
Disk 1
Sextet in C Minor, Op. 40: I. Allegro

Sextet in C Minor, Op. 40: II. Andante sostenuto

Sextet in C Minor, Op. 40: III. Allegro vivace
Disk 2
Trio in E-Flat Major, Op. 44: I. Andante – Allegro moderato

Trio in E-Flat Major, Op. 44: II. Adagio

Trio in E-Flat Major, Op. 44: III. Minuetto

Trio in E-Flat Major, Op. 44: IV. Allegro

Trio in E Minor, Op. 45: I. Allegro deciso –Più moderato ed espressivo

Trio in E Minor, Op. 45: II. Andante

Trio in E Minor, Op. 45: III. Scherzo

Trio in E Minor, Op. 45: IV. Finale