Fauré: Complete Piano Works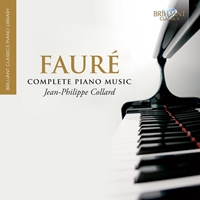 | | |
| --- | --- |
| Composer | Gabriel Fauré |
| Artist | Jean-Philippe Collard piano |
| Format | 4 CD |
| Cat. number | 94035 |
| EAN code | 5028421940359 |
| Release | March 2010 |
About this release
Gabriel Fauré (1845-1924) had a long creative life, and he was born just as Berlioz was finishing La damnation de Faust, and died three years after Berg had completed Wozzeck, and Messiaen was publishing his earliest compositions. His reputation will be as the master of French song, but his considerable body of piano music contains some of the greatest works written for the instrument, especially the Nocturnes 9-11 and the Barcarolles 7-11 composed in 1907-10. Until the works of Debussy's maturity appeared in Faure was the most advanced French composer, his music shocking Saint-Saëns, and even managing to astonish the young Debussy with his adventurous harmonies.

Fauré's compositional style can be divided into four periods. The earliest is the romantic style, particularly noticeable in the works from the 1870s where the spirit of Chopin hovers over the early Nocturnes. Next are the works dating from the 1880s when he became close to poets such as Verlaine. The music from these years is dreamy, languid and tortuously melodious. The third style from the 1890s is bold and assertive, and the many of the great piano works date from this period. The final style is confident, when Fauré felt able to pursue a solitary course, with a string of remarkable works including the late Nocturnes and the 5th Impromptu. The music is sparse in texture, but rich in expressive dissonances.

Other information:
- Jean-Philippe Collard is one of the great exponents of this repertoire.
- "Collard, confirming the impression made by his other records, proves an excellent choice, equal to all this music's technical demands, as his refined control of the frequently shifting textures of the Op. 33 set (Nos. 1-3) shows. His identification with Faure's musical thought also appears to be complete, and this is the major point, because a long journey is travelled between Nocturne No. 1 of 1883 and No. 13, which was published in 1922" (Gramophone, June 1981).
Track list
Disk 1
Gabriel Fauré: Nocturnes: No.1 in E flat Minor Op.33 No.1

Gabriel Fauré: Nocturnes: No.2 in B Op.33 No.2

Gabriel Fauré: Nocturnes: No.3 in A flat Op.33 No.3

Gabriel Fauré: Nocturnes: No.4 in E flat Op.36

Gabriel Fauré: Nocturnes: No.5 in B flat Op.37

Gabriel Fauré: Nocturnes: No.6 in D flat Op.63

Gabriel Fauré: Nocturnes: No.7 in C sharp Minor Op.74

Gabriel Fauré: Nocturnes: No.8 in D flat Op.84 No.8

Gabriel Fauré: Nocturnes: No.9 in B Minor Op.97

Gabriel Fauré: Nocturnes: No.10 in E Minor Op.99

Gabriel Fauré: Nocturnes: No.11 in F sharp Minor Op.104 No.1
Disk 2
Gabriel Fauré: Nocturnes: No.12 in E Minor Op.107

Gabriel Fauré: Nocturnes: No.13 in B Minor Op.119

Gabriel Fauré: Thème et Variations in C sharp Minor Op.73: Thème

Gabriel Fauré: Thème et Variations in C sharp Minor Op.73: Variation I

Gabriel Fauré: Thème et Variations in C sharp Minor Op.73: Variation II

Gabriel Fauré: Thème et Variations in C sharp Minor Op.73: Variation III

Gabriel Fauré: Thème et Variations in C sharp Minor Op.73: Variation IV

Gabriel Fauré: Thème et Variations in C sharp Minor Op.73: Variation V

Gabriel Fauré: Thème et Variations in C sharp Minor Op.73: Variation VI

Gabriel Fauré: Thème et Variations in C sharp Minor Op.73: Variation VII

Gabriel Fauré: Thème et Variations in C sharp Minor Op.73: Variation VIII

Gabriel Fauré: Thème et Variations in C sharp Minor Op.73: Variation IX

Gabriel Fauré: Thème et Variations in C sharp Minor Op.73: Variation X

Gabriel Fauré: Thème et Variations in C sharp Minor Op.73: Variation XI

Gabriel Fauré: Thème et Variations in C sharp Minor Op.73: Ballade in F sharp Op.19

Gabriel Fauré: Préludes Op.103: No.1 in D flat

Gabriel Fauré: Préludes Op.103: No.2 in C sharp Minor

Gabriel Fauré: Préludes Op.103: No.3 in G Minor

Gabriel Fauré: Préludes Op.103: No.4 in F

Gabriel Fauré: Préludes Op.103: No.5 in D Minor

Gabriel Fauré: Préludes Op.103: No.6 in E flat Minor

Gabriel Fauré: Préludes Op.103: No.7 in A

Gabriel Fauré: Préludes Op.103: No.8 in C Minor

Gabriel Fauré: Préludes Op.103: No.9 in E Minor
Disk 3
Gabriel Fauré: Barcarolles: No.1 in A Minor Op.26

Gabriel Fauré: Barcarolles: No.2 in G Op.41

Gabriel Fauré: Barcarolles: No.3 in G flat Op.42

Gabriel Fauré: Barcarolles: No.4 in A flat Op.44

Gabriel Fauré: Barcarolles: No.5 in F sharp Minor Op.66

Gabriel Fauré: Barcarolles: No.6 in E flat Op.70

Gabriel Fauré: Barcarolles: No.7 in D Minor Op.90

Gabriel Fauré: Barcarolles: No.8 in D flat Op.96

Gabriel Fauré: Barcarolles: No.9 in A Minor Op.101

Gabriel Fauré: Barcarolles: No.10 in A Minor Op.104 No.2

Gabriel Fauré: Barcarolles: No.11 in G Minor Op.105

Gabriel Fauré: Barcarolles: No.12 in E flat Op.106 bis

Gabriel Fauré: Barcarolles: No.13 in C Op.116

Gabriel Fauré: Impromptus: No.1 in E flat Op.25

Gabriel Fauré: Impromptus: No.2 in F Minor Op.31

Gabriel Fauré: Impromptus: No.3 in A flat Op.34

Gabriel Fauré: Impromptus: No.4 in D flat Op.91

Gabriel Fauré: Impromptus: No.5 in F sharp Minor Op.102
Disk 4
Gabriel Fauré: 4 Valses-Caprices: No.1 in F sharp Minor Op.30

Gabriel Fauré: 4 Valses-Caprices: No.2 in D flat Op.38

Gabriel Fauré: 4 Valses-Caprices: No.3 in G flat Op.59

Gabriel Fauré: 4 Valses-Caprices: No.4 in A flat Op.62

Gabriel Fauré: 8 Pièces brèves Op.84: Capriccio in E flat

Gabriel Fauré: 8 Pièces brèves Op.84: Fantaisie in A flat

Gabriel Fauré: 8 Pièces brèves Op.84: Fugue in A Minor

Gabriel Fauré: 8 Pièces brèves Op.84: Adagietto in E Minor

Gabriel Fauré: 8 Pièces brèves Op.84: Improvisation in C sharp Minor

Gabriel Fauré: 8 Pièces brèves Op.84: Fugue in E Minor

Gabriel Fauré: 8 Pièces brèves Op.84: Allégresse in C

Gabriel Fauré: 8 Pièces brèves Op.84: Nocturne in D flat

Gabriel Fauré: Mazurka Op.32

Gabriel Fauré: 3 Romances sans paroles: No.1 in A flat

Gabriel Fauré: 3 Romances sans paroles: No.2 in A Minor

Gabriel Fauré: 3 Romances sans paroles: No.3 in A flat

Gabriel Fauré: Dolly Suuite OP.56 For Piano Four-Hands: Berceuse

Gabriel Fauré: Dolly Suuite OP.56 For Piano Four-Hands: Mi-a-ou

Gabriel Fauré: Dolly Suuite OP.56 For Piano Four-Hands: Le Jardin de Dolly

Gabriel Fauré: Dolly Suuite OP.56 For Piano Four-Hands: Kitty-Valse

Gabriel Fauré: Dolly Suuite OP.56 For Piano Four-Hands: Tendresse

Gabriel Fauré: Dolly Suuite OP.56 For Piano Four-Hands: Le Pas espagnol

Gabriel Fauré: Souvenirs De Bayreuth For Piano Four-Hands