Felix & Fanny Mendelssohn: Complete Piano Trios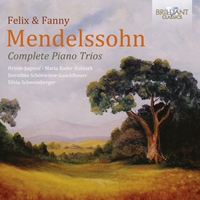 Composer
Felix Mendelssohn, Fanny Mendelssohn
Artist
Hrvoje Jugovic piano
Maria Bader Kubizek violin
Dorothea Schönwiese cello
Silvia Schweinberger viola
Format
2 CD
Cat. number
94490
EAN code
5028421944906
Release
March 2013
About this release
The father of Felix and Fanny Mendelssohn eagerly facilitated their artistic upbringing. Felix's musical career took off from a young age and he was dubbed by Robert Schumann as 'the Mozart of the 19th century', while his similarly talented older sister was expected to keep music only as a hobby. This did not stop her from composing many pieces for playing in the home, some of which were later published under Felix's name. She is considered the most important female composer of the era.

This collection brings together the Piano Trios of the siblings. Felix's unusually scored Trio for piano, violin and viola in C minor was written when he was just ten years old; beginning with a Baroque-style theme, its elfin motif, as featured later, is a clear pre-cursor to the music of A Midsummer Night's Dream. Op.49, which prefigures this work on the recording, dates from Felix's mature period and boasts a spectacular piano part, which the composer himself played at the premiere (the first movement has been referred to as a 'perfect synthesis of the mastery of Classical form with Romantic diction'); Op.66, meanwhile, is a passionate and exciting work – his penultimate chamber piece and one that revisits elfin themes in the Scherzo, ending in a resplendent Bach-style chorale. The last work featured on the set, Fanny's Piano Trio contains a virtuosic piano part that begins with dramatic tremolos but later evolves into a calm, harp-like accompaniment, with a dance-like finale revisiting the second theme to provide a jubilant end to the collection.

At the keyboard is Hrvoje Jugović, who plays four different historical pianos throughout the recording. His fellow musicians are violinist Maria Bader-Kubizek, cellist Dorothea Schönwiese-Guschlbauer and violist Silvia Schweinberger.

Other information:
- New recording, recorded in 2009, Geinberg Hall Aigelsberg, Polling im Innkreis, Austria; 2010, Baroque Hall, Vorau Monastery, Austria.
- An original concept: the works for piano trio by brother and sister Felix and Fanny Mendelssohn, performed on period instruments, featuring a range of no less than 4 historic fortepianos, a thrilling experience of these exciting piano trios!
- The genius of Felix is universally recognised, the genius of Fanny however was kept under cover, since girls weren't supposed to become professional composers in her time. Too bad, as her piano trio is of great and substantial impact, both instrumental and emotional. Felix's piano trios are masterpieces in their genre, large scale and dramatic, glittering in instrumental virtuosity and brilliance, and vibrant with Felix's felicitous melodies.
- Extensive liner notes, including information on the instruments used.
Track list
Disk 1
Piano Trio No. 1 in D Minor, Op. 49: I. Molto allegro agitato

Piano Trio No. 1 in D Minor, Op. 49: II. Andante con moto tranquillo

Piano Trio No. 1 in D Minor, Op. 49: III. Scherzo: Leggiero e vivace

Piano Trio No. 1 in D Minor, Op. 49: IV. Finale: Allegro assai appassionato

Trio for Piano, Violin and Viola in C Minor: I. Allegro

Trio for Piano, Violin and Viola in C Minor: II. Scherzo

Trio for Piano, Violin and Viola in C Minor: III. Adagio

Trio for Piano, Violin and Viola in C Minor: IV. Allegro
Disk 2
Piano Trio No. 2 in C Minor, Op. 66: I. Allegro energico e con fuoco

Piano Trio No. 2 in C Minor, Op. 66: II. Andante espressivo

Piano Trio No. 2 in C Minor, Op. 66: III. Scherzo: Molto allegro quasi presto

Piano Trio No. 2 in C Minor, Op. 66: IV. Finale: Allegro appassionato

Piano Trio in D Minor, Op. 11: I. Allegro molto vivace

Piano Trio in D Minor, Op. 11: II. Andante espressivo

Piano Trio in D Minor, Op. 11: III. Lied: Allegretto

Piano Trio in D Minor, Op. 11: IV. Finale: Allegro moderato