Fernandes: Violin Concerto and Violin Sonata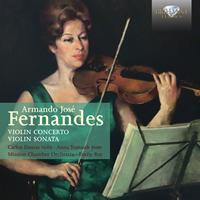 Composer
Armando José Fernandes
Artist
Carlos Damas violin
Anna Tomasik piano
Mission Chamber Orchestra of San Jose
Emily Ray conductor
Format
1 CD
Cat. number
94746
EAN code
5028421947464
Release
April 2014
About this release
Armando José Fernandes was a celebrated composer, musician and radio broadcaster in 20th-century Portugal. He was an integral member of the 'Grupo dos Quatro' – alongside Jorge Croner de Vasconcelos, Fernando Lopes-Graça and Pedro do Prado – which exerted substantial influential over Portuguese music in the mid-1900s.

The tonal ambiguity of Fernandes' Violin Sonata is established right at the start by the simultaneous use of both major and minor chords. The dance-like first movement, Allegro, gives way to a lilting Andante and gentle Larghetto, with the work eventually culminating in a Presto finale. The Violin Concerto owes much to the Gallic influence of Ravel and Debussy, with a memorable double-dotted motif opening the work. So exceptional is the music of the final rondo that this alone suffices in calling for the long-overdue revival of Fernandes' oeuvre.

Violinist Carlos Damas made his solo debut aged just 15 with the Portuguese National Broadcasting Radio Symphony Orchestra. Among his more recent achievements is the release of an hugely successful CD featuring the works of Fritz Kreisler, which has been praised by The Strad as one of the best Kreisler discs on the market.

Other information:
- Recorded in 2012.
- Armando José Fernandes was one of the most important composers of 20-th century Portugal. His musical language, based on an extended tonality, is influenced by Ravel and Debussy, with occasional hints of expressionism and even a touch of moody Shostakovich. Nevertheless there is a southern vitality in the basically romantic heart of this fascinating composer, whose works we hear for the first time on CD.
- Carlos Damas made his debut as a soloist at the age of 15, with the National Symphony Orchestra of Portugal. His successful career brought him all over the world, and his recordings won universal praise. The Strad named his Kreisler CD "one of the best". For Brilliant Classics he recorded works by Antonio Fragoso (BC 94158).
- Contains liner notes on the works and performer biographies.
Track list
Disk 1
Armando José Fernandes: Violin Concerto In E Major: I. Allegro assai

Armando José Fernandes: Violin Concerto In E Major: II. Scherzo: Allegretto

Armando José Fernandes: Violin Concerto In E Major: III. Andantino sostenuto

Armando José Fernandes: Violin Concerto In E Major: IV. Finale. Molto vivace

Armando José Fernandes: Violin Sonata: I. Andante – Allegro molto

Armando José Fernandes: Violin Sonata: II. Vivace non troppo

Armando José Fernandes: Violin Sonata: III. Larghetto

Armando José Fernandes: Violin Sonata: IV. Presto