Fiorillo: Violin Concerto, Sinfonia Concertante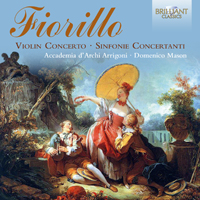 Composer
Federigo Fiorillo
Artist
Accademia d'Archi Arrigoni
Domenico Mason conductor
Laura Bortolotto violin
Lea Birringer violin
Luca Vignali oboe
Stefano Rava oboe
Format
1 CD
Cat. number
95136
EAN code
5028421951362
Release
October 2015
About this release
Though born in Brunswick, Federigo Fiorillo (1755-c.1823) was of Neopolitan descent, as the most casual appreciation of these fine and rare concertante works will confirm. Indeed his work owes as much to the style of Albinoni, who died five years before he was born as it does to his contemporary Mozart. Fiorillo was a violinist himself, who toured the courts of Europe before settling in London in 1788. Like his contemporary Viotti, Fiorillo composed violin music such as the 36 Caprices that are still well-known to students today.

His four concertos are much less familiar; the first was published in Paris in 1789. After an extensive and elaborate first movement there is a simple, song-like Larghetto then a rondo-finale full of musical fireworks. In his sinfonia concertante, Fiorillo even dispensed with the momentary respite of the slow movement: these are two-movement works, quick and fiery, though still conceived on the grander end of the Classical spectrum formally speaking, while little advanced in terms of style from Baroque formality, though with some pedal points to introduce harmonic tension. The first of these is scored for two oboes, while the latter two are for a pair of violins.

The soloists and orchestra on this new recording are all relatively young Italian musicians, well-schooled in the style. It will surely appeal to those collectors of rare concertos: there are very few albums indeed dedicated to Fiorillo's music, and none at budget price.

Federigo Fiorillo (1755-1823) came from a famous family of Neapolitan musicians and composers. Federigo was a celebrated mandolin player, as well as violinist and violist, performing at courts all over Europe, later settling in London.
Fiorillo was an important composer of music for string instruments (he himself was a member of the famous Salomon Quartet). He wrote duos, trios, quartets and quintets, as well as concertante music for string instrument and orchestra. He wrote in the fashionable "galant" style, charming, melodious, Italianate grace and esprit.
This new recording contains a solo violin concerto and 3 Sinfonie Concertanti, one for 2 oboes and orchestra, the others for 2 violins and orchestra.
Played with apparent dedication and "spielfreude" by Italian soloists and the Accademia d'Archi Arrigoni, conducted by Domenico Mason.
Track list
Disk 1
Concerto No. 1 in F Major: I. Allegro moderato

Concerto No. 1 in F Major: II. Larghetto

Concerto No. 1 in F Major: III. Rondo (Poco vivace)

Sinfonia concertante No. 1 in F Major: I. Allegro

Sinfonia concertante No. 1 in F Major: II. Rondo (Allegretto-Allegro)

Sinfonia concertante No. 2 in D Major: I. Allegro maestoso

Sinfonia concertante No. 2 in D Major: II. Rondo (Allegro-Presto)

Sinfonia concertante No. 3 in E Major: I Allegro maestoso

Sinfonia concertante No. 3 in E Major: II. Rondo (Allegro)