Fitzwilliam Virginal Book Vol. 1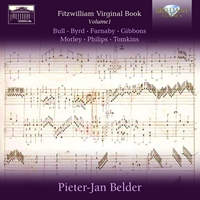 | | |
| --- | --- |
| Composer | Giles Farnaby, John Bull, John Munday, Orlando Gibbons, Thomas Tomkins, William Byrd |
| Artist | Pieter-Jan Belder harpsichord |
| Format | 2 CD |
| Cat. number | 94303 |
| EAN code | 5028421943039 |
| Release | February 2012 |
About this release
This remarkable collection of works for the virginal, or small harpsichord, is found in the Fitzwilliam Museum in Cambridge. It is the largest collection of Elizabethan and Jacobean keyboard music, all handwritten and totalling nearly 300 compositions, all of which predate the first keyboard music published in England by about 50 years.

The identity of the copyist of these works is uncertain, although a fascinating riddle. The manuscript is a role call of the leading composers of the era – John Bull, Giles Farnaby, William Byrd, Peter Philips, Orlando Gibbons, Thomas Tomkins and a number of unknown composers all feature. The copyist was, therefore, immersed in the world of keyboard music, with connections to the great composers of the day.

Research seems to point to one Francis Tregian from Cornwall, who may have copied the music whilst in Fleet prison from 1608 until his death in 1619. He certainly had time on his hands, but how he obtained the materials and original music is far from clear. His connection to Cornwall is important – William Cornyshe (whose surname probably indicated his birthplace) was a significant composer during the reign of Henry VII and Henry VIII, while Farnaby and Tomkins also came from Cornwall.

Tregian's remarkable work – which extends to four volumes and 2000 pieces – ensured the survival of music by many of the most important composers of this era. This CD, the first in a series, includes a number of rare but intriguing keyboard works, performed by harpsichordist Pieter-Jan Belder.

Other information:
- Volume 1, recorded in 2010, in a series of recordings of the complete Fitzwilliam Virginal Book, a fascinating project and the first of its kind.
- Pieter Jan Belder, one of the most respected harpsichordists of today, has taken on this huge project. His "track record" includes the highly praised recording of the complete 555 Scarlatti Sonatas.
- Booklet includes comprehensive notes about the background of the Fitzwilliam Virginal Book and the pieces performed in this volume .
Track list
Disk 1
Fitzwilliam Virginal Book, Volume 1: Walsingham (John Bull)

Fitzwilliam Virginal Book, Volume 1: Fantasia (Giles Farnaby)

Fitzwilliam Virginal Book, Volume 1: Piper's Paven (Martin Peerson)

Fitzwilliam Virginal Book, Volume 1: Piper's Galliard (John Bull)

Fitzwilliam Virginal Book, Volume 1: Pavana Ph.Tr. (William Byrd)

Fitzwilliam Virginal Book, Volume 1: Galliarda (William Byrd)

Fitzwilliam Virginal Book, Volume 1: Pavana Pagget (Peter Philips)

Fitzwilliam Virginal Book, Volume 1: Galiarda (Peter Philips)

Fitzwilliam Virginal Book, Volume 1: Praeludium (John Bull)

Fitzwilliam Virginal Book, Volume 1: Gloria tibi trinitas (In Nomine) (John Bull)

Fitzwilliam Virginal Book, Volume 1: Toccata (Giovanni Picchi)

Fitzwilliam Virginal Book, Volume 1: Pawles Wharfe (Giles Farnaby)

Fitzwilliam Virginal Book, Volume 1: (Fantastic) Pavana (John Bull)

Fitzwilliam Virginal Book, Volume 1: (Fantastic) Galiarda (John Bull)

Fitzwilliam Virginal Book, Volume 1: A Grounde (Thomas Tomkins)
Disk 2
Fitzwilliam Virginal Book, Volume 1: Pavana (Orlando Gibbons)

Fitzwilliam Virginal Book, Volume 1: The Leaves bee greene (William Inglot)

Fitzwilliam Virginal Book, Volume 1: The Bells (William Byrd)

Fitzwilliam Virginal Book, Volume 1: Goe from my window (John Munday/Thomas Morley)

Fitzwilliam Virginal Book, Volume 1: Fantasia (William Byrd)

Fitzwilliam Virginal Book, Volume 1: Coranto (William Byrd)

Fitzwilliam Virginal Book, Volume 1: Amarilli di Julio Romano (Peter Philips)

Fitzwilliam Virginal Book, Volume 1: The old Spagnoletta (Giles Farnaby)

Fitzwilliam Virginal Book, Volume 1: Pavana (Giles Farnaby)

Fitzwilliam Virginal Book, Volume 1: Nowel's Galliard (Anon.)

Fitzwilliam Virginal Book, Volume 1: Barafostus' Dreame (Anon.)

Fitzwilliam Virginal Book, Volume 1: The K(ing's) Hunt (Giles Farnaby)

Fitzwilliam Virginal Book, Volume 1: Muscadin (Giles Farnaby)

Fitzwilliam Virginal Book, Volume 1: Fantasia (Nicholas Strogers)

Fitzwilliam Virginal Book, Volume 1: Barafostus' Dreame (Thomas Tomkins)

Fitzwilliam Virginal Book, Volume 1: In Nomine (Doctor Bull)

Fitzwilliam Virginal Book, Volume 1: The King's Hunt (John Bull)

Fitzwilliam Virginal Book, Volume 1: Johnson's Medley (Edward Johnson)

Fitzwilliam Virginal Book, Volume 1: In Nomine (John Bull)

Fitzwilliam Virginal Book, Volume 1: The Fall of the Leafe (Martin Peerson)