Fitzwilliam Virginal Book Vol. 2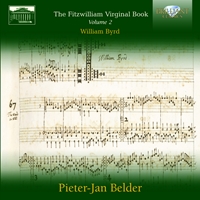 | | |
| --- | --- |
| Composer | William Byrd |
| Artist | Pieter-Jan Belder harpsichord |
| Format | 2 CD |
| Cat. number | 94362 |
| EAN code | 5028421943626 |
| Release | December 2012 |
About this release
Among the most prized exhibits of Fitzwilliam College, Cambridge, stands the Fitzwilliam Virginal Book, the largest surviving anthology of Elizabethan and Jacobean keyboard music. Dating from a period during which theory and notation were undergoing radical change, the collection was probably compiled by Francis Tregian and falls just short of 300 compositions. These include a number by William Byrd, the foremost composer of the Elizabethan age.

Bringing together all of Byrd's works as featured in the anthology, this release contains many sets of variations – including the infamous Walsingham MB8, which comprises no less than 22 embellished statements of the theme. The piece ranks among the most virtuosic of the composer's keyboard compositions, and appears alongside several instrumental dances such as the Pavan and Galliard. Often modal in flavour, these abound in rhythmic energy and continuity – important features considering the static harmony and repetitive nature of the material. The Carman's Whistle also makes an appearance, a piece first popularised by Arthur Rubinstein during his historical recital programmes and which was later arranged by Percy Grainger.

A leading expert in the field of early music, Pieter-Jan Belder has recorded widely for Brilliant Classics over the years and returns once again to perform this illustrious programme of works. The release is an engaging follow-up to the first volume in the series, extending its instrumental range to include performances on a 1604 virginal by Ruckers as well as a chest organ, and comprises essential listening for keyboardists and early music aficionados alike.

Other information:
- Second volume of a unique project: the first complete recording of the Fitzwilliam Virginal Book, dedicated to William Byrd.
- Recorded 19 & 20 October 2011, Westvestkerk Schiedam (CD1); 26 May & 1 June 2012, Doopsgezinde gemeente Dordrecht (CD2).
- A great achievement of Pieter-Jan Belder, one of the most respected and frequently recorded keyboard (harpsichord, clavichord, virginal, organ, hammerklavier) players of today. His recordings of Bach, Rameau, CPE Bach and Scarlatti (complete Sonatas!) have met with great critical acclaim in the international press.
- Belder plays a unique original Ruckers instrument from 1604, the details of which are described in the extensive liner notes in the booklet.
- Includes detailed notes on the history of the Fitzwilliam Virginal Book and the 1604 virginal used in the recording, notes on William Byrd's contribution to the anthology, and an artist biography
- Volume 1 was issued on BC 94303.
Track list
Disk 1
Walsingham, MB8

Prelude in A Minor, MB12

Fantasia in A Minor, MB13

Fantasia in G, MB62

The Carman's Whistle, MB36

The Queen's Alman, MB10

Tregian's Ground, MB20

Lady Monteagle's Pavan, MB75

The woods so wild, MB85

Lachrymae Pavan, MB54 (Dowland, arr. Byrd)

Galliard, MB55 (Harding, arr. Byrd)

John, come kiss me now, MB81

Pavan in A Minor, MB14a

Galliard in A Minor, MB14b

Sellinger's Round, MB84
Disk 2
Pavan in G Minor, MB4a

Galliard in G Minor, MB4b

The Hunt's Up, MB40

Ut re mi fa sol la, MB64

Pavan in D Minor, MB52a

Galliard in D Minor, MB52b

The Maiden Song, MB82

Fantasia in C, MB25

Quadran Pavan, MB70a

The Quadran Galliard, MB70b

All in a garden green, MB56

Pavan in G, MB71a

Galliard in G, MB71b

Pavan in C Minor, MB29a

Galliard in C Minor, MB29b

Rowland, MB7

Pavan in G: Canon 2 in 1, MB74

Pavan in A Minor, MB99a (Holborne, ?arr. Byrd)

Galliard in A Minor, MB99c

Lavolta, MB91