Flauto d'Amore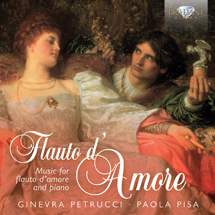 Composer
Franz Schubert, Ludwig van Beethoven, Robert Schumann
Artist
Ginevra Petrucci flauto d'amore
Paola Pisa piano
Format
1 CD
Cat. number
95289
EAN code
5028421952895
Release
May 2016
About this release
Why has the warm, full-bodied tone of the Baroque flauto d'amore been so neglected until now? Ginevra Petrucci proves on this release that the unusual instrument has lots to offer, as she takes the theme of love as her starting point for a remarkable and romantic album.

With famous works such as Elgar's Salut d'amour, Tosti's Amour! Amour!, Schubert's Romanze from Rosamunde and Tchaikovsky's None but the Lonely Heart, Petrucci has assembled an album comprising some of classical music's most beloved romantic music. Transposed to the flauto d'amore, they sound especially tender and warm. Pitched lower than a normal flute, this instrument is known for its sweet, mellow tone. It fell out of fashion in the 18th century but was revived by certain composers, such as Verdi and Mercadante, and some of the most famous flautists of the 20th century – such as John Amadio – were strong advocates of the instrument.

Petrucci's father and mentor Gian-Luca commissioned a new flauto d'amore from the renowned flute maker Albert Cooper in 1990. This solid silver instrument, the first of the modern age, is the one to feature on this album. Accompanied by acclaimed pianist Paola Pisa, this release is sure to soothe, combining highly expressive love music with a rare and superb sound.

The Flauto d'Amore first appeared in the Baroque, when woodwind instruments were frequently included in chamber ensembles, and it was soon considered the most prominent of the flute family, right after the ordinary flute. It was built in B flat, in A and in A flat. Composers such as Quantz favoured the Flauto d'Amore for its warm, full bodied and tender tone.
The programme on this CD features delightful transcriptions for Flauto d'Amore and Piano of popular Lieder, spanning 150 years: Plaisir d'amour by Martini, Sicilienne by Paradis, Adelaide by Beethoven and many more "musical bonbons", ending with Francis Poulenc.
Ginevra Petrucci is an excellent Italian flute player, noted for her innovative programmes. She already recorded Flute Quintets by Kuhlau (BC 94769) and Romantic Flute Concertos by Dupuy and Büchner (BC 95192), to great critical acclaim.

Recorded in Italy in 2015.
Contains notes on the music by the artist.
Contains biographies of the artists.
Track list
Disk 1
Plaisir d'amour

Sicilienne in E-Flat Major

Adelaide in B-Flat Major, Op. 46

T'amo bell'idol mio

Romanze aus Rosamunde D. 797

Myrthen, Op. 25: XXIV. Du bist wie eine Blume

Andante arioso No. 3, Op. 47

Ô doux printemps d'autrefois

L'Éventail noir in A Minor

6 Romances, Op. 6: VI. None but the Lonely Heart

Le cendre rouge, Op. 146: VII. Amoroso

3 Songs, Op. 7: I. Après un rêve

Le temps des lilas, Op. 19

Romance No. 1, Op. 2

Salut d'amour in E Major, Op. 12

Melodies of the Heart, Op. 5: III. Jeg elsker dig

Amoroso

Amour! Amour!

Verborgenheit

36 Arie di stile antico, Vol. II: III. O del mio amato ben

Somebody Loves Me

Les chemins de l'amour