Flavours: Music for Cello and Piano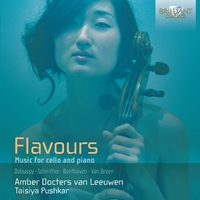 Composer
Alfred Schnittke, Claude Debussy, Eef van Breen, Ludwig van Beethoven
Artist
Amber Docters van Leeuwen cello
Taisiya Pushkar piano
Format
1 CD
Cat. number
9416
EAN code
5029365941624
Release
January 2013
About this release
This compilation provides a showcase of the many aspects of the cello and the range of emotions and characters that the instrument is able to convey. Opening the collection is Debussy's technically demanding Sonata in D minor, a staple of the cello repertoire. The whimsical motives, repetitive tones and scales of this work give way to the ingenious combination of atonality and Romantic lyricism of Schnittke's Sonata No.1, which is followed by Beethoven's visionary Sonata No.5 in D, a homage to J.S. Bach. This is in turn succeeded by Van Breen's Flavours, written in 2011. A playful piece that combines many styles, it is written with the five base flavours in mind.

Amber Docters van Leeuwen took her tuition with Dmitri Ferschtman at the Royal Conservatory of the Hague in her native country. Then she moved to New York where she continued her studies at Stony Brook University and the Manhattan School of Music. A recipient of several major awards, including the National Cello Competition's first prize in Amsterdam and the Samuel Mayes Memorial Cello Award, Amber is famed for her varied concert programmes in which she combines music from all eras, contrasting established classics of the cello repertoire with contemporary works. Joining her on the disc is her long-standing musical partner Taisiya Pushkar, a dynamic pianist and former winner of the Oberlin Concerto Competition.

Other information:
- Recorded 9 February 2011, Motor Music Studio, Mechelen, Belgium.
- Amber's repertoire and concert programmes combine the classical with the experimental, and she regularly partners with musicians like Bobby McFerrin, Jef Neve and Gabriel Rios. She was winner of several international competitions, notably the first Amsterdam Cello Biennnale in 2008.
- Contains notes on the works and performer biographies.
Track list
Disk 1
Claude Debussy: Sonata in D Minor for cello and piano (1915): I. Prologue: Lent, sostenuto e molto risoluto

Claude Debussy: Sonata in D Minor for cello and piano (1915): II. Sérénade: Modérément animé

Claude Debussy: Sonata in D Minor for cello and piano (1915): III. Finale: Animé

Alfred Schnittke: Sonata No. 1 for cello and piano (1978): I. Largo

Alfred Schnittke: Sonata No. 1 for cello and piano (1978): II. Presto

Alfred Schnittke: Sonata No. 1 for cello and piano (1978): III. Largo

Ludwig van Beethoven: Sonata No. 5 in D, Op. 102 No. 2 for cello and piano (1815): I. Allegro con brio

Ludwig van Beethoven: Sonata No. 5 in D, Op. 102 No. 2 for cello and piano (1815): II. Adagio con molto sentimento d'affetto

Ludwig van Beethoven: Sonata No. 5 in D, Op. 102 No. 2 for cello and piano (1815): III. Allegro fugato

Eef van Breen: Flavours (2011): I. Bitter

Eef van Breen: Flavours (2011): II. Sweet

Eef van Breen: Flavours (2011): III. Sour

Eef van Breen: Flavours (2011): IV. Salty/Spicy

Eef van Breen: Flavours (2011): V. Umami