Fortune Infortune: A Portrait of Margaret of Austria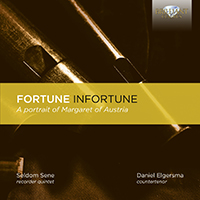 Artist
Seldom Senerecorder quintet
Daniel Elgersma countertenor
Format
1 CD
Cat. number
96513
EAN code
5028421965130
Release
October 2023
About this release
The Amsterdam-based recorder quintet has done it again: an original concept, featuring several first recordings, and superb performances which confirm them among the top-tier of today's early-music chamber ensembles.

The present album arises from a concert devised in 2018 for a festival in Bruges celebrating notable female figures from history. Seldom Sene chose to focus on Margaret of Austria (1480–1530), who was governor of the Habsburg Netherlands for almost 20 years. Margaret had grown up with the benefits of a first-class education afforded to very few of her female peers: she was adept in all the humanities, and her library of books was reckoned one of the most extensive and learned at the time, a fit place to welcome distinguished guests such as Albrecht Dürer.

From around 1515, one of the volumes in Margaret's library was her newly commissioned personal songbook: a collection of 55 chansons and motets, richly decorated with high-quality miniatures and initials. Many of the song texts speak of loss, sorrow and loneliness, perhaps reflecting her status at the time as a noble widow, following the death of her second husband, Philibert II of Savoy, in 1504. Margaret herself seems to have written several of them, and may also have been involved in their musical setting.

Marian devotion is another theme of the songbook reflected in this selection made and transcribed and recorded by Seldom Sene. Sacred hymns are balanced out by secular laments, but also lighter and more cheerful numbers such as 'Brunette m'amiette' and 'La jonne dame'. Many of the composers are now lost to us and effectively anonymous, but the names that survive are worthy of Margaret's elevated status, including Josquin and Pierre de la Rue.

'Like Margaret,' concludes María Martínez Ayerza in her booklet note, 'like her courtiers and visitors, we see and hear the music and texts in this songbook and we are moved, stirred. These artworks make us change, as we relate the texts, even the titles, and the rather abstract beauty of the music to ourselves.'

Ayerza and her colleagues in Seldom Sene bring this music and Margaret's world back to life with intense sympathy. The album is sure to receive the glowing reviews accorded to the group's discography on Brilliant Classics. 'Commitment, technical versatility, unanimity of ensemble and near-immaculate tuning on display.' (Gramophone) 'An excellent release from an ensemble I hope we'll hear a lot more from in the future.' (Fanfare)

This original program presents works from the personal songbook of Margaret of Austria (1480-1530), arranged for recorder ensemble.
Margaret enjoyed a first-rate education and became a fervent patron of the arts, philosophy, and theology. According to the court poet Jean Lemaire, writing in 1505, Margaret was "excellently skilled in vocal and instrumental music, in painting and in rhetoric, in the French as well as the Spanish language". She often read "noble books", of which she had a great number in her library, one of the largest in Europe in the early 16th century. One of the treasures of her library was her newly commissioned personal songbook: a collection of 55 chansons and motets by various famous composers of her time, richly decorated with high-quality miniatures and initials.
As a reflection of her own difficult life the themes of loss, sorrow and loneliness abound in Margaret's songbook. In a time in which public mourning was considered suitable, even advisable for widows, Margaret included several laments in the collection.
Featured composers include Desprez, De La Rue, Appenzeller, Compère, Richafort and various anonymous composers.
Seldom Sene is a recorder quintet on a mission to redefine the art of consort, namely in performing and arranging works seldom heard, in a manner seldom seen. Their innovative programming and CD recordings have earned them the highest international praise: "A model of creative and thoughtful programming…the playing is of the highest order, immaculate intonation and perfect ensemble" (Musicweb), "With passionate command, skillful precision, nuanced dynamics, the ensemble succeeds in creating a surprising spectrum of enchanting, unheard-of sounds" (MDR.de).
Listening
Track list
Disk 1
Anonymous: Maria, mater gratie/[Fors seulement] [a5]

Anonymous: Fors seullement [II] [a5]

Josquin Desprez: Plaine de duel et de melancolie [a5]

Josquin Desprez: Plusieurs regretz [a5]

Anonymous: Se je souspire/Ecce iterum [a3]

Anonymous: Consideres mes incessantes plaintes/Fortuna desperata [a5]

Josquin Desprez: Je me complains [a5]

Anonymous: Je ne dis mot [a6]

Anonymous: Quand il advient choses [a5]

Johannes de Stokem: Brunette m'amiette [a5]

Anonymous: La jonne dame [va au moulin] [a5]

Anonymous: Changier ne veulx, c'est mon plaisir [a4]

Jean Richafort: Ne vous chaille mon cueur [a5]

Josquin Desprez: Douleur me bat et tristesse [a5]

Loyset Compère: Va t'ens, regret [a3]

Benedictus Appenzeller: Je my levay un matin [a5]

Anonymous: Qui vult aymer il fault estre joieux [a5]

Anonymous: Ne vous chaille mon cueur [a3]

Anonymous: Dueil et ennuy [a5]

Anonymous: Tous nobles cueurs [a3]

Pierre De La Rue: Cueurs desolez/Dies illa [a5]

Josquin Desprez: Petite camusette [a6]