Fragoso: Complete Chamber Music for Violin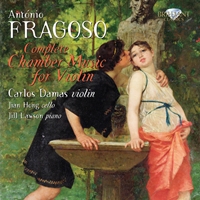 Composer
António de Lima Fragoso
Artist
Carlos Damas violin
Jian Hong cello
Jill Lawson piano
Format
1 CD
Cat. number
94158
EAN code
5028421941585
Release
November 2011
About this release
The death of António Fragoso (1897–1918) at the age of 21 robbed the Iberian Peninsula of a composer of great potential, the second within a century, following the Spaniard Juan Arriaga who died at the age of 20 in 1826, having displayed extraordinary promise.

Fragoso, from Portugal, is less well known than Arriaga, but the music on this CD reveals a young composer thoroughly aware of the major musical figures of the time; the influence of Debussy and Fauré, for example, can be detected in the 1916 Suite Romantique for violin and piano. The Trio, also of 1916, begins as a more formal work but reveals the composer's unique voice in the finale, where a series of chromatic progressions and an exploitation of the piano's lower register create a dramatic sense of weightlessness and timelessness. Also included on this recording, the Violin Sonata of 1917 has survived as the opening movement only, and displays many of the characteristics of the trio, particularly through its affirmative and memorable melodic style.

This CD provides an opportunity to discover the music of one of classical music's 'might have beens'. Fragoso's tragically short life robbed Portugal of a composer with the potential for greatness.

OTHER INFORMATION:
- Rare and fascinating repertoire
- Booklet notes
- Recording made in 2011
- World premiere recording, performed by excellent Portuguese soloists.
Track list
Disk 1
António de Lima Fragoso: Sonata in D for violin and piano (unfinished): I. Allegro

António de Lima Fragoso: Suite Romantique for violin and piano: I. Prelúdio

António de Lima Fragoso: Suite Romantique for violin and piano: II. Intermezzo

António de Lima Fragoso: Suite Romantique for violin and piano: III. Berceuse

António de Lima Fragoso: Suite Romantique for violin and piano: IV. Nocturno

António de Lima Fragoso: Trio in C sharp Minor for violin, cello and piano: I. Allegro moderato

António de Lima Fragoso: Trio in C sharp Minor for violin, cello and piano: II. Molto lento

António de Lima Fragoso: Trio in C sharp Minor for violin, cello and piano: III. Scherzo – Molto vivace

António de Lima Fragoso: Trio in C sharp Minor for violin, cello and piano: IV. Allegro vivo