Françaix: Chamber Music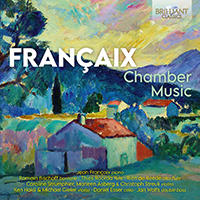 Composer
Jean Françaix
Artist
Jean Françaix piano
Romain Bischoff baritone
Thies Roorda flute
Rien de Reede alto flute
Caroline Strumphler, Marleen Asberg & Christoph Streuli violins
Ken Hakii & Michael Gieler violas
Daniël Esser cello
Jan Wolfs double bass
Format
1 CD
Cat. number
96341
EAN code
5028421963419
Release
July 2021
About this release
A unique collection of chamber music by the master of French neoclassicism, featuring a performance of the Divertimento for flute with the composer at the piano.
In his 80s, Jean Françaix (1912-1997) supervised this 1996 Dutch album of four pieces for varied forces, writing the engaging booklet notes and performing with undimmed skill in the Divertimento which he wrote back in 1953 for the flautist Jean-Pierre Rampal. As he notes, the title is somewhat ironic for those who play it: 'if it is "diverting" to listen to, it is not at all so to play it and requires great virtuosity.'
Le Colloque des deux Perruches (The Dialogue of Two Parakeets) is a modern classic of the repertoire for two flutes: a six-movement dialogue opening with a fluttering, swooping Allegrissimo, followed by a melancholy little Larghetto. Smiles and laughter are never far away in Françaix's music and the mood brightens with a darting Scherzando. The fifth movement is another plaintive Larghetto, with the parakeets in earnest conversation.
As a 22-year-old composer of already remarkable fluency, Françaix composed the String Trio for the Trio Pasquier, who went on to play it in over a thousand concerts: an inimitably bustling, weightless piece in four movements enclosing a wistful Andante and rounding off with one of those Françaix tunes that turns round in the listener's head for days afterwards.
The ten-minute Cantate de Méphisto sets a text by Paul Valéry: according to the composer, 'This 'Méphisto' is terribly authentic, cunning, subversive and perverse.' The devil wheedles and beguiles in a lyric parlando, accompanied by a string ensemble, spiced by the irony and satire of his operas and comedies such as Le diable boiteux, his first work for the stage. Valéry's text is printed in the booklet. Françaix's music features in countless compilations: here is an authoritatively performed opportunity to immerse yourself in his world for 'une heure exquise'.

Jean Françaix was one of the most remarkable French composers of the 20th century. Maurice Ravel said of the young Françaix to the boy's parents, "Among the child's gifts I observe above all the most fruitful an artist can possess, that of curiosity: you must not stifle these precious gifts now or ever, or risk letting this young sensibility wither." They did not, and he flourished: Françaix was a prolific composer, writing over 200 pieces in a wide variety of styles.
Françaix's style is marked by lightness and wit, his wish was to "entertain' his audience, to amuse and surprise them, to bring a smile to their face. It changed little throughout his career; while he was influenced by composers he admired (such as Chabrier, Stravinsky, Ravel and Poulenc), he integrated what he picked up into his own personal aesthetic, which was already evident in his early works.
In this recording of chamber music Françaix himself is present as pianist. We hear the String Trio, Le Colloque des deux perruches, Divertimento for flute and piano and the Cantata de Méphisto.
The other musicians are members of the Concertgebouw Orchestra Amsterdam.
Reissue of a recording from 1993, still brimming with joy and excitement.
Listening
Track list
Disk 1
Jean Françaix: Trio à cordes: I. Allegretto vivo

Jean Françaix: Trio à cordes: II. Scherzo

Jean Françaix: Trio à cordes: III. Andante

Jean Françaix: Trio à cordes: IV. Rondo

Jean Françaix: Le colloque des deux perruches: I. Allegrissimo

Jean Françaix: Le colloque des deux perruches: II. Presto

Jean Françaix: Le colloque des deux perruches: III. Larghetto

Jean Françaix: Le colloque des deux perruches: IV. Scherzando

Jean Françaix: Le colloque des deux perruches: V. Larghetto

Jean Françaix: Le colloque des deux perruches: VI. Allegro

Jean Françaix: Divertimento pour flûte et piano: I. Toccatina (allegrissimo)

Jean Françaix: Divertimento pour flûte et piano: II. Notturno

Jean Françaix: Divertimento pour flûte et piano: III. Perpetuum mobile (vivo)

Jean Françaix: Divertimento pour flûte et piano: IV. Romanza

Jean Françaix: Divertimento pour flûte et piano: V. Finale

Jean Françaix: Cantate de Méphisto