Franck: Complete Organ Music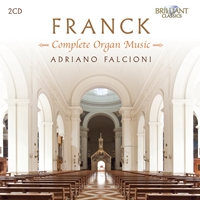 | | |
| --- | --- |
| Composer | César Auguste Franck |
| Artist | Adriano Falcioni organ |
| Format | 2 CD |
| Cat. number | 94349 |
| EAN code | 5028421943497 |
| Release | July 2012 |
About this release
The grand swell and floating poetry of César Franck's works for organ have long given rise to descriptions such as musical incense, which focus on their numinous spiritual address, perhaps at the expense of their ingenious construction, which may owe much to a Wagnerian, leitmotivically inspired process of continuous development but also to older models of the French organ school – and which in turn became influential for the next two generations of French organ composers such as Dupré and Duruflé.

The Three Chorals and the Pièce héroïque are relatively well known now, at least in recital (their technical difficulties place them beyond the reach of many church organists, and a few church organs, come to that), but beyond those late and deeply intimate explorations are some spectacular transformations of Bachian counterpoint into 19th-century showpieces such as the Final in B flat.

Adriano Falcioni (b.1975) recently won golden opinions for his recital at the organ of Sheffield Cathedral, and has performed on the instruments of many great European churches and cathedrals. This particular recording was made in the Basilica of S.Maria degli Angeli in Assisi: a beautiful church in its own right, made only more so by acting as an ecclesiastical shell for the chapel of the Porziuncola, which is known as the birthplace of the Franciscan order: St Francis himself died but a few metres from the door of the chapel, well within the grounds of what is now a spectacular basilica.

Other information:
- An essential item in the catalogue of every serious record label: the complete immortal organ works by Cesar Franck.
- This new recording, made in 2011, is played on the beautiful organ of the Basilica of S. Maria degli Angeli in Assisi.
- Adriano Falcioni is one of Europe's foremost organists, having played in the most prestigious European Cathedrals and Churches.
- The liner notes, in English and Italian, describe the repertoire as well as the organ and its disposition.
Track list
Disk 1
César Auguste Franck: Six Pièces: Fantasy in C, Op. 16

César Auguste Franck: Six Pièces: Grande pièce symphonique, Op. 17

César Auguste Franck: Six Pièces: Prélude, fugue et variation, Op. 18

César Auguste Franck: Six Pièces: Pastorale, Op. 19

César Auguste Franck: Six Pièces: Prière, Op. 20

César Auguste Franck: Six Pièces: Final, Op. 21
Disk 2
César Auguste Franck: Trois Pièces: Fantasy in A

César Auguste Franck: Trois Pièces: Cantabile

César Auguste Franck: Trois Pièces: Pièce héroïque

César Auguste Franck: Trois Chorals: No. 1 in E

César Auguste Franck: Trois Chorals: No. 2 in B Minor

César Auguste Franck: Trois Chorals: No. 3 in A Minor