Franck: Rédemption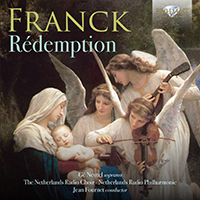 Composer
César Auguste Franck
Artist
Gé Neutel soprano
The Netherlands Radio Choir
Frans Müller choir master
Netherlands Radio Philharmonic
Jean Fournet conductor
Format
1 CD
Cat. number
96002
EAN code
5028421960029
Release
August 2020
About this release
With just a single modern recording in the catalogue, Franck's hour-long fusion of oratorio form with symphonic poem counts as a notable rarity in his output, not so sprawling as the evening-long oratorio on the Beatitudes but still a dramatic canvas full of incident and contemplation well worth exploring by anyone familiar with the Symphony or the secular tone-poems such as Psyché and Le chausseur maudit.

In fact Franck was in the middle of work on Les Beatitudes in 1871 when he read the 'National Vow' newly written by Edouard Blau, which attributed France's recent misfortunes to divine punishment for the nation's collective sins. The story's narrative of Paganism enlightened by Christianity, which is then corrupted by unbelief and finally redeemed by prayer, struck a chord with Franck: 'I will set this well because I believe in it.'

Rédemption was duly composed with passion and at speed, receiving its premiere on Maundy Thursday 1873. The form is unique, in which a symphonic poem (extracted by the likes of Munch and Toscanini) is surrounded by choruses and soprano arias as well as reflective interludes. The language is Franck at his most opulent and beautifully scored for orchestra. This live Dutch performance from 1976 was directed by Jean Fournet, a noted Franck specialist who made recordings of all the composer's major orchestral works. Previously available only within large boxsets dedicated either to Franck or to Fournet, this is the single budget-priced version of Rédemption in the catalogue.

Jean Fournet drawing out the very best from his forces. The Radio Choir particularly shine for their warmth and flawless ensemble.' MusicWeb International, April 2019.

César Franck described his Rédemption as a "Poème-symphonie", a hybrid work in which choral parts and solo arias are interspersed with spoken recitative (often omitted in modern performances as they are in this recording) and including a purely orchestral section, the Morceau Symphonique.
The work, on a text by Édouard Blau, describes the state of the world before the coming of Christ, its transformation through the Christian message and subsequent decline when this is forgotten, with God's message of forgiveness delivered by the Archangel at the conclusion.
The musical language is of an elevated level, by turns serene and ecstatic, sustained by the highly individual and chromatic Franckian harmonies.
This CD presents an excellent live recording from 1976 from the Dutch radio, featuring the Netherlands Radio Philharmonic Choir and Orchestra conducted by Jean Fournet, its principal conductor and one of the greatest champions of French romantic music.
Listening
Track list
Disk 1
César Auguste Franck: Rédemption, FWV 52, Pt. I: Introduction

César Auguste Franck: Rédemption, FWV 52, Pt. I: I. Choeur Terrestre

César Auguste Franck: Rédemption, FWV 52, Pt. I: II. Récit et choeur des anges

César Auguste Franck: Rédemption, FWV 52, Pt. I: III. Choeur, récit et air de l'archange. IV. Choeur general

César Auguste Franck: Rédemption, FWV 52, Pt. II: V. Morceau symphonique

César Auguste Franck: Rédemption, FWV 52, Pt. II: VI. Choeur d'hommes

César Auguste Franck: Rédemption, FWV 52, Pt. II: VII. Choeur des anges

César Auguste Franck: Rédemption, FWV 52, Pt. II: VIII. Air de l'archange

César Auguste Franck: Rédemption, FWV 52, Pt. II: IX. Choeur general