Fratta: Orchestral Music by Stravinsky, Britten & Scriabin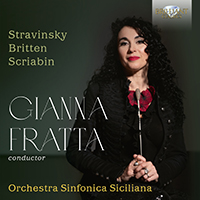 Composer
Alexander Scriabin, Benjamin Britten, Igor Stravinsky
Artist
Orchestra Sinfonica Siciliana
Gianna Fratta conductor
Format
1 CD
Cat. number
96724
EAN code
5028421967240
Release
January 2023
About this release
Founded in 1951, the Orchestra Sinfonica Siciliana has been directed by charismatic maestros of international renown from the Romanian Sergiu Celibidache in the 60s to the Venezuelan Diego Matheuz and the Scot Duncan Ward in the present era. Now Gianna Fratta joins their ranks with a unique showcase of 20th-century orchestral masterpieces.
Gianna Fratta opened the 2021-22 season of the OSS in Palermo with a concert featuring Martha Argerich as soloist in Schumann's Piano Concerto; she has herself won acclaim as a pianist, and now conducts leading ensembles across Italy.
That programme concluded with an explosive account of the suite from Stravinsky's Firebird ballet.
Fratta likewise draws a full palette of orchestral colour from the Sicilian orchestra in this studio account of the Rite of Spring, Stravinsky's radical sequel to the Firebird.
Completed in 1908, five years before the Rite, Scriabin's Poem of Ecstasy makes such an instructive companion on disc that it is surprising to find the pairing is almost unique. Where Stravinsky uses jarring rhythmic dislocation and his command of an orchestra to paint tableaux in sound of a pagan rite, Scriabin places a no less quintessentially French-Russian harmonic palette in the service of sensual pleasure, building wave upon wave of melodic intensity to crash over the listener and ultimately overwhelm them.
Both contrasting styles owe much to the innovations of Debussy, whose rhythmic suppleness in the evocation of wind and water would come to have a profound influence over 20th-century composers – not least Benjamin Britten, in the orchestral seascapes which punctuate his first opera, Peter Grimes. In the years after its premiere in 1945, Grimes established a place on the world's lyric stages for British opera thanks to the universal power of its storytelling, not only through the ordinary characters at its heart – a fisherman, his boyapprentices, a teacher and a mob of wary villagers – but through the translation of their complex feelings into surging and seething orchestral textures.

- This new recording marks the CD-debut for Brilliant Classics of the Italian conductor Gianna Fratta, conducting three landmark works from the 20-th century symphonic repertoire.
- Gianna Fratta decided to become conductor at the age of nine and since then she has undertaken her studies of piano, composition, choral music, choir conducting and conducting, in order to achieve her goal. From a very young age she worked with important orchestras, including Berliner Symphoniker, Macao Orchestra, Royal Academy of London, Russian Symphony Orchestra, Orchestra de l' Îlede-France, Montevideo Philharmonic, and in Italy with the Orchestra of the Teatro dell'Opera in Rome, the Orchestra of the Foundation Toscanini of Parma, the ORT of Florence, the Sicilian Symphony Orchestra, the Verdi of Milan and various others. She has played and directed in major theaters around the world including Carnegie Hall of New York, Coliseo Theater of Buenos Aires, Solís Theater of Montevideo, Seoul Art Center of Seoul, Hong Kong Opera Theater, Smetana Hall of Prague, Theater of San Paolo in Brazil.
- Established in 1951, the Sicilian Symphony Orchestra immediately began an intense concert activity destined to significantly affect the Sicilian and national musical scene. They are especially dedicated to the performance of 20th century repertoire.
Listening
Track list
Disk 1
Igor Stravinsky: The Rite of Spring, K015 Pt. I: I. Adoration of the Earth (Introduction)

Igor Stravinsky: The Rite of Spring, K015 Pt. I: II. The Augurs of Spring - Dances of the Young Girls

Igor Stravinsky: The Rite of Spring, K015 Pt. I: III. Ritual of Abduction

Igor Stravinsky: The Rite of Spring, K015 Pt. I: IV. Spring Rounds

Igor Stravinsky: The Rite of Spring, K015 Pt. I: V. Ritual of the 2 Rival Tribes

Igor Stravinsky: The Rite of Spring, K015 Pt. I: VI. Procession of the Oldest and Wisest One

Igor Stravinsky: The Rite of Spring, K015 Pt. I: VII. Dance of the Earth

Igor Stravinsky: The Rite of Spring, K015 Pt. II: VIII. The Exalted Sacrifice (Introduction)

Igor Stravinsky: The Rite of Spring, K015 Pt. II: IX. Mystic Circle of the Young Girls

Igor Stravinsky: The Rite of Spring, K015 Pt. II: X. The Naming and Honoring of the Chosen One

Igor Stravinsky: The Rite of Spring, K015 Pt. II: XI. Evocation of the Ancestors

Igor Stravinsky: The Rite of Spring, K015 Pt. II: XII. Ritual Action of the Ancestors

Igor Stravinsky: The Rite of Spring, K015 Pt. II: XIII. Sacrifical Dance (The Chosen One)

Benjamin Britten: 4 Sea Interludes from the Opera "Peter Grimes" Op. 33a: I. Dawn

Benjamin Britten: 4 Sea Interludes from the Opera "Peter Grimes" Op. 33a: II. Sunday Morning

Benjamin Britten: 4 Sea Interludes from the Opera "Peter Grimes" Op. 33a: III. Moonlight

Benjamin Britten: 4 Sea Interludes from the Opera "Peter Grimes" Op. 33a: IV. Storm

Alexander Scriabin: Le poème de l'extase, Op. 54