French Cello Sonatas, Lalo, Koechlin & Pierné, Vol.1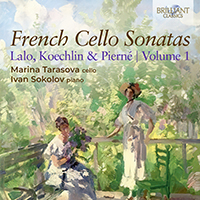 Composer
Charles Koechlin, Gabriel Pierné, Édouard Lalo
Artist
Marina Tarasova cello
Ivan Sokolov piano
Format
1 CD
Cat. number
96566
EAN code
5028421965666
Release
January 2023
About this release
Born in Lille, Édouard Lalo (1823–1892) studied the violin before leaving home for good, against his father's will, to enter the Paris Conservatoire. Having graduated without family support, he began to make a living in the capital as an orchestral violinist and violist and as a member of the Quatuor Armingaud (from 1855), one of many such ensembles which sprang up within a culture of chamber music that was then supported by the foundation of the Société nationale de musique. Lalo's Cello Sonata in A minor is relatively unknown, despite its obvious beauty and clear Schumannesque qualities. As a second violinist and violist in the Armingaud he knew his way around the inner parts of much Classical and early Romantic repertoire, and this sonata benefits from such familiarity, with its bold, concertante writing for the solo instrument sometimes relegating the pianist to the status of an orchestral accompanist. The rhythmic complexity of this sonata is central: for instance, the juxtaposition of triplets with semiquavers to evoke a fluid but irregular movement, foreshadowing similar motion in the cello writing of later sonatas by Brahms, Franck and Rachmaninoff.
Charles Koechlin (1867–1950) studied composition at the Paris Conservatoire with Jules Massenet and Fauré. He moonlighted as a critic, but also produced much more substantial and influential treatises on theory, harmony and instrumentation, culminating in the monumental Traité de l'orchestration. He composed frequently, producing a huge opus of well over 200 works, and in a fluent style distinguished above all by its melodic invention, with supple and eloquent melodic themes. In that regard, the spirit of Fauré is never far away in the Cello Sonata Op.66 – allusive, imbued with a retrospective spirit which unfolds into a kind of accompanied recitative, quintessentially cellistic. Koechlin wrote the Sonata in October 1917 in a flurry of chamber-music activity, while Europe was enveloped in carnage. In the searching Andante quasi Adagio there is a
contrapuntal sophistication at work which never draws attention to itself, with chords and melodic lines crossing in distinct, unpredictable patterns.
Gabriel Pierné (1863–1937), also an alumnus of the Paris Conservatoire, was a successful musician and won the coveted Prix de Rome in 1882. Pierné became one of the most influential musicians in Paris, more at the time through his conducting than his composing. He introduced audiences at the Concerts Colonne to countless premieres of lasting significance (among them Debussy's Ibéria, Images and Jeux, Ravel's Une barque sur l'océan, Tzigane and the first suite from Daphnis et Chloé) and was one of the principal conductors for Diaghilev's Ballets Russes, conducting the world premiere of Stravinsky's Firebird. Pierné's single-movement Cello Sonata in F sharp minor is in a cyclical form, following the example of Franck and Liszt. Each section reaches a foreshortened climax, delaying resolution until the inevitable return of the opening recitative, now in more impassioned form, before this too tails off in a sequence of expiring arabesques.

Other information:
- Recorded 2022, Studio of Victor Popov, Academy of Choral Arts, Moscow, Russia
- Booklet in English contains artist biographies and liner notes by Peter Quantrill

- The start of an exciting series of French Cello Sonatas played by Marina Tarasova for Brilliant Classics.
- Marina Tarasova is one of the most renowned cellists of today: 'Her playing is generous in tone, full-blooded in expression, passionate and confident, evidently fired by love for and commitment to the music.' Gramophone. She is winner of international competitions in Prague, Florence, Paris, and a laureate of the Tchaikovsky competition in Moscow. She began playing the cello at the age of six and studied at the Gnessin School with Alexander Fedorchenko and at the Moscow Conservatoire with Natalia Shakhovskaya. Her vast repertoire spans the 17th century to the present day. She has worked with many renowned musicians, such as Mikhail Pletnev, Mariss Jansons, Gennady Rozhdestvensky, Kurt Masur, Eduard Grach and Yuri Bashmet.
- This first recording of French Cello Sonatas presents works by Gabriel Pierné (1863-1937), Édouard Lalo (1823-1892) and Charles Koechlin (1867-1959), works written in the romantic tradition but each finding its personal tonal language and new ways of expression.
- Marina Tarasova's piano partner is the excellent Ivan Sokolov.
Listening
Track list
Disk 1
Édouard Lalo: Cello Sonata in A Minor: I. Andante non troppo - Allegro moderato

Édouard Lalo: Cello Sonata in A Minor: II. Andante

Édouard Lalo: Cello Sonata in A Minor: III. Allegro

Charles Koechlin: Cello Sonata, Op. 66: I. Très modéré

Charles Koechlin: Cello Sonata, Op. 66: II. Très calme (Andante quasi Adagio)

Charles Koechlin: Cello Sonata, Op. 66: III. Final. Allegro non troppo

Gabriel Pierné: Sonata en une partie in F-Sharp Minor, Op. 46