French Music for String Orchestra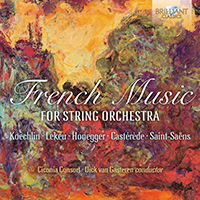 Composer
Arthur Honegger, Camille Saint-Saëns, Charles Koechlin, Guillaume Lekeu, Jacques Castérède
Artist
Ciconia Consort
Dick van Gasteren conductor
Format
1 CD
Cat. number
95734
EAN code
5028421957340
Release
December 2018
About this release
The first modern recording of a gripping 20th-century masterpiece for strings.

The name of Jacques Castérède (1926-2014) may not be well known outside his native France, but the taut and compelling Symphony for strings which he wrote at the age of 26 – his first major work – deserves far wider recognition. Tension runs high throughout the opening Modéré before breaking into a violent Scherzo in the manner of Bartok's Music for Strings, Percussion and Celesta. Shostakovich and indeed the Second Symphony of Arthur Honegger may be called to mind by the impassioned lyricism of the slow movement, which rises from darkness before discovering a point of radiant transfiguration in the movement's coda. Restless counterpoint brings the finale to an exhilarating, emphatic conclusion.

The first recording of Castérède's symphony won a Grand prix du disque, but it has taken half a century for the second to be made by this young and exciting Dutch string ensemble as the centrepiece of their debut on CD. Turbulent energy and sombre elegy are the key signatures of the imaginative programme: Honegger's Second Symphony of 1937 explores the same expressive territory as Castérède's Symphony, though its trumpet-led apotheosis achieves hard-won resolution.

Reflective miniatures by Koechlin, Honegger and Saint-Saëns are highly coloured by their composer's individual voices, and there is space for the heartfelt Adagio of Guillaume Lekeu, which belongs in the company of Mahler's Adagietto and Barber's ubiquitous Adagio.

This CD brings together a diverse program of music for string orchestra by French composers, some well-known, some rescued from oblivion.
Charles Koechlin is nowadays considered one of the most original voices of 20th century France, his "Sur les flots lontaines" is written on a poem by Urner. Guillaume Lekeu tragically died at age 24, a genius in the bud, his Adagio for String is heart wrenchingly beautiful. Arthur Honegger is represented by his Hymne pour dixtuor a codes and his 2nd Symphonie for strings and trumpet. The Sarabande in E major is Saint-Saëns' only work for string orchestra. Jacques Castérède (1926-2014), a Messiaen pupil, was a Prix de Rome winner, his Symphonie No. 1 pour orchestra à cordes is a real find.
This recording marks the CD debut of the Ciconia Consort, a Dutch string orchestra conducted by Dick van Gasteren, an internationally active conductor, who was Bernard Haitink's assistant during the Mahler Festival Amsterdam in 1995.
Track list
Disk 1
Charles Koechlin: Sur les flots lointains, Op. 130

Guillaume Lekeu: Adagio pour cordes

Arthur Honegger: Hymne pour dixtuor à cordes

Jacques Castérède: Symphonie No. 1 pour orchestre à cordes: I. Modéré

Jacques Castérède: Symphonie No. 1 pour orchestre à cordes: II. Vif et rude

Jacques Castérède: Symphonie No. 1 pour orchestre à cordes: III. Lent

Jacques Castérède: Symphonie No. 1 pour orchestre à cordes: IV. Vif et décidé

Camille Saint-Saëns: Sarabande in E Major, Op. 93

Arthur Honegger: Symphonie No. 2 pour cordes avec trompette ad libitum: I. Molto moderato – Allegro

Arthur Honegger: Symphonie No. 2 pour cordes avec trompette ad libitum: II. Adagio mesto

Arthur Honegger: Symphonie No. 2 pour cordes avec trompette ad libitum: III. Vivace non troppo