French Piano Concertos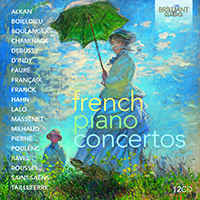 Download booklet
| | |
| --- | --- |
| Composer | César Auguste Franck, Claude Debussy, Darius Milhaud |
| Artist | Various artists |
| Format | 12 CD |
| Cat. number | 95899 |
| EAN code | 5028421958996 |
| Release | April 2019 |
About this release
This gorgeous set is dedicated to piano concertante works from the pens of French composers – infinitely varied compositions that nevertheless each bear the unmistakeable flavour of their native idiom. The French piano concerto was a late arrival on the European stage, and even then many French composers would opt to combine piano and orchestra outside the confines of strict concerto form. This 12-CD set homes in on the genre's heyday – the century or so spanning Saint-Saëns's pioneering First Piano Concerto (1858) to Françaix's nostalgic Concerto for 2 Pianos (1965) – along with two precursors: a two-movement Concerto in F (1792) by the 'French Mozart' Boieldieu and the early Concerti da camera Op.10 (1832–38) by the maverick genius Alkan.

The set begins with the five piano concertos that traverse Saint-Saëns's career, along with concertante pieces he composed in the 1880s during a 20-year hiatus between his Fourth (1875) and Fifth (1896). The '80s were fertile for Saint-Saëns's contemporary Franck, as well, who returned to the piano after decades focusing on the organ and on choral music to create such piano concertante masterworks as Les Djinns and the Variations symphoniques.

The latter work was an influence on Claude Debussy's Fantaisie, in terms of the roles assigned to the orchestra and solo piano and the work's structure, and like Franck before him, Debussy would disown this youthful work to move in a new direction – surprising given the warm reception enjoyed today by the early works of both composers.

The influence of Saint-Saëns and Franck would extend to several of Debussy's contemporaries, as well. Some would rebel against concerto form – Gabriel Fauré with his episodic Ballade Op.19, Cécile Chaminade with her single-movement Concertstück Op.40 and Vincent D'Indy with his three-movement Symphony on a French Mountain Air –
while others would embrace it – the Concerto in C minor Op.12 of Gabriel Pierné emulating Saint-Saëns's Second yet foreshadowing Rachmaninov, and the epic Concerto in F minor by Édouard Lalo harking back to Liszt.

Jules Massenet's Concerto in E flat, begun in his early twenties, but only finished at the turn of the century after his many successful operas, arrived too late for the shifting tastes of the time, which had turned their back on romantic virtuosity in favour of the impressionistic and neo-classical. The group known as 'Les Six' (The Six) represented the next generation of French composers exploring these new directions in the wake of the First World War. Three of their number figure on this set: Francis Poulenc and the charm and wit of his Concertos for one and for two Pianos, Germaine Tailleferre and the impressionistic orientalism of her Ballade, and the prolific Darius Milhaud who contributes no less than five piano concertos and four other concertante pieces.

Their younger colleague Jean Françaix was among the many great names to have studied with seminal French composition teacher Nadia Boulanger. She is represented here by her forward-looking 1912 Fantaisie, while her student Françaix, like Poulenc, offers Concertos for one (1936) and for two (1965) pianos, the former dedicated to his teacher and the latter looking back to Poulenc. Albert Roussel and Reynaldo Hahn, though older than the members of 'Les Six', would only come to write piano concertos in their 50s, well into the inter-war period. Hahn's concerto is featured here in a very special remastered historic recording from 1937, with the composer at the podium and the renowned Brazilian pianist Magda Tagliaferro as soloist.

Maurice Ravel likewise came late to the piano concerto, but then wrote two simultaneously, one for piano two hands and one for the left hand alone, on commissions from Serge Koussevitzky and Paul Wittgenstein, respectively. Both were given their premieres within a few weeks of each other in 1932.

As a worthy successor to the highly successful set of Russian Piano Concertos (BC95520) Brilliant Classics is happy to issue this set of French Piano Concertos on 12 CD's.
Beginning with the (Early) Romantic concertos by Boieldieu and Alkan, and ending with concertos by Françaix and Milhaud they represent everything which is quintessentially French: a lightness of touch, charming, witty, sometimes tongue-in-cheek, colourful and bubbling with brilliant virtuosity.
Played by excellent pianists such as Magda Tagliaferro, Romain Descharmes, Gabriel Tacchino, Francois-Joël Thiollier, Michael Korstick, Florian Uhlig and Klára Würtz.
The booklet contains a newly written essay by David Moncur.
Listening
Track list
Disk 1
Camille Saint-Saëns: Piano Concerto No. 1 in D Major, Op. 17: I. Andante – Allegro assai

Camille Saint-Saëns: Piano Concerto No. 1 in D Major, Op. 17: II. Andante sostenuto quasi adagio

Camille Saint-Saëns: Piano Concerto No. 1 in D Major, Op. 17: III. Allegro con fuoco

Camille Saint-Saëns: Piano Concerto No. 2 in G Minor, Op. 22: I. Andante sostenuto

Camille Saint-Saëns: Piano Concerto No. 2 in G Minor, Op. 22: II. Allegro scherzando

Camille Saint-Saëns: Piano Concerto No. 2 in G Minor, Op. 22: III. Presto

Camille Saint-Saëns: Piano Concerto No. 4 in C Minor, Op. 44: I. Allegro moderato

Camille Saint-Saëns: Piano Concerto No. 4 in C Minor, Op. 44: II. Allegro vivace
Disk 2
Camille Saint-Saëns: Piano Concerto No. 3 in E-Flat Major, Op. 29: I. Moderato assai

Camille Saint-Saëns: Piano Concerto No. 3 in E-Flat Major, Op. 29: II. Andante – III. Allegro non troppo

Camille Saint-Saëns: Piano Concerto No. 5 in F Major, Op. 103: I. Allegro animato

Camille Saint-Saëns: Piano Concerto No. 5 in F Major, Op. 103: II. Andante

Camille Saint-Saëns: Piano Concerto No. 5 in F Major, Op. 103: III. Molto allegro

Camille Saint-Saëns: Africa, Op. 89
Disk 3
François-Adrien Boïeldieu: Piano Concerto in F Major: I. Allegro

François-Adrien Boïeldieu: Piano Concerto in F Major: II. Pastorale con variazioni

Jules Massenet: Piano Concerto in E-Flat Major: I. Andante moderato

Jules Massenet: Piano Concerto in E-Flat Major: II. Largo

Jules Massenet: Piano Concerto in E-Flat Major: III. Airs slovaques. Allegro

Gabriel Pierné: Piano Concerto in C Minor, Op. 12: I. Allegro

Gabriel Pierné: Piano Concerto in C Minor, Op. 12: II. Scherzando

Gabriel Pierné: Piano Concerto in C Minor, Op. 12: III. Final
Disk 4
Édouard Lalo: Piano Concerto in F Minor: I. Lento – Allegro

Édouard Lalo: Piano Concerto in F Minor: II. Lento

Édouard Lalo: Piano Concerto in F Minor: III. Allegro

Cécile Chaminade: Concertstück in C-Sharp Minor, Op. 40

Albert Roussel: Piano Concerto in G Major, Op. 36: I. Allegro molto

Albert Roussel: Piano Concerto in G Major, Op. 36: II. Adagio

Albert Roussel: Piano Concerto in G Major, Op. 36: III. Allegro con spirit

Jean Françaix: Piano Concerto: I. —

Jean Françaix: Piano Concerto: II. Andante

Jean Françaix: Piano Concerto: III. —

Jean Françaix: Piano Concerto: IV. Allegro
Disk 5
Charles Henri Valentin Alkan: Concerto da camera No. 1 in A Minor, Op. 10: I. Allegro

Charles Henri Valentin Alkan: Concerto da camera No. 1 in A Minor, Op. 10: II. Adagio

Charles Henri Valentin Alkan: Concerto da camera No. 1 in A Minor, Op. 10: III. Allegro

Charles Henri Valentin Alkan: Concerto da camera No. 2 in C-Sharp Minor, Op. 10: I. Allegro moderato

Charles Henri Valentin Alkan: Concerto da camera No. 2 in C-Sharp Minor, Op. 10: II. Adagio

Charles Henri Valentin Alkan: Concerto da camera No. 2 in C-Sharp Minor, Op. 10: III. Primo movimento

Charles Henri Valentin Alkan: Concerto da camera No. 3 in C-Sharp, Op. 10: I. Andante con moto

Vincent D'Indy: Symphony on a French Mountain Air, Op. 25: I. Assez lent – Modérément animé

Vincent D'Indy: Symphony on a French Mountain Air, Op. 25: II. Assez modéré, mais sans lenteur

Vincent D'Indy: Symphony on a French Mountain Air, Op. 25: III. Animé
Disk 6
Reynaldo Hahn: Piano Concerto in E Major: I. Improvisation – Modéré

Reynaldo Hahn: Piano Concerto in E Major: II. Danse

Reynaldo Hahn: Piano Concerto in E Major: III. Rêverie

Reynaldo Hahn: Piano Concerto in E Major: IV. Toccata – Finale

Gabriel Fauré: Ballade in F-Sharp Major, Op. 19

Camille Saint-Saëns: Rhapsodie d'Auvergne, Op. 73

Camille Saint-Saëns: Wedding Cake, Op. 76
Disk 7
César Auguste Franck: Symphonic Variations, FWV 46

César Auguste Franck: Les Djinns in F-Sharp Minor, FWV 45

César Auguste Franck: Piano Concerto No. 2 in B Minor, Op. 11: I. Allegro maestoso

César Auguste Franck: Piano Concerto No. 2 in B Minor, Op. 11: II. Adagio

César Auguste Franck: Piano Concerto No. 2 in B Minor, Op. 11: III. Rondo. Allegro
Disk 8
Maurice Ravel: Piano Concerto in G Major: I. Allegramente

Maurice Ravel: Piano Concerto in G Major: II. Adagio assai

Maurice Ravel: Piano Concerto in G Major: III. Presto

Maurice Ravel: Piano Concerto for the Left Hand in D Major, M.82

Claude Debussy: Fantaisie for Piano and Orchestra, L. 73: I. Andante ma non troppo

Claude Debussy: Fantaisie for Piano and Orchestra, L. 73: II. Lento e molto espressivo – III. Allegro molto
Disk 9
Darius Milhaud: Le carnaval d'aix, Op. 83b: I. Le corso

Darius Milhaud: Le carnaval d'aix, Op. 83b: II. Tartaglia

Darius Milhaud: Le carnaval d'aix, Op. 83b: III. Isabelle

Darius Milhaud: Le carnaval d'aix, Op. 83b: IV. Rosetta

Darius Milhaud: Le carnaval d'aix, Op. 83b: V. Le bon et le mauvais tuteur

Darius Milhaud: Le carnaval d'aix, Op. 83b: VI. Coviello

Darius Milhaud: Le carnaval d'aix, Op. 83b: VII. Le capitaine cartuccia

Darius Milhaud: Le carnaval d'aix, Op. 83b: VIII. Polichinelle

Darius Milhaud: Le carnaval d'aix, Op. 83b: IX. Polka

Darius Milhaud: Le carnaval d'aix, Op. 83b: X. Cinzio

Darius Milhaud: Le carnaval d'aix, Op. 83b: XI. Souvenir de Rio

Darius Milhaud: Le carnaval d'aix, Op. 83b: XII. Final

Darius Milhaud: Ballade, Op. 61

Darius Milhaud: 5 Études, Op. 63: I. Vif

Darius Milhaud: 5 Études, Op. 63: II. Doucement

Darius Milhaud: 5 Études, Op. 63: III. Fugues. Vif et rythmé

Darius Milhaud: 5 Études, Op. 63: IV. Sombre

Darius Milhaud: 5 Études, Op. 63: V. Romantique. Très animé

Darius Milhaud: Piano Concerto No. 1, Op. 127: I. Très vif

Darius Milhaud: Piano Concerto No. 1, Op. 127: II. Barcarolle

Darius Milhaud: Piano Concerto No. 1, Op. 127: III. Finale

Darius Milhaud: Fantaisie pastorale, Op. 188
Disk 10
Darius Milhaud: Piano Concerto No. 2, Op. 225: I. Animé

Darius Milhaud: Piano Concerto No. 2, Op. 225: II. Romance

Darius Milhaud: Piano Concerto No. 2, Op. 225: III. Bien modérément animé

Darius Milhaud: Piano Concerto No. 3, Op. 270: I. Alerte et avec élégance

Darius Milhaud: Piano Concerto No. 3, Op. 270: II. Lent

Darius Milhaud: Piano Concerto No. 3, Op. 270: III. Avec esprit et élégance

Darius Milhaud: Piano Concerto No. 4, Op. 295: I. Animé

Darius Milhaud: Piano Concerto No. 4, Op. 295: II. Très lent

Darius Milhaud: Piano Concerto No. 4, Op. 295: III. Joyeux

Darius Milhaud: Piano Concerto No. 5, Op. 346: I. Alerte

Darius Milhaud: Piano Concerto No. 5, Op. 346: II. Nonchalant

Darius Milhaud: Piano Concerto No. 5, Op. 346: III. Joyeux
Disk 11
Nadia Boulanger: Fantaisie for 'Piano and Orchestra: I. Lent. Grave – Allegro – Più vivo. Tempo molto marcato – Moderato – Andante – Allegro

Germaine Tailleferre: Ballade

Francis Poulenc: Piano Concerto in C-Sharp Minor, FP 146: I. Allegretto

Francis Poulenc: Piano Concerto in C-Sharp Minor, FP 146: II. Andante con moto

Francis Poulenc: Piano Concerto in C-Sharp Minor, FP 146: III. Rondo à la française. Presto giocoso
Disk 12
Jean Françaix: Concerto for 2 Pianos and Orchestra: I. Allegro giocoso

Jean Françaix: Concerto for 2 Pianos and Orchestra: II. Doppio più lento

Jean Françaix: Concerto for 2 Pianos and Orchestra: III. Scherzando

Jean Françaix: Concerto for 2 Pianos and Orchestra: IV. Allegro tieramente

Francis Poulenc: Les animaux modèles, FP 111: I. Le petit jour. Très calme

Francis Poulenc: Les animaux modèles, FP 111: IV. Le lion amoureux. Passionnément animé

Francis Poulenc: Les animaux modèles, FP 111: V. L'Homme entre deux âges et ses deux maîtresses. Prestissimo

Francis Poulenc: Les animaux modèles, FP 111: VI. La mort et le bûcheron. Très lent

Francis Poulenc: Les animaux modèles, FP 111: VII. Les deux coqs. Très modéré

Francis Poulenc: Les animaux modèles, FP 111: VIII. Le repas de midi

Francis Poulenc: Concerto for 2 Pianos in D Minor, FP 61: I. Allegro ma non troppo

Francis Poulenc: Concerto for 2 Pianos in D Minor, FP 61: II. Larghetto

Francis Poulenc: Concerto for 2 Pianos in D Minor, FP 61: III. Finale