French Songs for Flute & Harp: Debussy, Ravel, Fauré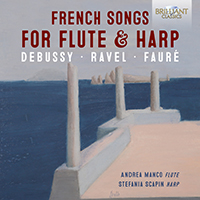 Download booklet
Artist
Andrea Manco flute
Stefania Scapin harp
Format
1 CD
Cat. number
96018
EAN code
5028421960180
Release
January 2021
About this release
'Chansons sans paroles': masterpieces of 20th-century song in original arrangements for a quintessentially French instrumental combination, in new recordings by a talented young Italian duo.

Stefania Scapin's performance on YouTube of Debussy's Clair de lune eloquently demonstrates how sympathetically the impressionist writing of French composers translates to the harp in the right hands. Here in partnership with the flautist Andrea Manco, who joined the Orchestra of La Scala Milan in 2014, she presents some of the best-loved masterpieces by three giants of turn-of-the-century French music. An opening trio of Debussy numbers includes the evergreen Rêverie, ideally suited to the dreamy colours of flute and harp. The Arabesque which would usually form an 'instrumental interlude' precedes the two brief but voluptuously harmonised Romances.

The Cinq Mèlodies Populaires Grecques and Deux Mèlodies Hèbraïques by Ravel make a piquant contrast with their much more melismatic writing for the melody instrument, exotically soaring above the accompaniment. The album ends in a mood of refined melancholy with seven songs by Fauré, including another Clair de lune as well as Chanson d'amour and the unavoidable Après un rêve, subject before now of countless arrangements which have rarely captured the rapturous ecstasy of the original like this transcription.

As Stefania Scapin observes in her booklet notes, the flute becomes the voice of the poetic text without expressly 'speaking'. It nevertheless communicates the poetic meaning through those melodious qualities which distinguish it as an extension of the human voice. The harp becomes a secure but suspended base between the here and now of the plucked string and an unpredictable and mysterious continuation of sound. This delicate balance of sound and memory belongs to the language of the French impressionists, and these performances will afford delight as well as insight into the original songs.

A beautiful program of transcriptions for flute and harp of French songs by Debussy (1862-1918), Ravel (1875-1937) and Fauré (1855-1924).
The two instruments flute and harp, with their archaic provenance, magically evoke the often bucolic atmosphere of the songs: intimate, sensual and enchanting.
Included are Reveries, Beau Soir and Nuit d'étoiles by Debussy, Cinq Mélodies populaires grecques by Ravel, and popular songs by Fauré: Sicilienne, Les Berceaux, Clair de lune, Chanson d'amour, Après un rêve, En prière.
Played by Andrea Manco (flute) and Stefania Scapin (harp). The original texts of the songs are included in the booklet.
Listening
Track list
Disk 1
Claude Debussy: Nuit d'étoiles

Claude Debussy: Rêverie

Claude Debussy: Beau soir

Claude Debussy: Arabesque I

Claude Debussy: 2 Romances: I. Romance

Claude Debussy: 2 Romances: II. Les cloches

Maurice Ravel: 5 Mélodies populaires grecques: I. Chanson de la mariée

Maurice Ravel: 5 Mélodies populaires grecques: II. Là-bas, vers l'église

Maurice Ravel: 5 Mélodies populaires grecques: III. Quel galant m'est comparable

Maurice Ravel: 5 Mélodies populaires grecques: IV Chanson des cueilleuses de lentisques

Maurice Ravel: 5 Mélodies populaires grecques: V Tout gai!

Maurice Ravel: 2 Mélodies hébraïques: I Kaddisch

Maurice Ravel: 2 Mélodies hébraïques: II. L'énigme éternelle

Gabriel Fauré: Les berceaux in B-Flat Minor

Gabriel Fauré: Sicilienne, Op. 78

Gabriel Fauré: Clair de lune

Gabriel Fauré: En prière

Gabriel Fauré: Chanson d'amour

Gabriel Fauré: Notre amour

Gabriel Fauré: Après un rêve