Frescobaldi: Masses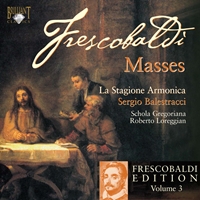 Composer
Girolamo Frescobaldi
Artist
La Stagione Armonica
Schola Gregoriana
Roberto Loreggian organ
Sergio Balestracci conductor
Format
1 CD
Cat. number
93780
EAN code
5028421937809
Release
February 2009
About this release
Girolamo Frescobaldi was born in Ferrara in 1583, and worked for the influential and wealthy Este family. Ferrara at this time had become the centre for the modern arts and the musical avant-garde. Virtuoso singing and playing flourished, and it was into this heady atmosphere that the young Frescobaldi cut
his teeth.

In 1608 he took the position of organist at St Peter's Basilica in Rome. In 1615 a new basilica was built with two fine organs upon which Frescobaldi performed his famous improvisatory toccatas during ceremonial occasions. In Rome at this time he mingled with other major figures in the artistic community including Bernini and Pietro da Cortona.

Although Frescobaldi was one of the earliest composers to make keyboard compositions his speciality, he was also expected to provide vocal and choral works for his patron.

On the third volume of the Brilliant Classics Frescobaldi Edition are two Masses that have survived in manuscript partbooks, inscribed 'G.F.di', which scholars believe is a reference to Frescobaldi. It is likely that these masses were performed in the basilica, and Frescobaldi uses popular songs as the basis for both works. One is a song of a girl pleading with her mother not to send her to a convent, the other a song composed for the wedding of the Grand Duke of Tuscany in 1589. Both works are beautifully crafted examples of late 17th-century Italian church music.

Other information:
- Recorded in 2006.
- Comprehensive booklet note with sung texts and translations.
- Other volumes in the Brilliant Classics Frescobaldi Edition: Canzone (BC93766) and Toccatas and Partitas (BC93767).
Track list
Disk 1
Missa sopra l'aria della Monica: Introitus Gaudeamus

Missa sopra l'aria della Monica: Kyrie

Missa sopra l'aria della Monica: Gloria

Missa sopra l'aria della Monica: Credo

Missa sopra l'aria della Monica: Offertorium Ave Maria

Missa sopra l'aria della Monica: Sanctus

Missa sopra l'aria della Monica: Agnus Dei

Missa sopra l'aria della Monica: Antiphona Diffusa est

Missa sopra l'aria di Fiorenza: Antiphona ad introitum / De ventre matris meae

Missa sopra l'aria di Fiorenza: Kyrie

Missa sopra l'aria di Fiorenza: Gloria

Missa sopra l'aria di Fiorenza: Credo

Missa sopra l'aria di Fiorenza: Offertorium / Iustus ut palma

Missa sopra l'aria di Fiorenza: Sanctus

Missa sopra l'aria di Fiorenza: Agnus Dei

Missa sopra l'aria di Fiorenza: Antiphona / Tu puer, propheta