Frisina: Passio Caeciliae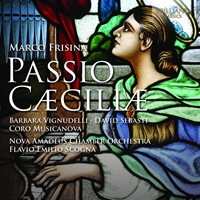 Composer
Marco Frisina
Artist
Barbara Vignudelli soprano
David Sebasti narrator
Coro Musicanova
Nova Chamber Orchestra
Flavio Emilio Scogna conductor
Format
1 CD
Cat. number
9405
EAN code
5029365940528
Release
January 2013
About this release
After studying composition at the Conservatory Santa Cecilia in Rome, Marco Frisina enrolled at a theological college, and was ordained as a priest in 1982. He carries out his ministry in Rome, where he founded and directs the Choir of the Diocese of Rome, which he recently took on tour to the USA. In addition to his sacred vocal works, Frisina has also composed scores for several religious-themed films. The Passio Caeciliae describes the martyrdom of Caecilia, a maiden of noble descent in the 2nd century, a creature of light, love, faith and innocence, who is put to death in her own home. The Passio is a tableau of nine scenes from her life, from her conversion to Christianity to her ultimate love song for Christ, before dying as a martyr.

Characteristics of Frisina's work can be found in the lush harmonisation of the choral movement 'Psalm 45', which is undoubtedly a highlight of the recording, and acclaimed Italian soprano Barbara Vignudelli sings the protagonist role, with David Scogna narrating. Organist Lorenzo Macrì, Coro Musicanova and the Nova Amadeus Chamber Orchestra are conducted by Flavio Emilio Scogna.

Other information:
- New recording (17 March 2012 Cripta delle Ancelle della Carità, Rome) by Italian soloists, choir and chamber orchestra, conducted by Flavio Emilio Scogna.
- Italian composer Marco Frisina (b.1954) sets this tale in a moving and appealing musical language, in the great Italian choral tradition, reaching back as far as Palestrina.
- Contains a libretto as well as English and Italian notes on the music.
Track list
Disk 1
Marco Frisina: Passio Caeciliae: I. Cantantibus organis

Marco Frisina: Passio Caeciliae: II. The Marriage

Marco Frisina: Passio Caeciliae: III. Psalm 45

Marco Frisina: Passio Caeciliae: IV. The Baptism

Marco Frisina: Passio Caeciliae: V. The Angel

Marco Frisina: Passio Caeciliae: First interlude: Fides

Marco Frisina: Passio Caeciliae: VI. Persecution

Marco Frisina: Passio Caeciliae: VII. Eia milites Christi

Marco Frisina: Passio Caeciliae: VIII. The Martyrdom of Cecilia

Marco Frisina: Passio Caeciliae: Second interlude: Spes

Marco Frisina: Passio Caeciliae: IX. Lux in tenebris. The Death of Cecilia