Frühling & Zemlinsky: Clarinet Trios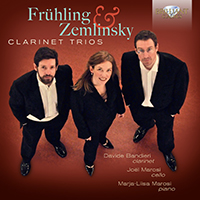 Composer
Alexander von Zemlinsky, Carl Frühling
Artist
Davide Bandieri clarinet
Joël Marosi cello
Marja-Liisa Marosi piano
Format
1 CD
Cat. number
95394
EAN code
5028421953946
Release
June 2018
About this release
Once a pianist accompanying the likes of Bronislaw Huberman, Pablo de Sarasate and the Rose Quartet, Carl Frühling is now little known. He wrote several orchestral and chamber works, songs and salon pieces, but his best and most-recorded work is this Clarinet Trio, published in 1925 but cast in an idiom at least a generation before its composition. Born in 1868, and dying in reduced circumstances in 1937 after the Crash had left him in need, he was and remained a musical Romantic, whose language is perfectly fitted to this most Brahmsian of genres.

From that earlier generation, Zemlinsky's 1896 Trio surges with D minor expression and passion. He wrote it as a 25-year-old for a Viennese chamber-music competition. While the syntax and mood certainly echo Brahms, the chromatic harmony is the composer's own: so too the intense songfulness which surges through the long opening movement and then a central, richly textured Andante. Even the brief finale is restless and filled with agitated, virtuoso writing for the piano in particular, while the clarinet sings a troubled descant line.

Clarinet music by Zemlinsky's contemporaries, Busoni (BC94978) and Hindemith (BC94978), has been the subject of previous Brilliant Classics albums by the clarinettist Davide Bandieri. According to MusicWeb International, reviewing the Hindemith collection, he has 'an attractive woody tone and fine phrasing and articulation.' He is joined here by Joël and Marja-Liisa Marosi, husband and wife, who teach and perform in Switzerland.

Alexander Zemlinsky lived from 1871 till 1942, born and bred in Vienna, and his whole life very much a child of his city. Vienna at the turn of the century was the scene of far-reaching cultural changes, the Romantic Era of Brahms, Wagner and Mahler came to a shattering end with the appearance of Schoenberg, Berg and Webern, establishing the Second Viennese School, abruptly breaking with tradition. Zemlinsky held on to his own personal style: although inevitably influenced by his contemporaries he continued the Late Romantic idiom. His Clarinet Trio is an early work, enthusiastically hailed by Brahms, whose influence is obvious (the late Brahms himself had a fondness for the clarinet, after meeting with the famous clarinetist Richard Mühlfeld, for whom he wrote clarinet sonatas, the clarinet Trio and Quintet).
As a companion we hear the clarinet trio by Carl Frühling, a contemporary of Zemlinsky, a beautiful and melodious work, which deserves to be heard more often.
Excellent performances by Davide Bandieri, one of Italy's foremost clarinet players. He already made several successful recordings for Brilliant Classics with works by Busoni and Hindemith.
Track list
Disk 1
Clarinet Trio in A Minor, Op. 40: I. Mäßig schnell

Clarinet Trio in A Minor, Op. 40: II. Anmutig Bewegt

Clarinet Trio in A Minor, Op. 40: III. Andante

Clarinet Trio in A Minor, Op. 40: IV. Allegro vivace

Clarinet Trio in D Minor, Op. 3: I. Allegro ma non troppo

Clarinet Trio in D Minor, Op. 3: II. Andante

Clarinet Trio in D Minor, Op. 3: III. Allegro