Fuchs: Piano Trio, Violin Sonata, Viola Phantasiestücke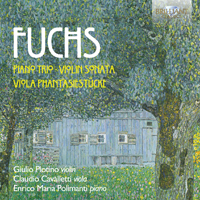 Composer
Robert Fuchs
Artist
Giulio Plotino violin
Claudio Cavalletti viola
Enrico Maria Polimanti piano
Format
1 CD
Cat. number
95028
EAN code
5028421950280
Release
June 2015
About this release
This is almost unknown, lovely, unfailingly melodious late-Romantic chamber music, a treat for anyone who values the wistful themes, powerful developments and mahogany textures of Brahms and his contemporaries. Indeed Robert Fuchs became a good friend of Brahms, and elicited the older man's praise (remarkable in itself given his famously caustic opinions of his contemporaries) for "beautiful, perfectly written music, fascinating in its inventiveness and always pleasant."

Fuchs was of a late generation, however, and his music moves forward into the 20th century, not with the bold iconoclasm of the Second Viennese School but the urgent post-Romanticism of Korngold and Goldmark. Composed in 1915, Op.103 is the last of his six violin sonatas and dedicated to no less than Adolf Busch, perhaps the most sublime chamber musician in recorded history to judge from his work with his own quartet and pianists such as Artur Rubinstein. For Busch to champion Fuchs's work should indicate something of its real and lasting qualities. Of the three movements that make up the sonata, the first two are particularly rich in musical elements that prefigure the language of certain later composers, such as Sibelius and Strauss.

The Op.115 trio is scored for piano, violin and (unusually) viola, for which there are certain precedents written by Mozart and Schumann. Perhaps most notable to us now is its resemblance, at least in certain harmonic twists and the intensity of its development, to the much grander works of Gustav Mahler. In fact Mahler was an early pupil of Fuchs, but the trio is written after Gustav had died of heart disease in 1911, his reputation already assured to posterity in a way that Fuchs' was not.

The 6 Phantasiestücke Op.117 for viola and piano were Fuchs's last works, composed during the final year of his life, 1927. Although the title naturally brings Schumann to mind, in terms of content these pieces have more in common with the four collections of piano works written by Brahms in 1892. They appear to express a sort of detachment from the world and the fraught events of the period, as though the composer were withdrawing into himself to look back with Straussian nostalgia. Late, late Romanticism in sweet bloom.

Robert Fuchs (1847-1927) was born in Austria near the border of Slovenia. He went to Vienna for his musical education and became a close friend of Johannes Brahms, who expressed himself very favourably about his music ("beautiful, perfectly written and fascinating in its inventiveness"). Later Fuchs became Director of the Vienna Conservatory, and teacher of an impressive array of students: Mahler, Zemlinsky, Schreker, Sibelius, Schmidt, Enescu, Wolf…
Fuchs' chamber music reflects the musical atmosphere of late 19th century Vienna: highly expressive, wide tonality, extensive use of chromatism.
Excellent performances by three young Italians: pianist Enrico Maria Polimanti, violinist Giulio Plotino, violist Claudio Cavaletti: committed and passionate playing!
Excellent liner notes by the pianist.
Listening
Track list
Disk 1
Robert Fuchs: Piano Trio No. 3 in F-Sharp Minor, Op. 115: I. Allegro molto moderato

Robert Fuchs: Piano Trio No. 3 in F-Sharp Minor, Op. 115: II. Andante grazioso

Robert Fuchs: Piano Trio No. 3 in F-Sharp Minor, Op. 115: III. Allegretto scherzando

Robert Fuchs: Piano Trio No. 3 in F-Sharp Minor, Op. 115: IV. Allegro giusto

Robert Fuchs: Violin Sonata No. 3 in G Minor, Op. 103: I. Allegro moderato

Robert Fuchs: Violin Sonata No. 3 in G Minor, Op. 103: II. Andante sostenuto

Robert Fuchs: Violin Sonata No. 3 in G Minor, Op. 103: III. Allegro vivace

Robert Fuchs: 6 Phantasiestücke, Op. 117: I. Ländler Tempo

Robert Fuchs: 6 Phantasiestücke, Op. 117: II. Ruhig und ausdrucksvoll

Robert Fuchs: 6 Phantasiestücke, Op. 117: III. Leicht bewegt

Robert Fuchs: 6 Phantasiestücke, Op. 117: IV. Andante sostenuto con espressione

Robert Fuchs: 6 Phantasiestücke, Op. 117: V. Mässig bewegt

Robert Fuchs: 6 Phantasiestücke, Op. 117: VI. Allegretto con delicatezza