Fumagalli: Organ Music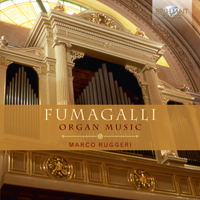 | | |
| --- | --- |
| Composer | Polibio Fumagalli |
| Artist | Marco Ruggeri organ |
| Format | 2 CD |
| Cat. number | 95468 |
| EAN code | 5028421954684 |
| Release | February 2017 |
About this release
The organ music of lesser-known Italian composers has been explored by Marco Ruggeri on several Brilliant Classics albums devoted to Giovanni Morandi (BC95333), Vincenzo Petrali (BC95160) and Davide da Bergamo (BC94964). Now he turns to the diverse output of Polibio Fumagalli (1830-1900), a Milan-based organist and composer from a distinguished musical family. He was professor of organ at the city's conservatoire until his death, and also taught piano and was music director of a Milanese church.

In such capacities Fumagalli came to know the organ builder Giuseppe Bernasconi, and to prize his work, which can be heard on this album: Ruggeri plays two instruments by Bernasconi, in the churches of Vaprio d'Adda and Vercelli. Bernasconi's technical innovations included increasing the registral colours and scale of Italian instruments in order to emulate a late-Romantic orchestra. Fumagalli made ample use of such opportunities, as may be heard in these riotously exuberant and uninhibited performances.

As a composer, Fumagalli concentrated on music for his own instruments, with over 200 separate works or collections. Among the most extensive is the Ascetica Musicale Op.235: a summation of his style, as the name suggests: referring not to any ascetic temperament – this music could hardly be further from it – but to a musical aesthetic, which in this case celebrated virtuoso figuration, jolly tunes and a taste for the spectacular. Even the more apparently traditional form of the Sonata is clothed by Fumagalli in extravagant musical robes. This richly entertaining release fills out a still-hazy picture of music in 19th century Italy, and will give pleasure to organ-music enthusiasts and enthusiasts for light music of any genre.

Polibio Fumagalli (1830-1900) was one of the most important exponents of 19th century Italian organ music. He held important posts in Milan, as organ teacher at the Conservatory and organist of the S. Celso he was in close contact and collaboration with the famous organ builder Giuseppe Bernasconi, which whom he helped developing the "symphonic" or "orchestra" organ, its registers imitating orchestral instruments.
This new recording presents two of Fumagalli's organ sonatas, in classical/romantic style, as well as the complete cycle "Ascetica Musicale", character pieces of great charm and lyricism, using the full potential of the "orchestra' organ.
Played with great imagination by Italian organist Marco Ruggeri on two historical Bernasconi organs, built in resp. 1885 and 1892, the specifications of which are included in the booklet. Ruggeri already proved his affinity with this repertoire in recordings for Brilliant Classics of works by Morandi (BC95333) and Petrali (BC95160).
Listening
Track list
Disk 1
Polibio Fumagalli: Ascetica musicale, Op. 235: I. Ripieno

Polibio Fumagalli: Ascetica musicale, Op. 235: II. Imitazione

Polibio Fumagalli: Ascetica musicale, Op. 235: III. Il perdono

Polibio Fumagalli: Ascetica musicale, Op. 235: IV. Aspirazione

Polibio Fumagalli: Ascetica musicale, Op. 235: V. Invocazione

Polibio Fumagalli: Ascetica musicale, Op. 235: VI. Rugiada

Polibio Fumagalli: Ascetica musicale, Op. 235: VII. Meditazione

Polibio Fumagalli: Ascetica musicale, Op. 235: VIII. Pentimento

Polibio Fumagalli: Ascetica musicale, Op. 235: IX. Un raggio di sole

Polibio Fumagalli: Ascetica musicale, Op. 235: X. Salve

Polibio Fumagalli: Ascetica musicale, Op. 235: XI. Esultazione

Polibio Fumagalli: Ascetica musicale, Op. 235: XII. La danza degli astir

Polibio Fumagalli: Ascetica musicale, Op. 235: XIII. Capriccio

Polibio Fumagalli: Ascetica musicale, Op. 235: XIV. Serenata

Polibio Fumagalli: Ascetica musicale, Op. 235: XV. Alleluja
Disk 2
Polibio Fumagalli: Sonata in D Major: I. Moderato

Polibio Fumagalli: Sonata in D Major: II. Adagio

Polibio Fumagalli: Sonata in D Major: III. Finale – Fugato

Polibio Fumagalli: Capriccio alla sonata

Polibio Fumagalli: Tempo di sonata-Breve fantasia

Polibio Fumagalli: Sonata in B-Flat Major: I. Andante maestoso –Allegro giusto

Polibio Fumagalli: Sonata in B-Flat Major: II. Adagio religioso

Polibio Fumagalli: Sonata in B-Flat Major: III. Ultimo tempo

Polibio Fumagalli: Emulazione

Polibio Fumagalli: Ripieno

Polibio Fumagalli: Scherzino

Polibio Fumagalli: Marcia villereccia