F.X. Dusek: Complete Music for Fortepiano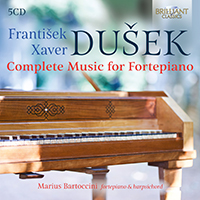 | | |
| --- | --- |
| Composer | Frantisek Xavier Dusek |
| Artist | Marius Bartoccini fortepiano & harpsichord |
| Format | 5 CD |
| Cat. number | 95863 |
| EAN code | 5028421958637 |
| Release | February 2021 |
About this release
Just as Brilliant Classics has completed a notable discographic first with the complete keyboard works of Jan Ladislav Dussek, Beethoven's Bohemian contemporary, on instruments of the period, it now presents the first-ever complete survey of an unrelated predecessor. Across 24 numbered sonatas, a divertimento, a set of variations and a handful of works for keyboard duet, František Xaver Dušek comes to life as not merely a Czech contemporary of Mozart but the father of the Czech piano school.
Born in 1731 and of humble origins, Dušek studied in Prague and Vienna, then himself became teacher to many composers including Leopold Koželuh and one of Mozart's sons, Carl Thomas. Mozart himself stayed at his villa in 1787 and wrote portions of Don Giovanni. Dušek died in 1799 at the age of 67, having outlived many of the Classical era's most renowned composers, with the notable exception of Haydn. Thus his own output traverses the era, beginning with the Baroque conventions and youthful high spirits of his early sonatas (including the C major Sonata for four hands).
The second phase of Dušek's output displays stylistic traits of the Empfindsamkeit movement headed by C.P.E. Bach, though only one of the 24 sonatas is cast in the kind of turbulent minor key characteristic of the movement. In the third phase, Dušek's individual voice is most impressively developed, reaching a peak with the Sonata No.10 (the sonatas are not numbered chronologically). The magisterial elegance of the sonata's first movement, allied to a sensitive handling of melody and harmony, makes it one of the most precious examples of Bohemian musical art in the second half of the 18th century. There is even a premonition of Schubertian lyricism in the late Sonata in C for four hands.
Any keen student of Classical-era keyboard literature will find this album a treasure-trove and an essential acquisition. The booklet contains an introduction to Dušek's life and work by Marius Bartoccini, who is a specialist in this area of the repertoire, having studied with Costantino Mastroprimiano and Leo Van Doeselaar, among others. On this recording he plays three instruments of the era, two original and one a modern copy, joined in the four-hands music by Ilario Gregoletto.

- František Xaver Dušek, (whose name can also be spelt with the variants Duschek, Duscheck and Dussek (1731 – 1799), was the son of a peasant. He attended the Jesuit secondary school at Hradec Králové, studied music in Prague with František Václav Habermann and subsequently in Vienna with Georg Philipp Wagenseil. In about 1770 he returned to Prague, where he remained for the rest of his life and became a sought-after and esteemed teacher.
- Dusek lived in the period of transition from the Baroque to the Classical style. He was influenced by Wagenseil, Hasse, Galuppi and most notably Carl Philipp Emanuel Bach. Dusek is an exponent of the so-called Empfindsamer Stil, the expression of a wide range of human emotions on the basis of the Theory of Affects, the rules of drama and rhetoric.
- this is the first complete survey of Dusek's keyboard works, 24 solo keyboard Sonatas and several sonatas for 4 hands, alternatively played on the harpsichord and the fortepiano. Played by Marius Bartoccini, solo keyboard. Bartoccini is a pianist who specialized in fortepiano. As a soloist he played with Sigiswald Kuijken en Federico Maria Sardelli. On this recording he plays on an original Schantz fortepiano, and a copy of a Nannette Streicher.
Listening
Track list
Disk 1
Frantisek Xavier Dusek: Sonata No. 1 in B-Flat Major: I. Allegro

Frantisek Xavier Dusek: Sonata No. 1 in B-Flat Major: II. Adagio

Frantisek Xavier Dusek: Sonata No. 1 in B-Flat Major: III. Tempo di minuetto, più tosto allegro

Frantisek Xavier Dusek: Sonata No. 2 in G Major: I. Allegro

Frantisek Xavier Dusek: Sonata No. 2 in G Major: II. Andante

Frantisek Xavier Dusek: Sonata No. 2 in G Major: III. Tempo di menuetto

Frantisek Xavier Dusek: Sonata No. 3 in B-Flat Major: I. Allegro

Frantisek Xavier Dusek: Sonata No. 3 in B-Flat Major: II. Adagio

Frantisek Xavier Dusek: Sonata No. 3 in B-Flat Major: III. Menuetto

Frantisek Xavier Dusek: Sonata No. 4 in A Major: I. Allegro moderato

Frantisek Xavier Dusek: Sonata No. 4 in A Major: II. Menuetto

Frantisek Xavier Dusek: Sonata No. 5 in G Major: I. Allegro

Frantisek Xavier Dusek: Sonata No. 5 in G Major: II. Andantino

Frantisek Xavier Dusek: Sonata No. 5 in G Major: III. Allegro
Disk 2
Frantisek Xavier Dusek: Sonata No. 6 in D Major: I. Allegro con spirito

Frantisek Xavier Dusek: Sonata No. 6 in D Major: II. Menuetto poco adagio

Frantisek Xavier Dusek: Sonata No. 6 in D Major: III. Allegro

Frantisek Xavier Dusek: Sonata No. 7 in C Major: I. Allegro

Frantisek Xavier Dusek: Sonata No. 7 in C Major: II. Andante

Frantisek Xavier Dusek: Sonata No. 7 in C Major: III. Tempo di menuetto

Frantisek Xavier Dusek: Sonata No. 8 in F Major: I. Allegro

Frantisek Xavier Dusek: Sonata No. 8 in F Major: II. Menuetto

Frantisek Xavier Dusek: Sonata No. 9 in D Major: I. Allegro con brio

Frantisek Xavier Dusek: Sonata No. 9 in D Major: II. Andantino con variazioni

Frantisek Xavier Dusek: Sonata No. 10 in B-Flat Major: I. Allegro

Frantisek Xavier Dusek: Sonata No. 10 in B-Flat Major: II. Adagio cantabile

Frantisek Xavier Dusek: Sonata No. 10 in B-Flat Major: III. Finale presto

Frantisek Xavier Dusek: Sonata No. 11 in G Major: I. Allegro

Frantisek Xavier Dusek: Sonata No. 11 in G Major: II. Andantino

Frantisek Xavier Dusek: Sonata No. 11 in G Major: III. Menuetto

Frantisek Xavier Dusek: Sonata No. 12 in G Major: I. Allegro

Frantisek Xavier Dusek: Sonata No. 12 in G Major: II. Adagio con moto

Frantisek Xavier Dusek: Sonata No. 12 in G Major: III. Rondo. Allegretto
Disk 3
Frantisek Xavier Dusek: Sonata No. 13 in B-Flat Major: I. Allegro

Frantisek Xavier Dusek: Sonata No. 13 in B-Flat Major: II. Larghetto

Frantisek Xavier Dusek: Sonata No. 13 in B-Flat Major: III. Finale. Allegro

Frantisek Xavier Dusek: Sonata No. 14 in F Major: I. Allegro

Frantisek Xavier Dusek: Sonata No. 14 in F Major: II. Andantino grazioso

Frantisek Xavier Dusek: Sonata No. 14 in F Major: III. Finale. Allegro

Frantisek Xavier Dusek: Sonata No. 15 in C Major: I. Allegro con brio

Frantisek Xavier Dusek: Sonata No. 15 in C Major: II. Andante

Frantisek Xavier Dusek: Sonata No. 15 in C Major: III. Finale. Allegro

Frantisek Xavier Dusek: Sonata No. 16 in A Major: I. Allegro

Frantisek Xavier Dusek: Sonata No. 16 in A Major: II. Romance. Adagio

Frantisek Xavier Dusek: Sonata No. 16 in A Major: III. Finale. Allegro

Frantisek Xavier Dusek: Sonata No. 17 in G Major: I. Allegro

Frantisek Xavier Dusek: Sonata No. 17 in G Major: II. Andante

Frantisek Xavier Dusek: Sonata No. 17 in G Major: III. Rondo

Frantisek Xavier Dusek: Sonata No. 18 in F Major: I. Allegro

Frantisek Xavier Dusek: Sonata No. 18 in F Major: II. Andante grazioso

Frantisek Xavier Dusek: Sonata No. 18 in F Major: III. Finale. Allegro

Frantisek Xavier Dusek: Sonata No. 19 in G Major: I. Allegro

Frantisek Xavier Dusek: Sonata No. 19 in G Major: II. Andante grazioso

Frantisek Xavier Dusek: Sonata No. 19 in G Major: III. Presto

Frantisek Xavier Dusek: Sonata No. 20 in D Major: I. Allegro

Frantisek Xavier Dusek: Sonata No. 20 in D Major: II. Menuetto
Disk 4
Frantisek Xavier Dusek: Sonata No. 21 in E-Flat Major: I. Allegro

Frantisek Xavier Dusek: Sonata No. 21 in E-Flat Major: II. Larghetto con espressione

Frantisek Xavier Dusek: Sonata No. 22 in F Major: I. Allegro moderato

Frantisek Xavier Dusek: Sonata No. 22 in F Major: II. Andante grazioso

Frantisek Xavier Dusek: Sonata No. 22 in F Major: III. Scherzando

Frantisek Xavier Dusek: Sonata No. 23 in C Minor: I. Allegro moderato

Frantisek Xavier Dusek: Sonata No. 23 in C Minor: II. Andante

Frantisek Xavier Dusek: Sonata No. 23 in C Minor: III. Tempo di menuetto

Frantisek Xavier Dusek: Sonata No. 24 in D Major: I. Divertimento

Frantisek Xavier Dusek: Sonata in C Major: I. No Tempo Indication

Frantisek Xavier Dusek: Menuetto in C Major: I. Senza indicazione di tempo

Frantisek Xavier Dusek: 6 Sonatinas: I. Allegretto in A Major

Frantisek Xavier Dusek: 6 Sonatinas: II. Andantino in F Major

Frantisek Xavier Dusek: 6 Sonatinas: III. Adagio cantabile in C Major

Frantisek Xavier Dusek: 6 Sonatinas: IV. Allegro in G Major

Frantisek Xavier Dusek: 6 Sonatinas: V. Allegro in D Major

Frantisek Xavier Dusek: 6 Sonatinas: VI. Lento in B-Flat Major

Frantisek Xavier Dusek: Sonata in D Major pro Clavier: I. Spirituoso
Disk 5
Frantisek Xavier Dusek: Sonata per il clavi cembalo ò forte Piano à 4tr mani in C Major: I. Allegro

Frantisek Xavier Dusek: Sonata per il clavi cembalo ò forte Piano à 4tr mani in C Major: II. Andante grazioso

Frantisek Xavier Dusek: Sonata per il clavi cembalo ò forte Piano à 4tr mani in C Major: III. Menuetto

Frantisek Xavier Dusek: Sonata per il clavi cembalo ò forte Piano à 4tr mani in C Major: IV. Finale allegro

Frantisek Xavier Dusek: Sonate à quatre mains pour le piano-forte in G Major: I. Allegro

Frantisek Xavier Dusek: Sonate à quatre mains pour le piano-forte in G Major: II. Andante

Frantisek Xavier Dusek: Sonate à quatre mains pour le piano-forte in G Major: III. Allegretto

Frantisek Xavier Dusek: Divertimento 4 Hands in G Major: I. Allegro

Frantisek Xavier Dusek: Divertimento 4 Hands in G Major: II. Romance. Andante

Frantisek Xavier Dusek: Divertimento 4 Hands in G Major: III. Menuetto

Frantisek Xavier Dusek: Divertimento 4 Hands in G Major: IV. Allegro

Frantisek Xavier Dusek: Divertimento 4 Hands in G Major: V. Andantino con variazioni per il clavi-cembalo

Frantisek Xavier Dusek: Sonata No. 1 in C Major: I. Allegro con brio

Frantisek Xavier Dusek: Sonata No. 1 in C Major: II. Andante un poco adagio

Frantisek Xavier Dusek: Sonata No. 1 in C Major: III. Finale presto

Frantisek Xavier Dusek: Sonata No. 2 in E-Flat Major: I. Allegro

Frantisek Xavier Dusek: Sonata No. 2 in E-Flat Major: II. Adagio con moto

Frantisek Xavier Dusek: Sonata No. 2 in E-Flat Major: III. Finale. Vivace