Gabrieli & Gabrieli: Organ Music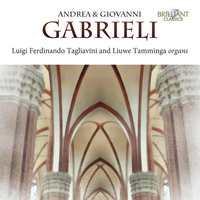 Composer
Andrea Gabrieli, Giovanni Gabrieli
Artist
Luigi Ferdinando Tagliavini organ
Liuwe Tamminga organ
Played on the organs of the Basilica di S. Petronio in Bologna
Format
1 CD
Cat. number
93368
EAN code
5028421933689
Release
April 2006
About this release
Uncle (Andrea) and nephew (Giovanni) Gabrieli have had a huge impact on Italian Renaissance music. Their works for cori spezzati (double-choir) - 'inherited' from Adrian Willaert – utilizing the two balconies opposite each other at St. Mark's in Venice, have left an undisputed mark.

Both composers, however, were also organists themselves. It must have been a challenge to compose music for two organs along the same cori spezzati lines. This selection of pieces allows the listener to join in the excitement of playing on historic instruments in a vast church. The organists are Luigi Ferdinando Tagliavini and Liuwe Tamminga.

Recorded at the Basilica di S. Petronio in Bologna, Italy. Both organs have been used for these recordings. The organs by Lorenzo da Prato (1471 - 1475) and Baldassare Malamini (1596) are contemporary with the compositions performed on them here.
Track list
Disk 1
Canzon Primo Tono, in 8 parts for two organs

Intonazione del Primo Tono

Ricercare del Primo Tono

Intonazione del Sesto Tono

Ricercar arioso

Motetto 'Egredimini et videte'

Fuga del Nono Tono

Toccata del Secondo Tono

Canzon 'La Spiritata' in 4 parts

Canzon 'Sol Sol La Sol Fa Mi', in 8 parts for two organs

Toccata del Quinto Tono

Canzon ariosa

Fantasia allegra

'Io mi son giovinetta' for 4 voices, intabulation

Canzon francese on 'Petit Jacquet' in 4 parts

'Lieto godea' in 8 parts for two organs

Toccata del Primo Tono

Ricercar del Primo Tono

Canzon del Secondo Tono

Canzon del Duodecimo Tono

Canzon del Duodecimo Tono in 10 parts for two organs